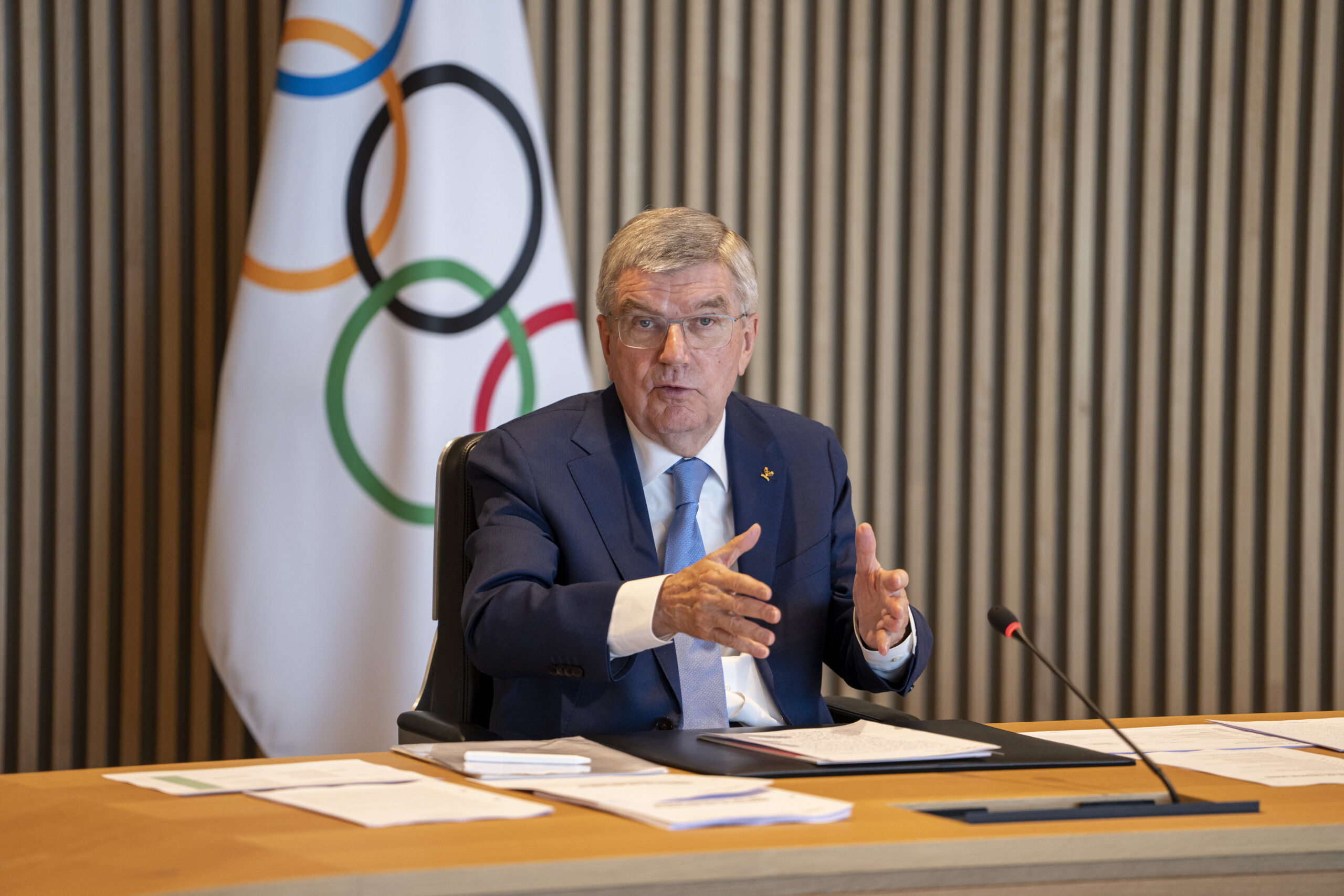 The International Olympic Committee continues to stay in a waiting pattern over what was believed to be growing momentum to allow Russian and Belarusian individual athletes to compete in the Olympics, refusing to guarantee their participation — for now — and increasing existing sanctions to include teams of athletes from either country in the wake of last year's Russian invasion of Ukraine.
The executive board's recommendations specifically do not mention the participation of Russian or Belarusian athletes at either the 2024 Summer Games in Paris or the 2026 Winter Games in Milan-Cortina, Italy, saying "the IOC will take this decision at the appropriate time, at its full discretion, and without being bound by the results of previous Olympic qualification competitions."
IOC President Thomas Bach continues to leave the option open for Russian and Belarusian athletes to participate in Paris, saying "we will monitor the implementation of these recommendations and then take a decision in regard to the participation at the Olympic Games at the appropriate time." He also pushed back when pressed on when an appropriate time would be, responding "I cannot give you an answer. … the Executive Board today did not consider it appropriate to give a timeline because in this extremely complex situation, nobody knows what's happening tomorrow or one week or nine months. We have to monitor and find the appropriate time."
It is, however, at first glance a slight retreat based upon what Bach had been saying in recent months as the IOC tries to thread the needle between keeping its sanctions on Russia while allowing athletes to compete rather than ban them, which Bach has repeatedly said is against the Olympic Charter and — perhaps more importantly — the ideals of the Olympics, which Bach holds dear as a former athlete who did not participate in the 1980 Games in Moscow because of a U.S.-led boycott.
The executive board said athletes with a Russian or Belarusian passport must only be 'Individual Neutral Athletes' and teams cannot be considered for competition. Athletes or support personnel who actively support the war cannot compete and any individual neutral athlete must meet all anti-doping requirements — requirements that Russia has had its athletes run afoul of repeatedly in recent years. The IOC also reiterated its previous sanctions, which include no international sports events be in either Russia or Belarus; no flags, anthems or national symbols be at any international sports event; and no government or state officials should be accredited for or invited to events.
Bach had defended his organization's efforts to create a pathway for Russian and Belarusian athletes to compete during a speech last week in Germany as nearly 200 pro-Ukraine protesters gathered outside the venue calling for Russia to be excluded entirely from the Olympics. Bach said he opposed political influence on sports and the Olympics need to remain neutral to be a unifying force.
As qualification events for the 2024 Paris Games approach, Bach earlier encouraged a proposal at the Olympic Summit to allow Russian and Belarusian athletes to compete as neutrals at Olympic Council of Asia qualifying events. In response, Ukraine President Volodymyr Zelenskyy told Bach in a phone call of his disappointment. European Union lawmakers condemned the IOC's decision and Bach in response seemed more defiant than ever, saying, "history will show who is doing more for peace."
Zelenskyy has been outspoken on the IOC movement toward allowing athletes to compete, saying "a white or any neutral flag is impossible for Russian athletes. All their flags are stained in blood." Paris Mayor Anne Hidalgo, who has visited Kyiv, has said Russian and Belarusian athletes should be barred from the Olympics in her city.
In the days before the IOC executive board started its meetings, Ukrainian boxer Maksym Galinichev, a silver medalist at the 2018 Summer Youth Olympic Games, was killed while reportedly serving for Ukraine's 25th Sycheslav Airborne Brigade in the Luhansk region. It was reported that Galinichev had been fighting in the war since May 2022 and refused to take part in the European Boxing Confederation Men's European Boxing Championships to focus on helping his country in battle. The news about Galinichev was still sinking in at the same time that Alexandra Xanthaki, the UN special rapporteur for cultural rights who is advising the IOC on the Russia issue, said on an IOC-hosted call that only Russians directly implicated in crimes against humanity or propaganda for war should be barred from international sport, provoking outrage in Ukraine and beyond.
Even before the Ukraine invasion and resulting sanctions, Russian athletes have not competed under their country's name at any Olympics since the 2016 Rio de Janeiro Games because of the fallout from a prolonged doping saga.
The IOC previously said it wanted to keep out athletes deemed to be "actively supporting the war," with a final decision lying with the international federations running individual sports, but it had given few details of how that would work. Fencing and judo have both allowed Russians and Belarusians to resume competing, though neither country has done so. More than 300 fencers, including nine medalists from the last Olympics in Tokyo, signed an open letter published Tuesday urging the sport's governing body and IOC not to allow Russian fencers to compete while the war in Ukraine continues, saying "the (International Fencing Federation) is not fulfilling its duty of care for athletes, especially for Ukrainians. Your insufficient leadership in completely banning Russia and Belarus is being called out by athletes and civil society across the globe."
Track and field kept its ban in place for the "foreseeable future" on Thursday while ice hockey has barred Russia and Belarus from the 2024 world championships citing security concerns. The International Boxing Association has allowed not only athletes from Russian and Belarus to compete but at the recently-completed world championships, athletes were allowed to represent their countries while flags and anthems were displayed and used. The IBA, however, is on the IOC's naughty list for years' worth of transgressions.