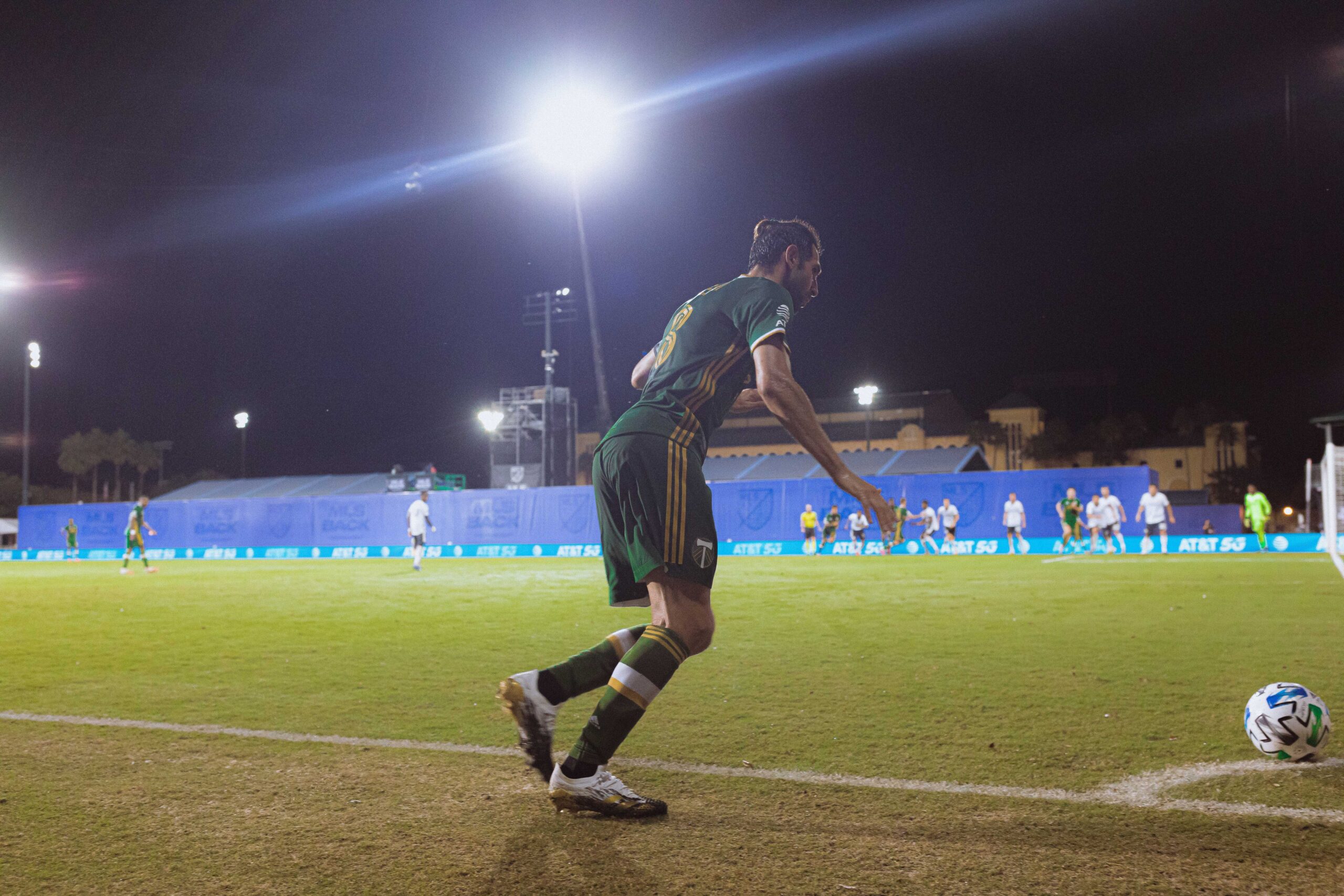 Major League Soccer began in 1996 with 10 teams. Now in its 25th season, the league has 26 teams as Inter Miami — with world superstar David Beckham as owner — and Nashville SC debuted as the newest expansion franchises. The league was planning a season unlike any other in 2020 to celebrate its silver anniversary, highlighted by an All-Star Game against a selection of Liga MX All-Stars from Mexico at Banc of California Stadium in Los Angeles.
Then the COVID-19 pandemic hit and two weeks into the season the league was forced to suspend play. The season resumed in a bubble as the MLS is Back Tournament was held in July and August at the ESPN Wide World of Sports Complex in Orlando, Florida. After 51 matches in 35 days and with multiple new technologies unveiled during the television broadcasts, Major League Soccer resumed regular-season play in home markets in mid-August — with some of those teams playing games in front of a restricted number of fans.
[Earlier Coverage of Major League Soccer At 25: From Shaky Start to Bright Future]
The league's season will continue until November 8, with the playoffs starting November 20 and the MLS Cup — originally scheduled for early November — instead scheduled for December 12. Being able to mix a bubble tournament with in-market matches has taken a lot of time, planning and communication not only within the league but with each market's health and government authorities.
Here are some of the key lessons that Major League Soccer has learned during a season it planned to be unlike any other — which has come true, though in ways it could not have imagined possible.
Take Time To Plan
Seeing how COVID was already impacting the world, the league began planning for a potential stoppage in February. By the time play was officially suspended in mid-March, the first priority was getting a health and safety plan drawn up and approved for a future return to action. Only after that was finalized did the league then turn to figuring out the exact details of return to play, a process MLS Executive Vice President of Communications Dan Courtemanche said took "multiple months."
"In April and May we were really drilling down on the details and looking at multiple models, including one where we had four sites," he said. "Then once we got into June, we started to refine that. It was important to us to really focus on returning to play because ultimately that's what we do. We're in the sports and entertainment industry and seeing our athletes on the field doing what they love, and entertaining fans is what it's all about."
Major League Soccer also benefited from having owners with diverse portfolios not only in the United States, but worldwide. That allowed the league to rely upon a broad spectrum of experts and groups whether it be in the fields of security, health and medical issues, or even human resources and communications.
"We were in regular communication with US Soccer, CONCACAF, the NWSL and our partners down in Mexico with the Mexican soccer federation and Liga MX," Courtemanche said. "We also have owners who own clubs in Serie A, the Bundesliga, the Premier League and we were able to bring all of those best practices together and move forward with a plan."
Moving from the original thought of a four-site model, MLS decided to have a centralized bubble environment in Orlando. All 26 teams arrived on site with about 750 players and nearly 500 staffers participating. All 51 matches were nationally televised in the United States and Canada.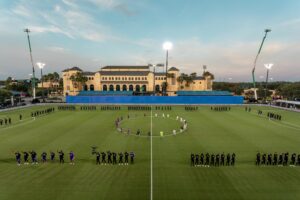 Rely on Relationships
While MLS is only 25 years old, compared to other U.S. pro leagues that have been around much longer, having consistent partners for its entire existence proved fruitful. Part of the reason for picking the Wide World of Sports complex as its host was the comfort level the league has with key stakeholders.
ESPN has been broadcasting Major League Soccer games since the league's inaugural season in 1996 and was the host broadcaster distributing video to MLS' broadcast partners in North America and worldwide. Two major executives at Disney, Josh D'Amaro and Roselyn Durant, both have established relationships with MLS. D'Amaro, Disney's chairman of parks, experiences and products, is no stranger to league Commissioner Don Garber and his executive team; MLS also worked extensively with Durant when she was at ESPN before she left the network in March to become senior vice president of operations at the Wide World of Sports venue.
When the NBA also decided to put its bubble environment at the same Disney complex in Orlando — although the leagues were in separate parts of the venue — both MLS and the NBA decided to use Bioreference labs for their COVID-19 testing. While it was not planned that way, "it provided some benefit," Courtemanche said.
All of Major League Soccer's players and staff were housed at the Walt Disney World Swan and Dolphin Resorts. There were several hundred employees on the property daily with CDC guidelines used to establish protocols including temperature checks and PPE usage, said Swan and Dolphin Resorts Area General Manager Sean Verney.
"We worked in a collaborated effort with Major League Soccer in advance to establish the appropriate protocols to create the bubble," Verney said. "These touched every aspect of our operations. … We also implemented specific staffing guidelines to help service the 26 teams and all supporting staff, in essence we created 28 mini bubbles."
The two hotels also had to re-imagine how customer service would be done because of the pandemic in anticipation of the MLS bubble. "Not only were there now new protocols established to host this event, we needed to make sure they were sustainable for all 26 teams that were planning on staying with us for more than six weeks," said Verney, including having food and beverage members partner with vendors to provide contactless deliveries and also prepare nearly 5,000 meals per day.
"We were in constant communication for weeks leading up to the event and then were still holding daily meetings with MLS once they were on site," Verney said. "The ability for our two teams to align and create a completely open channel of communication was critical for us to be ready to handle different situations that arose."
Be Ready to Adjust
After months of planning, all 26 teams landed and checked into the Disney complex. Groups were drawn with each of those games counting toward the regular season standings; beyond that, the knockout rounds had the incentive of the winners earning a spot in the 2021 CONCACAF Champions League.
But before the tournament even started, MLS found out that no matter how detailed the plans and protocols, there always is the need to adjust. On July 6, FC Dallas was withdrawn from the tournament after 10 players and one member of the technical staff tested positive for COVID-19. Three days later, Nashville SC was withdrawn after nine players tested positive. The entire group-play schedule had to be adjusted at nearly a moment's notice.
"When it came down to the start of the MLS is Back Tournament, we certainly faced some challenges," Courtemanche said. "I will say that with most situations you have a decision that may have a handful of branches or options. With COVID, there were so many different options and so many unique options that you had to evaluate before you could make a decision. For all the leagues and anyone within the sports and entertainment industry, or any industry, what's important is our decisions were always made in conjunction with medical experts and the infectious disease advisers."
Adjusting on the fly, MLS was able to hold the event without COVID-19 spreading to other teams. Starting with a round of tests released July 12 and going through the end of the MLS is Back Tournament, there were no more positives in the bubble.
"While we were all confident in the health, safety and medical protocols that had been established, you always have to be ready to address positive cases," Courtemanche said. "Candidly, there were multiple times when tests were inconclusive and then you follow up with two additional tests and they come back negative. As you go through that process, that process was provided by our infectious disease experts. That helped in making decisions on when athletes could return to play or if they had to go into isolation."
Because of the months of planning that went into preparing for the MLS is Back Tournament, the league was able to quickly adapt and take teams out of the bubble to prevent the spread of COVID-19 when positive tests were diagnosed — while making sure the event was able to go on with an adjusted schedule. Sometimes it's not only the coaches at an event who have multiple game plans depending on what develops, but the event organizers themselves.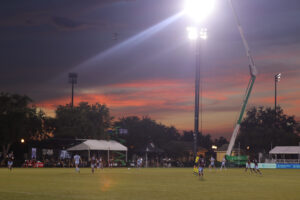 Take Time To Experiment
As preparations for competition were underway, one thing was made clear by Garber: "I remember him saying we have the opportunity to change sports television moving forward with some of the things we can do at the MLS is Back Tournament," Courtemanche recalled.
To that point, MLS used the tournament as a test kitchen of sorts. There were digital ads at center circle and sponsors received digital ad treatment in multiple spots alongside the sidelines. Three huge screens surrounded the fields with virtual fan parties for every team at their games, with more than 15,000 fans participating overall.
"We'd been thinking about these technologies for some time and the tournament allowed us the flexibility and the ability to take more risks," Courtemanche said. "Some things are going to work, some things aren't going to work. But if there was one theme, I would say we wanted to experiment and see how things would work. … When we looked at it, our commissioner referred to it early on as 'these are studio games, this is one big sound stage. There's no fans there, let's come up with some big ideas.'"
🎥 🐦 👁 #DOOP pic.twitter.com/dyFwIYAkkn— Taylor Twellman (@TaylorTwellman) July 15, 2020
There were as many as 51 cameras used for broadcasts including drones and microphones were embedded throughout the turf — "we also had to make sure that we had a delay as some of our language can be colorful at times," Courtemanche said.
Experimentation with the broadcasts extended to video replay — not its use, since MLS has been using it since 2017. But for the first time, viewers were able to hear the discussion between the video assistant referee and the referee on the field.
"It really provided some unique insight and that's something that we plan on doing moving forward," Courtemanche said.
🔊 Listen in on the VAR conversation…

After review, LAFC's goal is overturned due to an offside. #ORLvLAFC pic.twitter.com/CaUxmxvToo— Major League Soccer (@MLS) August 1, 2020
While the tournament was planned and executed in a way that the league could resume the season, the idea of such an event becoming a permanent part of MLS going forward was raised, most notably by Philadelphia Union coach Jim Curtin.
Courtemanche said "from a conceptual standpoint at a very high level, we have discussed it, specifically to 2021." Those discussions, of course, come because of uncertainty of how COVID-19 will continue to affect the world, not just the world of sport.
"If [the world] looks like it does today, does it make sense to start with a bubble or a preseason tournament in a bubble?" Courtemanche said. "We're looking at multiple options but certainly nothing's been finalized. In this environment, you have to keep everything on the table when it comes to consideration for your competition. The top priority has got to be the health and safety of everyone involved."
Breaking Out of the Bubble
While the NBA and NHL have used a bubble environment to finish suspended seasons and the WNBA is using its "Wubble'" to have the entire regular season and playoffs, Major League Soccer (along with its cohorts at the NWSL) decided once its bubble event was finished, it would immediately begin in-market play. The day after the Portland Timbers beat Orlando City SC to win the MLS is Back Tournament championship, the two teams that had to be withdrawn from the event — Nashville and Dallas — played in Frisco, Texas.
That would naturally lead to the question of whether or not the league was — after finishing MLS is Back with more than 8,000 consecutive negative COVID tests on players — risking having a spread of COVID-19 throughout a team. The league, trying to get ahead of that issue, is using the same health and safety protocols that it had in Orlando with face coverings and testing, along with social distancing and personal hygiene.
One modification out of the bubble is that to try and cut down on risk, the in-market schedules have become heavily regionalized so that teams can take charter flights the morning of a game and then immediately return home after the game. MLS also, while having a set of staffers focused on the MLS is Back Tournament's organization, had a separate group of staffers focus on how a return to in-market play would be handled, with teams having to submit plans for approval from the league and health and safety officials.
"Ultimately we wanted to continue that momentum of our 25th season," Courtemanche said. "Nashville and Dallas returned very quickly because they were missing three games compared to the other clubs so we had to get those games in. We've been extremely fortunate since we resumed play that we've not had to postpone any matches due to a positive COVID case and that's something we continue to monitor around the clock."
(Editor's Note: Sunday's game between Sporting Kansas City and the Colorado Rapids was postponed after a series of tests revealed one Rapids player and three staffers tested positive for COVID-19.)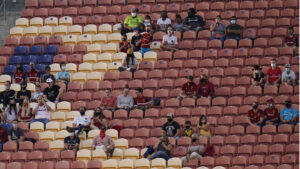 Many in the sports industry also took note of Dallas' first home match because it was in front of 2,912 fans — at the time, one of the first times since the pandemic that fans were allowed into a venue. Dallas has continued to have a restricted number of fans along with Orlando City, Sporting Kansas City, Columbus and Real Salt Lake. Montreal had 250 people at its last home match and both Colorado and Atlanta United are preparing to have fans at its home games again soon.
"When health authorities and government regulations allow, it's something that we will consider with having fans in our stadiums at a significantly reduced capacity," said Courtemanche, adding that in some markets that do not have a mask requirement for everybody above the age of 2, MLS still requires it because of CDC guidelines. "The clubs have to present a detailed and thoughtful plan that does meet health and safety requirements before the league will even consider allowing fans in their stadiums."
A Frantic Finish
For some teams, the issue is less about fans and more about where they will play. New York City FC typically plays its home games at Yankee Stadium but is unable to play there this year because the venue is unavailable due to COVID-19 health and safety protocols that prevent other events in Major League Baseball stadiums during its season. Instead, NYC FC has been playing "home" games at he venue of its local rival, the New York Red Bulls, at Red Bull Arena in Harrison, New Jersey.
Another issue has been what to do with the schedule for the three Canada-based teams in Montreal, Toronto and Vancouver. From when in-market play resumed until the end of September, the three teams have only been playing games against each other because of cross-border travel restrictions; starting with the play in October, those three teams will be coming into the U.S. and having their "home" games at other stadiums with Montreal joining NYC FC in New Jersey, Toronto at East Hartford, Connecticut, and Vancouver playing at rival Portland's stadium.
Where MLS planned for a 34-game regular season at the beginning of 2020, teams will end up playing around 23 games with the league's annual Decision Day on Sunday, November 8. The playoffs will start November 20 ahead of the December 12 MLS Cup — an event that since 2011 has been played at the highest-seeded team remaining but could be adjusted this year.
"This is a unique time and you have to keep your options open," Courtemanche said. "The fact that in the vast majority of our stadiums the matches are played without fans is a consideration, so playing at a neutral site is an option. The concept has been discussed. No decision has been made. Clearly in the coming weeks and months we will make a decision. Right now the plan is to play at the home market of the highest seed. But it also is (scheduled for) December 12 and playing in places like Chicago or Boston in December can be a little chilly. I would say if we decide to move forward with a neutral site, I would anticipate it would be on a grass field playing surface that would be in a warm weather environment."
And whether MLS Cup is held in its traditional fashion or not, it would not be above the league to get to that day, pull off a championship game and then — even with the 2021 season approaching faster than anybody would want to admit at that point — take a deep breath to look back and analyze what this season ended up becoming.
"I would say one word that jumps out is resilience," Courtemanche said. "We've all had to get very creative and ultimately really stick to a plan — although adapting when necessary throughout COVID. This is a massive crisis that all of us have had to deal with. And in times of crisis, you try to come up with positive ways to move forward whether in your personal life or your business life. We've been fortunate that we are moving forward and continue to plan for a wide variety of scenarios. It's been a unique year and we're just happy that we've regained some of our momentum and look forward to continuing with our 25th season."