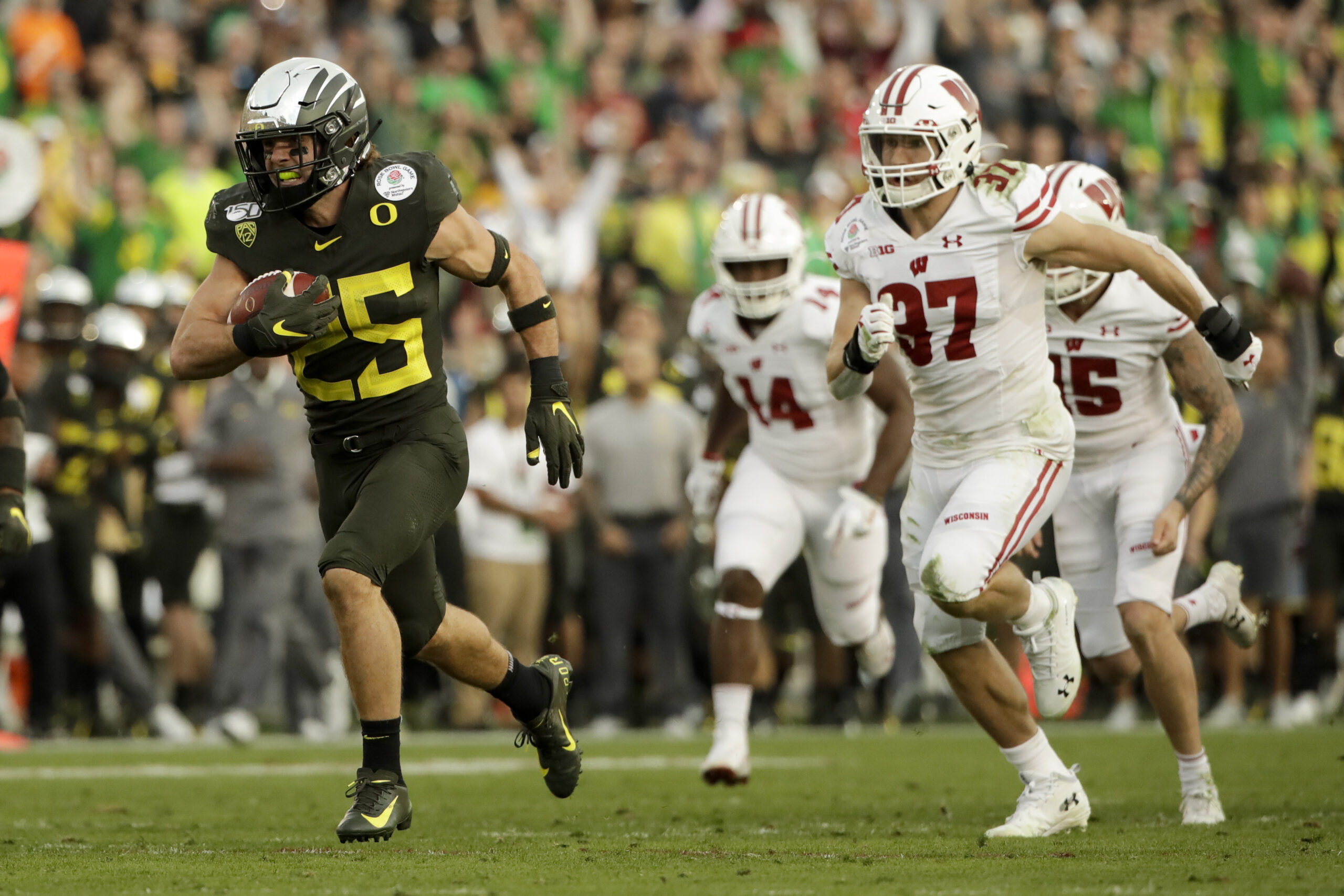 Last year's college football season was historic — the 150th anniversary of the sport became a season-long celebration culminating with one of the modern era's most dominant teams ever, LSU, crushing Clemson to win the College Football Playoff championship game.
This year's season will be perhaps even more historic … and not for celebratory reasons. The COVID-19 pandemic that forced the cancellation of all NCAA winter championships and collegiate springs sports in their entirety has continued. The end result is a hodgepodge of conferences that will play football, while other conferences have postponed fall sports with an eye toward playing in the spring.
[How many fans will be allowed at college football games? Click here to find out]
One statistic for this most unusual of college football seasons is startling: When the season kicked off on Labor Day, there were 76 FBS programs intending to play this fall, while 54 were not. Originally, those numbers left dozens of unanswered questions, including what happens to the bowl season and would there even be such a thing as bowl eligibility?
"It's still very uncertain," said Randy Sparks, whose Team IP company is the official merchandise supplier to nearly half the bowl games, back in August. "Those who complain that they get too many bowls will get their wish. There won't be enough bowls to go around."
Over the past few weeks, uncertainty has exploded in multiple directions. By the end of September, every league that had planned for a spring season — most notably the Big Ten and Pac-12 Conferences — will have abbreviated fall seasons planned. And bowl eligibility? A thing of the past, for this year at least after a recent NCAA Division I Council decision.
As for the bowl schedule? Those affiliated with bowl games are left waiting and hoping for the best possible outcome. Those affiliations extend to host communities, venues, vendors, local charities and many others who are preparing for an impact in whatever form it takes come December.
The Granddaddy of Them All
There are thousands of words written by masters of the English language about the Rose Bowl and the scenery that descends upon the crowd as the sun sets slowly, turning the sky above Pasadena, California, brilliant shades of red, orange and purple — all of it mixing into something beautiful.
The Rose Bowl is more than a New Year's tradition — its mere being as a postseason college football game is what set in motion the bowl season that now has dozens of events throughout the United States and beyond. For more than a century, the city of Pasadena has known the turn of the calendar to mean two things; the Rose Parade down Colorado Street, a collage of bands and dance and floats in constant motion, and the Rose Bowl game where some of the best teams in the sport do battle.
But COVID-19 does not make time for tradition, nor does it step aside for pomp and circumstance. The Tournament of Roses organization this summer announced that it would cancel the Rose Parade, which since its inception in 1891 has only been skipped during the wartime years of 1942, 1943 and 1945.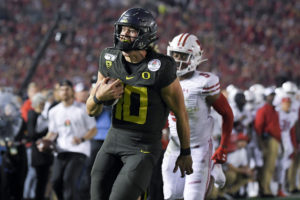 "When the pandemic hit back in March, everybody thought this would be a two- or three-week inconvenience and we'd be back to our normal lives," Tournament of Roses CEO David Eads said. "As we moved into weeks and months ahead, it was clear the seriousness that the pandemic had on the country but the world. It became very evident that with guidelines that were implemented in the state of California and the phases of reopening after the shutdown that we were going to have to make really tough decisions on what our future looked like on January 1."
And when considering how parade floats are usually constructed into confined spaces before the event, which can draw upward of one million people, the decision was at once disappointing but necessary — no Rose Parade. When the announcement came, the natural next question was about the status of the Rose Bowl, which this year is scheduled to be a College Football Playoff semifinal host instead of its traditional pairing of the champions from Pac-12 and Big Ten Conference.
"People ask all the time what is happening, what's going on," Eads said. "At this point there's still a lot of unknowns. My team is focused on working on preparations for the semifinal game scheduled for January 1. Our hope is that there is college football this fall with the three Power 5 conferences that have indicated they want to play college football and that it results in the College Football Playoff."
"People ask all the time what is happening, what's going on. At this point there's still a lot of unknowns."
— David Eads, Tournament of Roses CEO
Preparations are already underway, as much as they can be during any period of instability. The Tournament of Roses' aim is to make sure that a Rose Bowl is held on January 1 in the safest possible manner for players and coaches, of course, but also potentially fans depending on state, county and local health regulation. Eads, however, cautioned that "we don't know if we would have fans in the stands. We just don't know at this point."
With no parade and potentially no fans, there would be a huge negative impact on the regional economy; the Tournament of Roses had an economic impact of $200 million last year, capped by a thrilling win by Oregon over Wisconsin. And when those schools' conferences planned to not play in the fall, the chance of a spring season gave rise to an idea among fans; a spring Rose Bowl between the Pac-12 and Big Ten champions, quite the mix of the traditional with the unique — at least before both leagues changed course and will have seasons in the fall after all, which makes the idea of a spring Rose Bowl irrelevant.
As a result, the game's leaders plan to pivot to whatever is acceptable in order to continue tradition — or make new traditions that will fit within safety guidelines. "American needs a return to normalcy after all the difficult times we've been through as a country and college football has brought people together for decades," Eads said. "And there's nothing we would rather do than host the Rose Bowl game on January 1."
The Rookie on the Schedule
While the Rose Bowl is drenched in tradition, this was supposed to be the coming out year for postseason college football in Myrtle Beach, South Carolina. And the inaugural Myrtle Beach Bowl still intends to make its debut, even if questions remain about whether that can happen.
The idea for a bowl game in the city came about after several successful years hosting the Myrtle Beach Invitational college basketball tournament. Both events are owned by ESPN Events, which endorsed the concept of a bowl game after being impressed with the basketball event, said Jonathan Paris, executive director of sports tourism for Visit Myrtle Beach.
"That's how the bowl game came to fruition," he said, noting the convention and visitors bureau helped with the pitch and helped guarantee the name Myrtle Beach would remain on the bowl regardless of a title sponsor.
Other factors working in the city's favor to get on the bowl schedule included a recent expansion of the football stadium at Coastal Carolina University, where the game is set to be played. "It gave us a 25,000-seat stadium, which is an ideal size for a bowl game of the level we have," Paris said.
But whether the game will make it to the opening kickoff remains a question mark. While the game is scheduled for December, it is one of the majority that have yet to lock in a date and time.
The Myrtle Beach Bowl has signed affiliations with the Mid-American Conference, Conference USA and the Sun Belt. While MAC is on the verge of returning to play this fall, that the C-USA and the Sun Belt were already moving ahead may bode well for the game's future, Paris said. Having several conference affiliations to choose from is a bit of an insurance policy in a year where so much is unknown. But the affiliations were by design. The schools in those conferences are also in cities whose residents are familiar with traveling to Myrtle Beach, which was another appeal for the game, Paris said.
The bowl game is an attractive piece of business for the beach city because the weeks before Christmas are traditionally slow. While Paris said it's hard to sell the game without a date set, one potential advantage is that Coastal Carolina will play football this fall, so stadium staff will be used to accommodating fans on site. "It will give them a little bit of a blueprint of how to do the bowl and what's allowed and what's not allowed," he said.
Paris acknowledged the destination, like many around the country, is in a holding pattern. "The feeling is if conferences play football and have teams qualify they're going to have the need for bowl games and we're positioned in a good spot geographically for a lot of teams in those conferences," he said. "Some of the bowls might naturally go away. But we're holding on."
The Benefit of Diversifying
While the Myrtle Beach Bowl may be the newest in the mix, others that have been around a while find themselves in a potentially beneficial position.
The 2021 PlayStation Fiesta Bowl will mark the 50th edition of the game in Phoenix that has become one of the most high-profile of all the New Year's bowl games. Over the years, the Fiesta Bowl organization has added a second game, the Cactus Bowl, which up until last year was known as the Cheez-It Bowl until Cheez-It moved its sponsorship to a game in Orlando.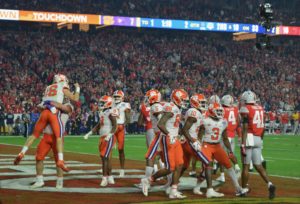 That pedigree of five decades in the bowl game business has the organization perhaps better situated than most this season, said Mike Nealy, who serves as the executive director of the Arizona Sports Foundation and the Valley of the Sun Bowl Foundation, which operate the Fiesta Bowl, the Cactus Bowl, Fiesta Bowl Charities and other community events. The ability for the organization to operate as a bowl game, a charitable organization and an events company provides a diversified revenue stream that allows the games a bit more cushion than most this year. "We're kind of unique in that situation having been an organization that's been around for 50 years," he said.
While the ability to run its own community events gives the organization some leeway, the challenges this year are nonetheless real. Nealy said the organization would normally have the dates and times for its games set by April or May. While the Fiesta Bowl is scheduled for January 2, the Cactus Bowl is among the large group of TBDs on the schedule. The game is affiliated with the Big Ten and the Big 12.
"The hard part for us is that we can't control what the end game is going to look like," Nealy said. "We know we'll have some disruptions along the way. The good news is as we sit now, the plan is for college games to be played. For planning purposes, we didn't slow down. We're planning for our major events."
Ancillary events are key for the Fiesta Bowl's umbrella organization. The game's parade is believed to be the largest single-day event in Arizona each year by attendance, for example. But more important are the events that happen year-round, which along with the game have helped the organization dole out $10 million in grants to local groups over the past four years. Those events include a youth football clinic, a kickoff luncheon and a par-3 golf tournament for the benefit of local charities. This year, the organization is also discussing the concept of a new golf tournament designed for local nonprofits that were not able to schedule their own galas or events this year. By being able to sell sponsorships around those events, the organization has additional sources of revenue.
The bowl organization also launched a new progressive 50-50 raffle game presented by the state lottery that will go for months in a fundraising effort to benefit Fiesta Bowl Charities. And while the Fiesta Bowl organization has implemented spending cuts in the face of the unknown, it also managed to issue $1 million in grants to local COVID-19 causes early on in the pandemic. "If we end up not having games this year," Nealy said, "it's going to impact us. But we'll be able to survive just fine and support the community."
Nealy said other bowl games that haven't had the time to build an additional infrastructure may not make it. But regardless of what challenges may lie ahead, including the prospect of no or limited fans, the group plans to fight on. "Maybe some of the bowls are worried if they can't put fans in the stands," he said. "We're conscious of the impact of not having fans, but we're going to have the game because we know the value of the game beyond just fans in the stands."
Focusing on Flexibility
Orlando is one of the biggest cities in the United States. When you add in its tourism reputation thanks to Walt Disney World and its location as a warm-weather destination in the winter, it turns into an attractive place to have bowl games. That's why there is the Florida Blue Florida Classic between Bethune-Cookman and Florida A&M, the FBC Mortgage Cure Bowl, the Cheez-It Bowl and the New Year's Day tradition of the Vrbo Citrus Bowl, which will be held for the 75th time this January 1.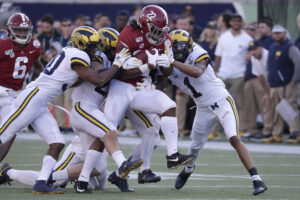 The uncertainty of college football's postseason can hang heavy on a destination that has multiple events. But Florida Citrus Sports CEO Steve Hogan remains confident, saying "the conferences that are playing have an amazing plan and they're going to follow it. I think the kids are motivated to play as much as they have ever wanted to. If we're flexible and we're prepared, things are going to work out just fine."
And it is that one phrase Hogan returned to throughout a conversation back in August: "Everybody in college athletics has learned throughout this entire process that the key word is flexibility," he said. "We're planning to play. Now if something happens to the season that none of us foresee, then you have to be flexible. Right now, it's all lining up to exist as it always would."
"Everybody in college athletics has learned throughout this entire process that the key word is flexibility."
— Steve Hogan, Florida Citrus Sports CEO
To that point, preparation is underway. Whether that means working with sponsors on deliverables to coming up with plans should there be fans allowed — Hogan compared it to a dimmer switch so plans can be adapted to whatever percent of capacity the games will be allowed to have. There also is the community-based work Florida Citrus Sports conducts with local business and organizations to help on issues such as food insecurity to educational access for children in underserved populations around Camping World Stadium.
"We have not let up one penny of our financial obligations to the charitable mission of what we're doing," he said. "Even though it's coming out of our reserves, our board has said 'We understand the reality of what we could lose financially, but what we can't do is not honor the obligations we've made to the community that surrounds the stadium.'"
As a former president of the Football Bowl Association, Hogan knows the postseason is at an inflection point — "There's no question that there's some severe pain being felt and there may well be a lot of games that can't be played this year and some that can't survive that. I don't want that to be the case, none of us do. We know how much it takes to build any level of stability."
That stability, Hogan said, comes from community support. From the volunteers to the full-time employees, being able to provide an experience for everybody involved is the focus of the hours that go into organizing each event. "Oftentimes the last experience for the upperclassmen on these teams that aren't going on to the NFL — these are the memories they have," he said. "The people that are involved in this take it so seriously. They want those young adults to leave that destination and say 'Wow, I had an amazing time.' … Maybe it sounds Pollyann-ish, but that's what people stress about in that room as bowl organizers and staffs and volunteers. They just want the week to be great for these young men and women involved in the two programs so they can say 'I'll never forget it.'"
A Possible Delay to the Spring
Last year, all the stars aligned for the Arizona Bowl. Its fifth annual game saw Wyoming beat Georgia State in front of nearly 37,000 fans at Arizona Stadium in Tucson. Switching its date to New Year's Eve allowed the nonprofit organization that runs the game to turn postgame into a giant party in the downtown district with 10,000 people counting down the seconds to 2020, including fireworks at midnight.
With new six-year tie-ins secured with the Mountain West and Mid-American Conferences, the Arizona Bowl felt great about the future. But then the Mountain West and MAC decided it would not play in the fall, leaving the Arizona Bowl as one of at least four bowl games that has lost both its tie-ins this year; that, like everything us in college football, has changed as the season developed with both leagues preparing to have shortened fall seasons upon a reversal of thought by the league's leadership.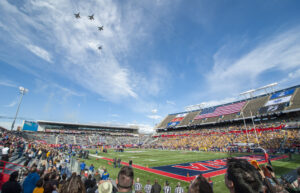 Arizona Bowl Executive Director Kym Adair said the bowl's historical economic impact is estimated at $100 million. As a nonprofit organization, it has donated more than $4.5 million to local charities the past five years.
"(COVID-19) has really made us take a look at where we are with the bowl and what we want to be and what's important," Adair said. "We knew in March when businesses were struggling because of quarantine and COVID, we called all our sponsors and charitable organizations and checked in on what we could do for them."
Since those check-ins, the Arizona Bowl has donated water to the Salvation Army, held a pet food drive and also worked with the Southern Arizona diaper bank, Tucson Interfaith HIV/AIDS Network and a local Therapeutic Ranch for Animals and Kids.
"We've been really focusing on making sure our community is strong," Adair said. "Doing that as a bowl organization has made us stronger, our leadership is stronger, we're focusing on the right things and have made the hard decisions to make sure we're a sustainable organization."
And now, it waits on official word to see if it will be able to host another memorable New Year's Eve.
The Impact on Vendors
It's not just host cities and venues that benefit from bowl season. A number of vendors involved in games are watching the next few weeks closely should a bowl schedule begin being set.
One of those is Randy Sparks, the CEO and founder of Team IP. Sparks' company is the official merchandise provider for 19 bowl games including the Senior Bowl, a showcase for potential draft picks. Sparks has been building his company's bowl portfolio for years, including a recent deal with ESPN Events that has helped grow that number over time.
As he describes it, the bowl business is more than the game. "We do a lot of our business the week of the bowl," Sparks said. "We call it 'The Week Of.'" Those projects include ancillary events, events for alumni, golf tournaments and opportunities for player gifts, among others.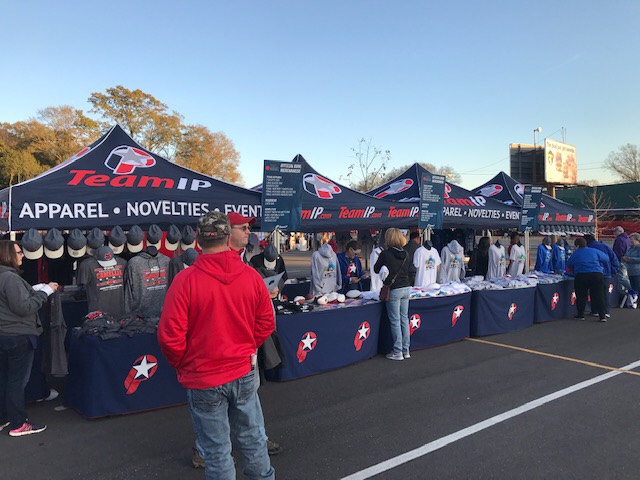 Sparks, whose organization is a member of the Football Bowl Association, is watching the recent news with interest and notes that several bowls have been able to lock in new sponsorship deals. Among those is a bowl that Team IP is affiliated with, the Independence Bowl, which announced a new deal in late April with Radiance Technologies.
"They've been very successful even with all this doubt and confusion as relates to college football," Sparks said. "The majority of our bowls, if they needed new corporate sponsors they've gotten them."
Sparks said bowl games held in NFL stadiums may be at an advantage if the pro season can play itself out because venue staff will be used to accommodating crowds. But if crowds aren't allowed in remaining bowl games come December, the impact will be real for vendors.
"I always say we can't sell to ghosts," Sparks said. "If we were to do e-commerce and if it was a television (only) bowl, we'd lose 90 percent of our revenue and I would not be excited about that."
The Loss of a Championship
Few places in the United States care as deeply about one thing as the state of Texas cares about football. Texas cities hosted seven bowl games in the 2019–2020 season and for the past 10 years, Frisco has hosted the Football Championship Subdivision championship game. That event, held annually in January, drives around $9.5 million in economic impact to the region, said Visit Frisco Director of Sports & Events Josh Dill.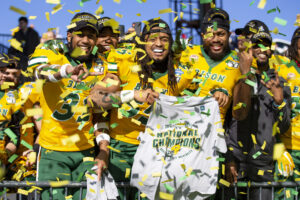 But this year's FCS championship game has been postponed as part of the NCAA's decision to not hold any fall championships below the bowl subdivision, which Dill said "was a gut punch to the community." Frisco has become a home away from home for FCS powerhouses such as North Dakota State, which has won eight titles in Frisco, and James Madison University, which has made three title game appearances in the past four years.
"We love the North Dakota State folks, the Bison faithful come down from Fargo it seems like every year," Dill said. "It's fun to see restaurants put up 'Welcome Bison fans' and 'Welcome James Madison fans' signs. It's so good for us, it's so good for Plano and The Colony and our surrounding communities. It's something that is a tent pole event and we look forward to every year."
The Division I Football Oversight Committee had a recent videoconference in which it formally recommended a spring FCS championship tournament with a title game to held on May 15, 2021. The recommendation's formal approval on September 16 is welcome news for Frisco, which has also hosted the Tropical Smoothie Café Frisco Bowl since 2017. Dill is hopeful that the late December game — which can bring up to $3 million in economic impact to the region depending on the teams involved — is able to be held.
"COVID has been like a heavyweight boxing bout," Dill said. "It goes in rounds. We took some initial punches and thought we could survive a little bit, then it hit again in June and July. It's not just hurting hotel occupancy; it's hurting restaurants and partners that have revenue tied up in the college football world."