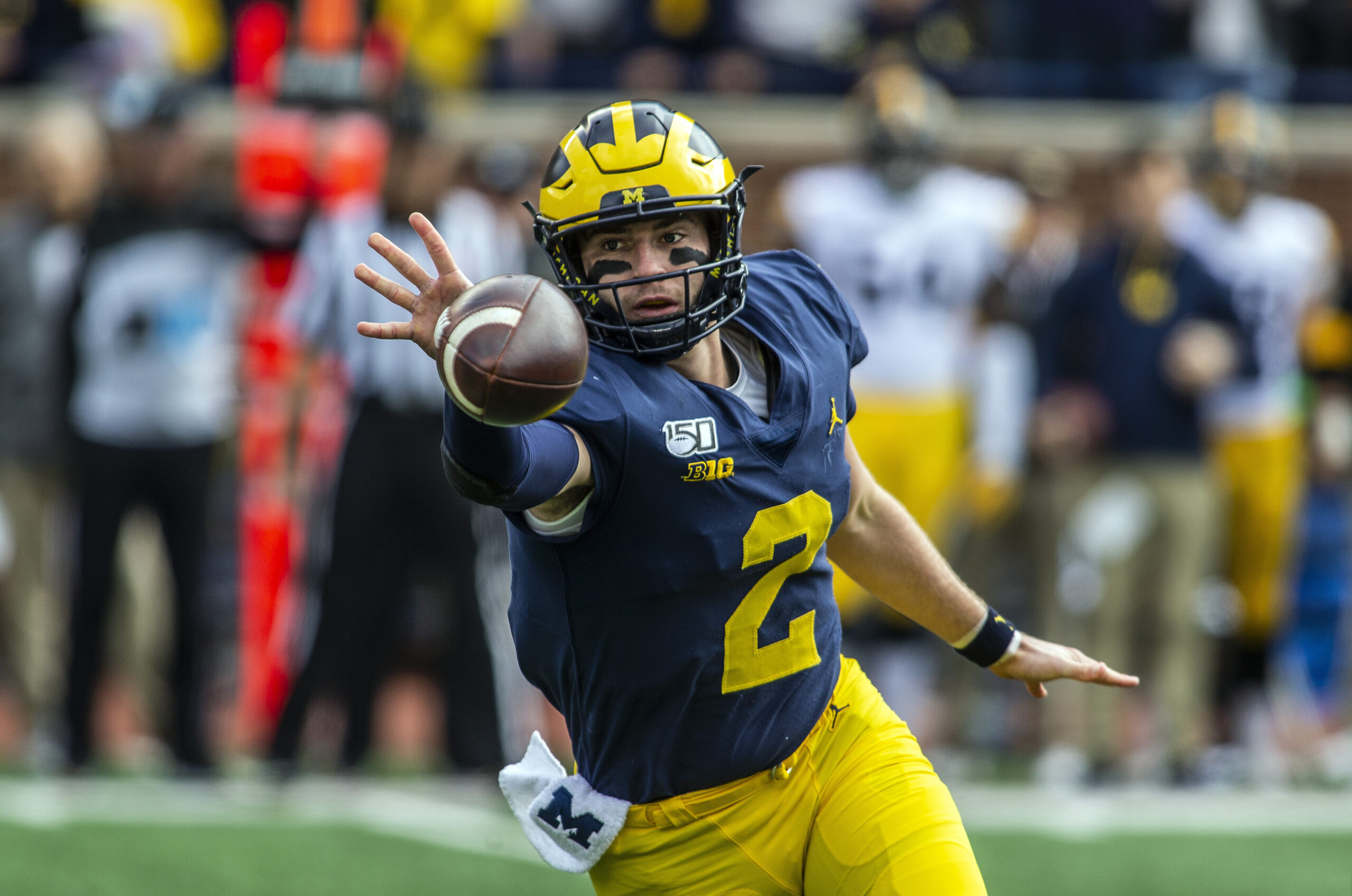 Before you celebrate a touchdown with your friends and go crazy high-fiving strangers who feel like friends in that moment, you start with the tailgate party hours before kickoff with snacks, all sorts of food on the grill and a football flying through the air. Postgame usually means a drink downtown at a packed sports bar. In some regions of the country, the entire weekend is spent sleeping either in an RV or local hotel so that you don't miss any action off the field.
College football games in the fall mean more than bragging rights on the football field, or a potential path to the national championship. For destinations whose cities are known for universities with major programs that bring thousands of visitors on a weekend, the games are an economic necessity as well. And the quickly shifting landscape in college football, which has seen the SEC, Big Ten and the Pac-12 cut non-conference games and the NJCAA plus several FCS, Division II and Division III conferences cancel the fall season, is causing hand-wringing at convention and visitors bureaus and sports commissions around the country.
"It's unfathomable trying to wrap your head around what's going on," said Derek Bombeck, sports development manager at the Lincoln (Nebraska) Convention & Visitors Bureau, where the University of Nebraska football program has sold out every home tilt — 375 consecutive games — since 1962.
While it's not clear what will happen this fall — or if the season will move to the spring as some have suggested—what is clear is the impact college football has on select destinations around the country and what the loss of a game or games could mean to the recovery in those areas.
'We bleed football around here'
For all the legendary SEC venues that are spoken of with reverence by college football fans, there is one program — one of the new kids on the block, you could say — that may be underrated in terms of atmosphere … but never in terms of noise.
Texas A&M University's Kyle Field is normally packed with 102,733 fans every home game, making it the biggest stadium in the conference and fourth-largest in the country. When the 12th Man gets rocking, the old press box was known to sway back and forth. And even after an extensive stadium renovation in the past decade, the new press box still has that slight swaying effect when everybody roars at just the right time after a big play.
So yes, the Aggies fan base knows how to make it miserable for an opponent. But they also know not to take that competitive nature outside the stadium.
"Everyone says when they come here that we're the friendliest fan base," said Dominique Powell, director of sports and events for Bryan College Station Sports and Events. "This area just loves to showcase itself. We'll have 102,000 inside the stadium and that many outside the stadium barbecuing, hanging out, people inviting you into their tailgate. It's definitely a homey experience. We make you feel like you're an Aggie or part of the team — no matter if you're wearing South Carolina colors or Florida colors, Bryan-College Station tends to be one of those towns that wants to show off its town and show off its hospitality."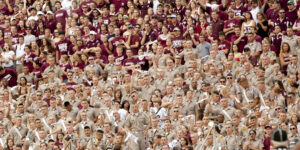 The Aggies, which joined the Southeastern Conference in 2012 from the Big 12, are still scheduled to show off their hospitality four times this year, including on November 28 when defending national champion LSU comes to town. But it already has seen three home games come off the schedule including a September 19 home game against Colorado was canceled when the Pac-12 Conference decided it would only play conference games this fall, then home games September 5 against Abilene Christian and September 12 against North Texas that were canceled after the SEC's decision to go conference-only. And that's even before you throw in the doubt about whether or not high school football will be played this fall — which, in Texas, is every bit as big a deal as major college athletics.
Powell said his region is approaching the fall "with a nervous calm. We're in Texas. We bleed football around here and I think people are willing to fight a little bit more to have a football season. … We're a little nervous around the state just because football is a way of life. Without that, I don't think any of us know what the fall means without football in it."
When Texas A&M was in the Big 12 about a decade ago, a study showed that college football was worth $80 million to the region, a number that surely has gone upward since joining the SEC. "We want our home games obviously from the sports tourism aspect but also for our community and our citizens," Powell said. "Our fans bleed maroon. But also that sales tax goes into our general fund and provides jobs, provides livelihoods for people. We definitely are keeping an eye on the fall to hopefully get that positive economic activity that goes further than just visitors and heads in beds. If we lose that, it gets a little bit scary around here."
"I don't think any of us know what the fall means without football in it."
—Dominique Powell, Bryan College Station Sports and Events
While usually not seen as a big city, the Bryan-College Station metropolitan area had a population of more than 270,000 as recently as two years ago. Texas A&M is a huge driver economically and can be a tourist attraction nearly year-round. Powell said that the school often works with his group when it brings sports events into town and let youths take tours of campus and see things behind the scenes: "Texas A&M is a huge selling point for us, not just the facilities but what the whole university brings to the table," he said.
And the ability to showcase Texas A&M to a national audience while also bringing in tourism dollars through college home games would provide a bit of much-needed normalcy for the region.
"To get some normalcy back in the form of a football game would be a big sigh of relief," Powell said. "That's all everyone is looking for is some hope, some good news once in a while. If you can go and cheer on your favorite team, your alma mater, it's a little bit of hope in what seems to be a hopeless time right now. That's what sports does for people. It really transcends anything."
'At the end of the day, our bread is buttered with football'
There have been countless stories over the years, writers showcasing every bit of their flowery prose about what college football means in the South. It is the stuff that books are written about and sometimes it gets mocked. But it really is true — for those who have lived there and experienced it, nothing matches the intensity and obsession that comes with being a college football fan.
"As an Alabamian, it is as about to close to heaven as you can get," said Stan Adams, director of sports of Tuscaloosa Tourism & Sports Commission for Visit Tuscaloosa. "Three hundred and sixty-five days a year, that's all we talk about is college football."
Alabama is one of the schools that lost a marquee non-conference game when its matchup against the University of Southern California was canceled after the Pac-12's decision. But that game was scheduled to be in Dallas. So while Crimson Tide fans will miss a great road trip, Tuscaloosa will not miss out on any direct economic impact. But should the SEC schedule be affected, it would be a massive blow to the community.
The Crimson Tide on September 19 are scheduled to host Georgia, its opponent in the 2018 College Football Playoff Championship game and the 2019 SEC Championship game. It is a game that has been circled on calendars for months and was highly anticipated before last year's CFP title game even finished. The Tide are also scheduled to host Auburn on November 28, which is merely one of the biggest rivalries in all of sports.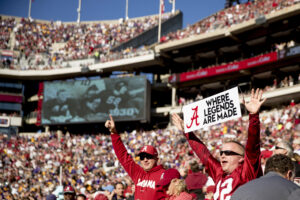 To be an Alabama fan is to be a special breed of dedicated. For any normal Saturday conference game, Tuscaloosa — T-Town as it's called by the locals — can start filling up as early as Wednesday night. For a 2011 home game against LSU that matched up No. 1 vs. No. 2 in the country and was billed as the "Game of the Century," hotels were full a week ahead of kickoff. Tuscaloosa triples in size every Saturday that Nick Saban's team runs onto the field at Bryant-Denny Stadium.
"Everybody associates Tuscaloosa with sports," Adams said, "and at the end of the day, our bread is buttered with football."
While Adams stressed "football is the economic driver but it's not the only one" in Tuscaloosa, the Crimson Tide season generates $175 million in economic impact that would have to be mitigated in case of cancellations. He is working nonstop on contingency plans should there be the worst-case scenario of no football, reaching out with many baseball and softball tournament organizers.
"The SEC is primarily in a lot of towns where that's all they have," he said. "We're probably a little better situated than a lot of other college towns but even then, we'd be in a big hurt. I understand the SEC doesn't want to make the wrong decision; they want to make the right decision. But the sooner they make a decision, the better we can all start planning. When managing events, we always want to plan. The sooner you make a decision, the earlier I can plan."
"Everybody associates Tuscaloosa with sports. And at the end of the day, our bread is buttered with football."
—Stan Adams, Tuscaloosa Tourism & Sports Commission
And planning is what Adams is doing a lot of. There is the possibility that SEC schools are able to have full schedules with some last-minute adjustments for those who have to fill in for non-conference cancellations. There is the chance that games would be played but with attendance restrictions, in which case Tuscaloosa is looking to plan how it will make sure any fans who come to town — even those without tickets — will be able to tailgate or enjoy a weekend responsibly. "We still think because of the loyalty that people have to our football team that we still will have people come and if they'll tailgate, we need to be prepared for every scenario," Adams said.
When the SEC joined the Pac-12 and Big Ten Conferences and announced it would have no non-conference play, that canceled Alabama home games against Georgia State and Kent State — although as Adams points out, "if the rationale behind doing conference only is you want to cut down on travel, well that doesn't make sense if you've got South Carolina and Clemson in the same state but South Carolina has to play Texas A&M."
Then there is another plan to prepare for, which is what happens if the national situation surrounding COVID-19 does not improve and college football moves to the spring. And that is where things could get creative.
"We'd spin that as more of a sports-cation," said Adams, describing a way that Crimson Tide fans could come in for an afternoon football game and then instead of going back home, spend the night in town and head out to a Sunday game featuring either the baseball or softball teams, which both are nationally recognizable programs. "I'm trying to find any silver lining I can in anything."
'Questions we've never had to ask ourselves before'
Lincoln, Nebraska, has been synonymous with college football for decades. On a Saturday home game, Memorial Stadium, with a seating capacity near 90,000, becomes the equivalent of the third-largest city in the state.
The team's sellout streak is the envy of collegiate athletic departments around the country. But the Big Ten's move to cancel non-conference games has already taken a toll on the economic impact the city expects to receive from Cornhuskers football this fall. Nebraska had three non-conference games against Central Michigan, South Dakota State and Cincinnati scheduled on consecutive weekends from September 12–26.
The loss of those games goes beyond the football field. A recent study by the University of Nebraska concluded each home football game has a $5 million estimated economic impact on the city, said Bombeck. "Knowing you're supposed to have seven or potentially eight home games is a significant impact for Lincoln," he said. "Now moving to a 10-game schedule, we will get five or six home games and if the virus peaks, maybe we'll get one or two."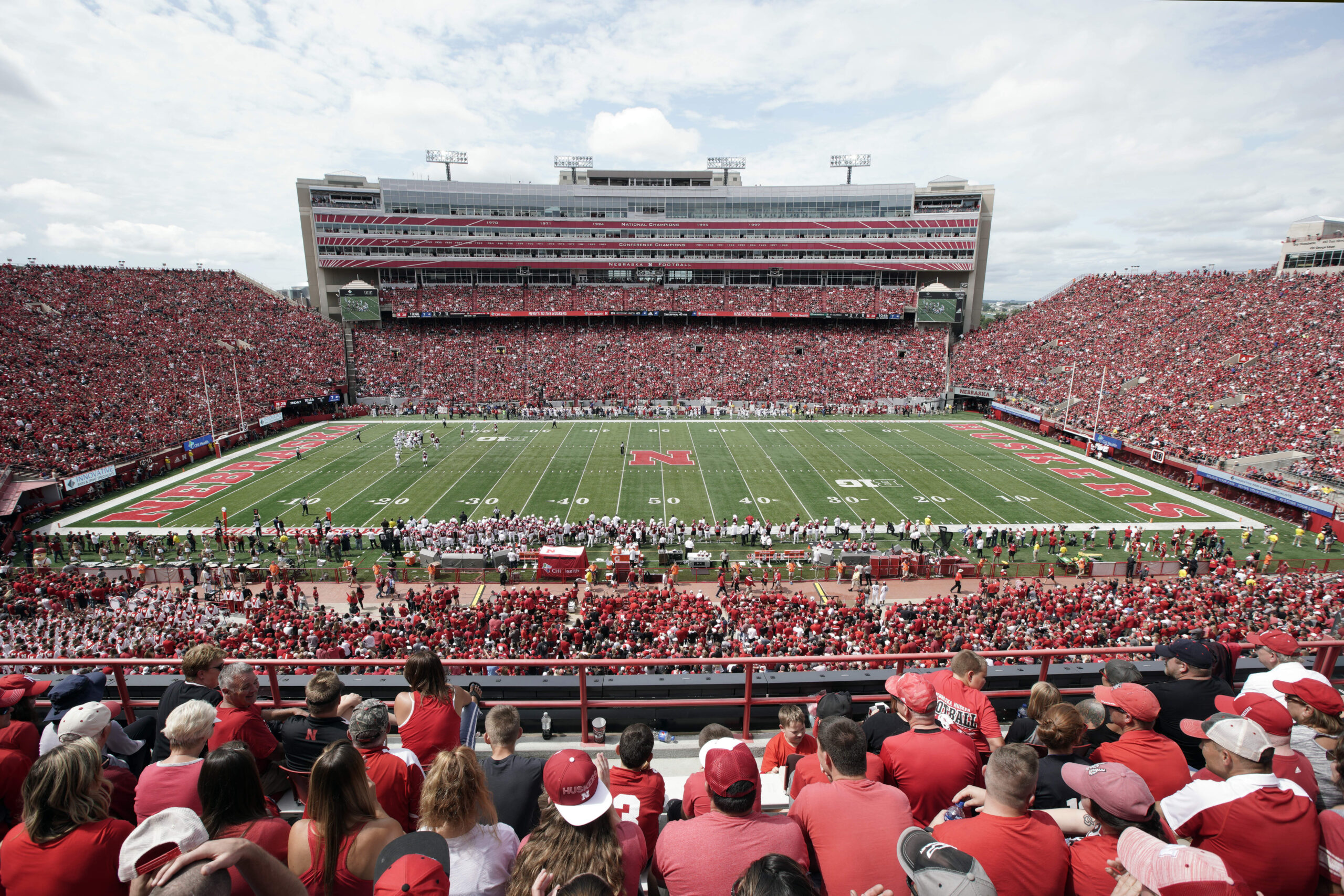 The football schedule also means the city typically doesn't go after many other sports events during the season because local hotels, Bombeck said, are sold out around the games. "Fans make sure they find their way here to a handful of games each year," he said. "Since 1962, the fan base is tried and true. They don't want to miss anything."
"Since 1962, the fan base is tried and true.
They don't want to miss anything."
—Derek Bombeck, Lincoln CVB
While Lincoln hosts other sports events the rest of the year, the connection to the university has been a strong one and helped land some of those non-football events. Bombeck knows the power of the connection first hand, having previously worked nine years as an event manager in the university's athletic department.
"The University of Nebraska is a national brand and they have world-class facilities," he said. "The university has helped me out incredibly in recruiting events like USA Volleyball and USA Wrestling."
The uncertainty of the rest of the season has been a topic of local conversation for months, Bombeck said. That unknown already has local leaders thinking about how they can fill a void if a deeper one comes to pass. "These are just questions we've never had to ask ourselves before," he said.
'I think we're optimistic but we're so nervous'
Tucked into the rolling hills of Central Pennsylvania, State College is the type of small city that ordinarily might never be known to the greater population at large. Yet for decades, a sleepy college town with a population of under 43,000 can turn into one of the biggest single gatherings in all of the state for one reason: Penn State football.
Through a series of renovations over the years, Beaver Stadium can hold up to 106,572 people for home games as the Nittany Lions run out in their instantly recognizable blue and white uniforms. It's decades worth of success that makes hundreds of thousands of people drive to State College each fall on a Saturday, some coming from as far as Pittsburgh or Philadelphia, no matter the nearly 200-mile drive that can include lots of small towns and local roads.
"It's like a pilgrimage," said Dave Gerdes, vice president of sales and marketing for the Happy Valley Adventure Bureau. "It's probably the only thing that I tell people who aren't familiar with the state that unites Steelers and Eagles fans — for that one day. You're all Penn State fans."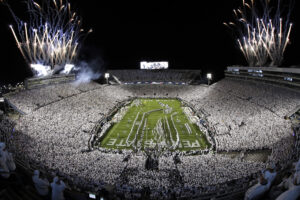 There will already be fewer trips for fans to make this year. The Big Ten Conference's decision to forego non-conference games for fall sports has eliminated two home games against Kent State and San Jose State. While neither are marquee teams, they are still significant events for a destination that has for some games up to an estimated 65,000 people tailgating outside the stadium. "I think on a good September-October weekend weather wise, you can have as many people in the parking lots as are in the stadium," Gerdes said.
State College will still be home to tens of thousands of visitors for conference games against teams such as Iowa, Ohio State and Michigan State — each with loyal fanbases known to travel. Being able to have those weekends are crucial to the region's economic activity. The city has 28 hotels in the surrounding area and Gerdes said almost 20 percent of their yearly revenue comes from seven football weekends alone.
"The economic impact is without a doubt significant," said Gerdes, estimating it as up to $170 million in the fall. He noted that for last year's game against Michigan — a nighttime kickoff in front of a capacity crowd all wearing white — the average room rate for the weekend was $500.
Pennsylvania had been doing well overall compared to some other areas in mitigating the spread of COVID-19, but recently the state government has tightened restrictions on public gatherings, including a maximum of 25 people for indoor events from the previous limit of 250. That move has hurt State College for tourism as it had some basketball and wrestling events in the works after recently being able to organize baseball and softball tournaments.
"The economic impact is without a doubt significant."
–Dave Gerdes, Happy Valley Adventure Bureau
The restriction has made the region known as Happy Valley adjust its tourism focus.
"This area is so good with the outdoors, so we're trying to encourage people through social media to visit the area and go hiking, go biking, enjoy the outdoors, the fresh air, the space and get out of the big cities and come to State College," Gerdes said. "Social distancing is natural in this area because of how spread out we are."
And while trying to get some economic activity still generated throughout the area, the region sits and waits as the next few weeks look to be crucial in determining whether its biggest economic driver is allowed to be played as scheduled.
"I think we're optimistic (to have football) but we're so nervous," Gerdes said. "The last couple of weeks have made us a lot more nervous than at the beginning of the month."
'We've all got our fingers crossed'
When it comes to college football, there is no bigger stage than the Big House in Ann Arbor, Michigan. The home to Michigan football seats 107,601, making it the largest stadium in the NCAA.
As a result, Wolverines football has an outsized presence. Similar to Nebraska, Michigan lost out on its non-conference games with the Big Ten's decision to stay in conference for games. That meant two home tilts came off the calendar: a September 12 game against Ball State and a September 19 game against Arkansas State.
Like in other college football destinations, the release of the fall schedule tends to define the available weekends come September. "Most of the hotels, when they do their budgets, they look at the football schedule first," said Mike Malach, executive director of the Ann Arbor Sports Commission. "They look at who is coming in and what those dates are."
"It's going to have a big impact on what's going on around here if we don't have a full football season."
— Mike Malach, Ann Arbor Sports Commission
But the impact goes beyond the hotels. Airbnb rentals are also reliant on the influx of visitors on game days: "I know quite a few people who pay the mortgage on their homes just through their Airbnb rentals," Malach said.
In addition to losing its non-conference games, the University of Michigan has also announced that tickets to remaining home games will only be available to season-ticket holders and students, further reducing the potential number of travelers to games. That combined with the loss of non-conference games — and potentially more — will add to the challenging times ahead, Malach said. "It's going to have a big impact on what's going on around here if we don't have a full football season," he said. "Even with the (ticketing) announcement, that's going to have a huge impact on the room nights."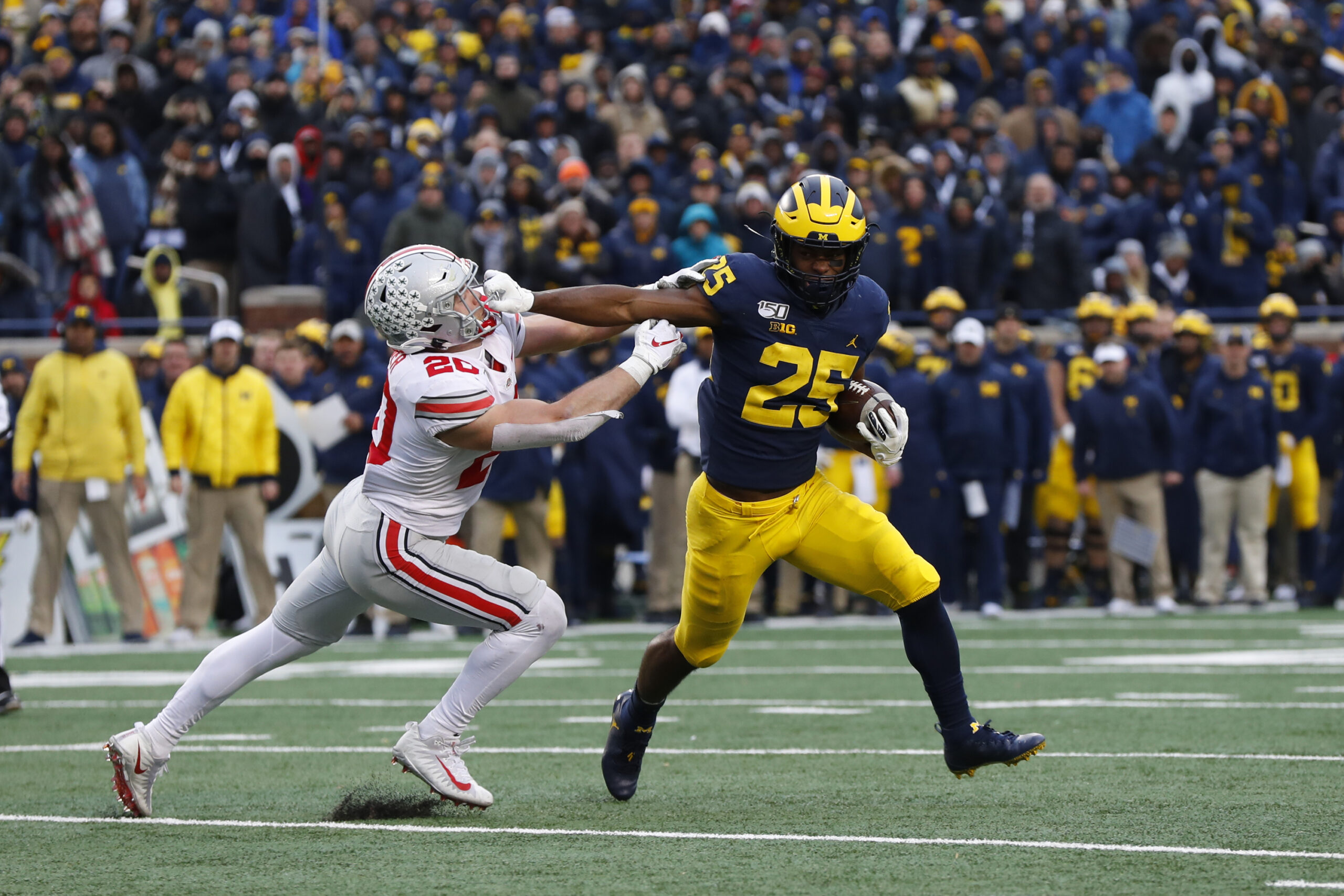 Like Bombeck in Lincoln, Malach understands the pressures put on the university. Before joining the relatively new sports commission in 2018, he spent more than 20 years at nearby Eastern Michigan University in the athletic department, including four years as the senior associate director for finance and operations. But he's also concerned about the potential loss of more games on the city's overall economy, from restaurants to downtown businesses that are packed on game days. A local high school and golf course, he noted, provide a large amount of parking on game days, which they rely on for revenue as well.
When it comes to restaurants, there are unique concerns there, too, he said. Should the season move to the spring, Malach is concerned that a February or March start, for example, would limit the amount of outdoor seating at restaurants in cold weather, something that is less of a factor in September or even October. "That worries me, too, if the restaurants are not completely open and they do have a spring football season," he said.
The best that Ann Arbor — or any college football destination — can do at the moment is wait to see what will transpire over the coming weeks. "We've all got our fingers crossed that everything works out," Malach said, "and that we get through this year."