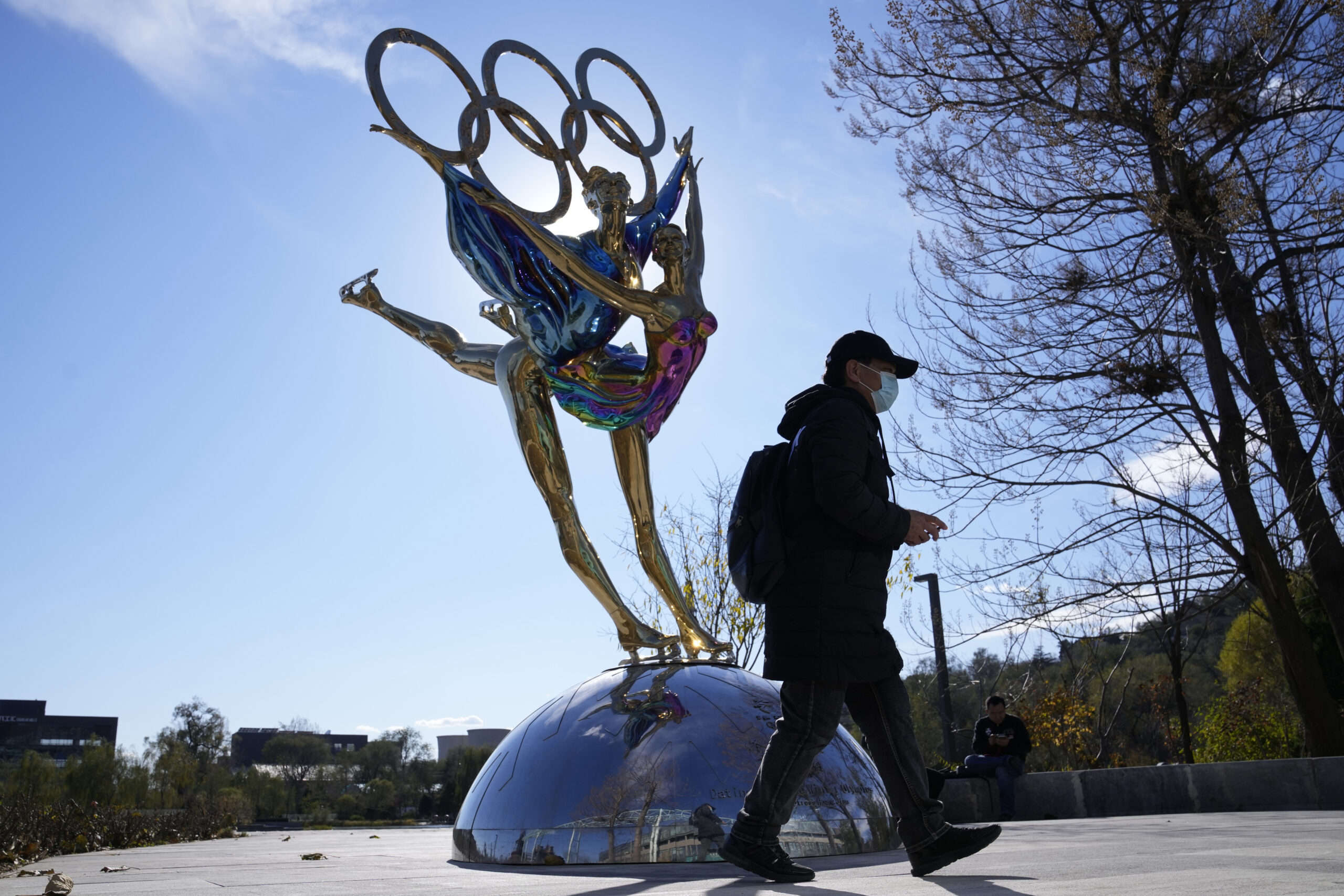 The focus of a press briefing by the International Olympic Committee on Tuesday after the first of three days of meetings was on everything but the competition that is scheduled for February in Beijing — although the IOC made it clear that the Olympic and Paralympic Winter Games in China will not be postponed.
Instead, the IOC was grilled with questions about the United States' announcement of a diplomatic boycott for the Games as well as the IOC's role in setting up two conversations with Peng Shuai, the Chinese tennis star who has not been seen publicly since early November when she accused former Vice Premier Zhang Gaoli of coercing her into sex at his home.
IOC President Thomas Bach has been in contact with Peng twice, once in late November and again last week. The IOC's actions have been roundly criticized by world sports organizations and governments, with the European Union saying Peng's "recent public reappearance does not ease concerns about her safety and freedom." The WTA Tour announced it will suspend all tournaments in China and Hong Kong as it awaits its own independent confirmation of Shuai's safety.
"What we should be doing is concentrating on the well-being of Peng Shuai and not try to use this for any other purpose," IOC member Juan Antonio Samaranch said. "Don't write off silent diplomacy, it's a very powerful tool and we plan to stick to it."
While the IOC remained resolute in its stance, it was also notable that only once did anybody on Tuesday refer to Peng by her name, instead repeatedly referring to her as "the athlete" or "a person."
"The most important thing is to help out that person," Samaranch said. "… Our idea is to center and concentrate ourselves on the well-being of the athlete and we are doing that wholeheartedly."
Earlier this year, the IOC issued new guidance under "Rule 50" that ensured athletes will be able to express views on the field of play before competition as long as it is not "targeted against people, not disruptive and not otherwise prohibited by national Olympic committees or international federations." IOC Director of Communications Mark Adams, asked if athletes showing support for Peng during the Games would be protected by Rule 50, said "that is a hypothetical question. Athletes have the rights to express their views in press conferences, mixed zones and social media. What people may or may not say, I think we have to wait for concrete examples."
The IOC also tried to stay out of the political arena after the United States announced a diplomatic boycott of the Beijing Winter Games over human rights concerns on Tuesday. China said the decision is "out of ideological prejudice and based on lies and rumors," promising "resolute countermeasures" with no details.
"We respect their right to take the decision but it shows they also respect the right of athletes to take part in the Olympic Games … Our role is to be above politics and bring the world together," Adams said.
Other major countries have yet to say if they will follow the American lead. The USOPC will still have a delegation heading to Beijing along with Team USA and the Salt Lake City-Utah Committee for the Games will have President and Chief Executive Officer Fraser Bullock, Board Committee Chair Catherine Raney-Norman and Bid Leader Darren Hughes in Beijing to meet with IOC officials as part of its work toward trying to earn Salt Lake City hosting rights for either the 2030 or 2034 Olympic and Paralympic Winter Games.
Lost in the IOC's defense of its role in the Shuai saga or the U.S. diplomatic boycott was it saying the Games will go on as scheduled even as COVID-19's latest variant has sent ripples around the world. The IOC instead will lean on the "closed loop system" that Beijing organizers have assembled.
"We have learned the last two years in a COVID world you have to be flexible and react to rapidly changing conditions," Samaranch said. "We have that in Beijing," adding "for the Games to be successful they have to be safe. They will be extremely safe."
Christophe Dubi, the Olympic Games executive director, said no decision has been made yet about the number of Chinese spectators that will be allowed at events after an earlier decision to ban foreign fans from attending. A decision may come by the end of December.