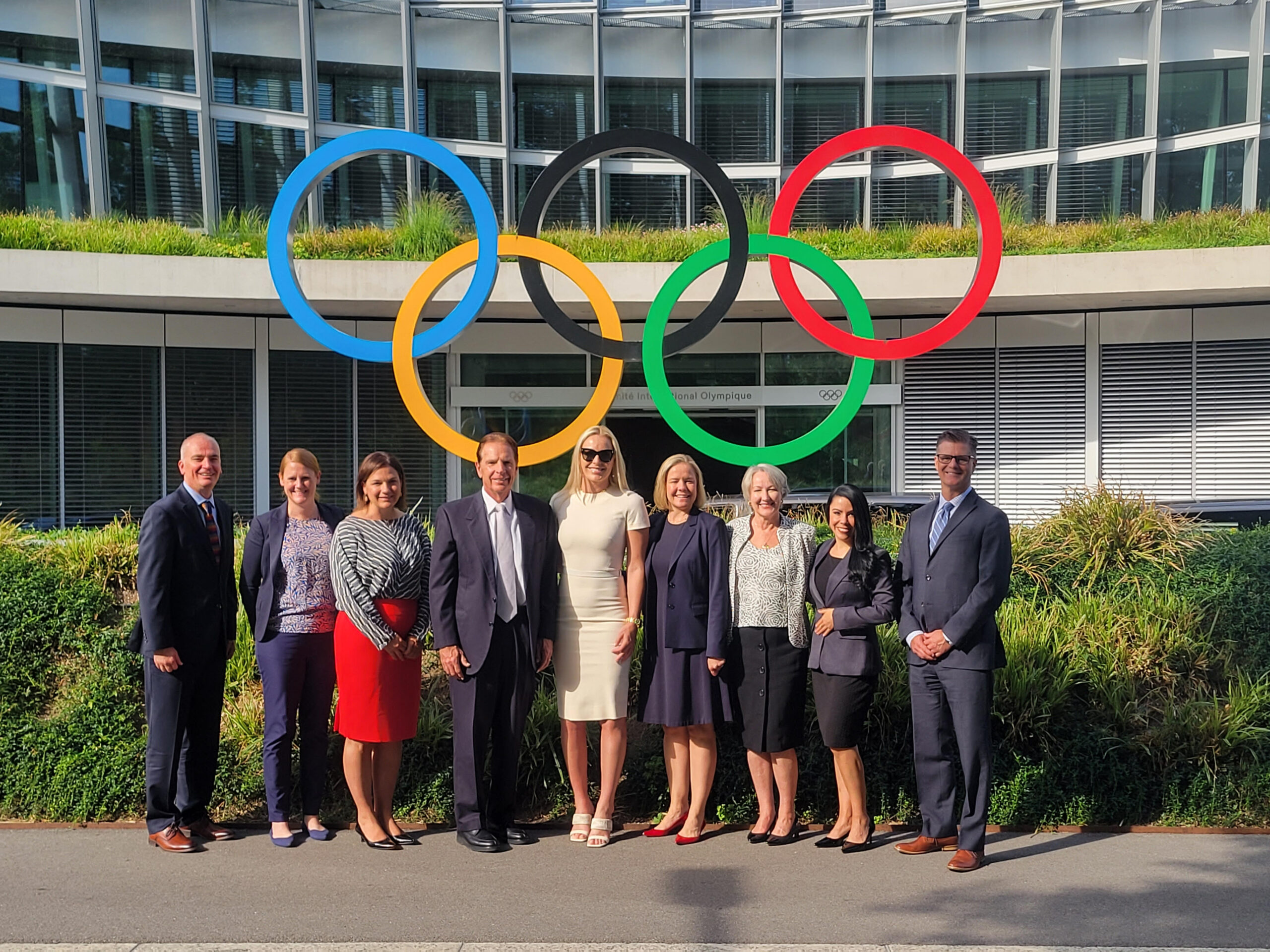 The heavy lifting at this point is done for the Salt Lake City-Utah Committee for the Games after two days of meetings with the International Olympic Committee this week, with the group's President and Chief Executive Officer Fraser Bullock saying Wednesday "in this phase, we've now completed everything we need to do."
Now comes the hard part: Waiting for the IOC's next move as it determines a host city for the 2030 Olympic and Paralympic Winter Games.
"One of the things we sensed particularly was the sense of partnership," said Bullock after meeting with IOC President Thomas Bach and many others. "We all want to do what's best for the Olympic movement."
The bid group also announced Olympic ski legend Lindsey Vonn will be its Athlete Experience Chair for a future Games while meeting with Bach and Future Host Commission Chair Octavian Morariu.
"I've been to quite a few Olympics and have a lot of different experiences," said Vonn, who had lunch with Bach this week before a personal tour of Olympic House. "I hope together with Fraser we can create something special for the Olympic participants and for their families," later adding "it would be such a full circle moment to participate in my first Olympics in Salt Lake and then help this bid to bring the Olympics back to Salt Lake. "
With Vonn and Bullock on the visit to Lausanne were Salt Lake City-Utah Committee for the Games Board Chair Catherine Raney Norman, Bid Lead Darren Hughes and Nubia Peña, the director of the Utah Division of Multicultural Affairs. Also participating from the United States Olympic and Paralympic Committee was President and Chief Executive Officer Sarah Hirshland, Chair Susanne Lyons and Chief Strategy & Growth Officer Katie Bynum.
The IOC's next step, Bullock said, will be the Future Host Commission meeting in November and making a recommendation to the Executive Board for a city — or cities — to go into a targeted dialogue. The Executive Board will meet in December to review the recommendation before the full IOC Session meets in May 2023.
"Thomas Bach complemented us on our thinking so far and our approach to build on our legacy of 2002," said Bullock, adding Bach summed it as "build a new legacy on your legacy. That's what we feel is another opportunity for us."
The SLC bid group will also be in Colorado Springs, Colorado, next week for a series of meetings with the USOPC and national governing bodies ahead of the U.S. Olympic Hall of Fame induction with Vonn being part of this year's class.
"The class of athletes in this nomination and this hall of fame is truly incredible," Vonn said. "Billie Jean King is a big inspiration to me, to have her in the same nomination is amazing. … These are some of the all-time great U.S. Olympians and to be in this class is a huge honor."
Competing 2030 Bids
Salt Lake City's visit to the IOC also comes as its two competitors in the race for 2030 have been in the headlines this week. Vancouver's Indigenous-led partnership revealed more details of its proposed bid on Tuesday with plans to utilize many of the venues also used at the 2010 Games. The costs of its proposed bid may be released next month for the first Indigenous-led bid for a Games.
Meanwhile in Japan, about 50 protesters gathered Sunday in Tokyo and Sapporo to oppose the country's overtures to hold the 2030 Games after Sapporo's city legislature last week rejected a proposal to hold a referendum on the issue. Sapporo officials have estimated the cost at $2.6 billion and hope to use some facilities from the 1972 Olympics along with venues from the 1998 Nagano Winter Olympics. The official cost of the Tokyo Olympics was $13.6 billion with more than half of it being public funds, leading to widespread public discontent.
Bullock said the Salt Lake budget projects to be $2.2 billion (in 2030 dollars) with a $200 million contingency fund as well as a $300 million sport legacy endowment fund to continue the Utah Olympic Legacy Foundation's work.
One of the main obstacles among observers for a 2030 Salt Lake Games would be the quick turnaround after the 2028 Summer Games in Los Angeles. All local contracts the bid group have signed are for 2030 and 2034; Bullock said there was no discussion with the IOC on having two Games awarded in May.
"They know we would certainly love to do Games sooner rather than later, but our position is we will host a Games when it is in the best interest of the Olympic movement," he added. "They know of our enthusiasm for hosting the Games … we just put our heads down, give our best proposal and let them go through their processes."