Successfully executing a major sporting event like the Super Bowl can bring the host city a number of benefits. Destinations have been able to build new stadiums and infrastructure, renovate downtown areas, give back to their communities and ultimately prove that they can handle the logistics of an event with countless moving parts. Recent host cities such as Minneapolis, Houston and Indianapolis have leveraged the Super Bowl's success to attract more sports and meetings business and to leave behind legacies in their communities long after the big event is over.
Investments in Infrastructure
Minneapolis hosted the most recent Super Bowl earlier this year at U.S. Bank Stadium. According to an economic-impact report released by the Minnesota Super Bowl Host Committee, more than $370 million in net new spending was generated from the event.
When Meet Minneapolis President and CEO Melvin Tennant looks out the window of his office, he can see what he considers one of Minneapolis' greatest legacies of hosting the Super Bowl: a renovated Nicollet Mall. Located in downtown, Nicollet is a mile-long stretch of restaurants, retail, bars, art and seating. Discussions to revamp the area had been ongoing for at least five years before the prospect of hosting a Super Bowl came along and pushed the $50 million renovation forward. "To have all of the public- and private-sector leaders realize that this was a once-in-a-lifetime opportunity for our city and to agree on the funding package for Nicollet was certainly a great win for us," said Tennant.
Another win for Minneapolis was being able to showcase its event offerings during Super Bowl week. During the lead-up to the game, prospective clients in the convention and sports markets were invited to see firsthand what hosting an event in the city would look like. "Over the course of that week, we brought almost 90 of our prospective customers to town—not necessarily for the game, but for other events during the week to show them our city when it was fully activated," Tennant said. "It was eye-opening not only for those of us who live and work here, but for those customers who were just absolutely amazed at how a city can really come alive for a major event like the Super Bowl."
Tennant also cited a number of other infrastructure projects that were completed in time for the big event. According to a report by Meet Minneapolis, 10 hotels opened between April 2015 and January 2018, adding a total of 1,581 rooms to the city's inventory.
Target Center, home of the NBA's Minnesota Timberwolves and the WNBA's Minnesota Lynx, underwent a $150 million transformation that was completed in October 2017. The renovation included a new glass lobby, scoreboard and meeting spaces.
But perhaps what clinched the deal for Minneapolis being awarded Super Bowl LII was U.S. Bank Stadium, which had just begun construction when the bid process began. U.S. Bank Stadium opened in July 2016 to replace the outdated Metrodome, the site of Super Bowl XXVI when Minneapolis last hosted the event in 1992. In addition to being the new home of the Minnesota Vikings, the stadium will host the upcoming X Games in July and the NCAA Final Four in 2019.
Tennant hopes having the stadium will help Minneapolis land other major events not currently on its roster. "I do believe that because of our stadium and our other infrastructure, we should be considered for a future College Football Playoff as well as potentially our own college bowl game at some point in the future," Tennant said. "Those are both on our radar."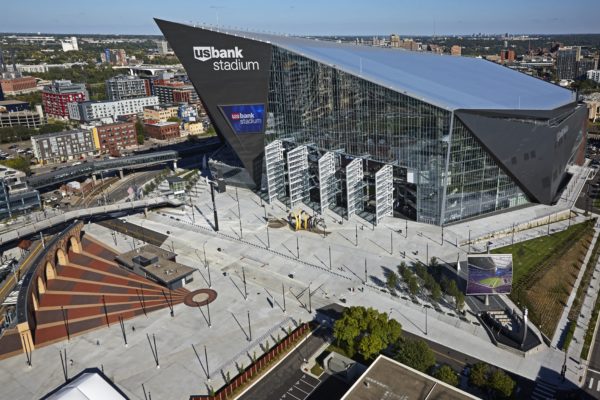 Houston's Time
Two months before Houston hosted Super Bowl LI at NRG Stadium in 2017, the 97,000-square-foot Avenida Houston entertainment district made its debut. Adjacent to George R. Brown Convention Center, Avenida Houston is home to public art installations, two convention headquarters hotels and a 12-acre park. Opened in December 2016, the campus was part of a $175 million project devoted to reimagining the area, which included the renovation of the convention center and the opening of the 1,000-room Marriott Marquis Houston.
Mike Waterman, president of the Greater Houston Convention & Visitors Bureau, said that Houston had been committed to redeveloping the area. But hosting the Super Bowl gave the city a deadline. "It's been a stair-step approach," Waterman said of the growth in infrastructure. "Avenida Houston was part of our 2020 plan, but we moved it up sooner because of the Super Bowl."
As a result of the Super Bowl, Houston welcomed an estimated 150,000 visitors to the city and saw 337,000 total room nights booked. A report released by Visit Houston stated that more than 21 million visits to Houston occurred in 2017 and annual room nights booked for future conventions rose to 802,859 in 2017, representing a 5 percent increase over 2016.
"It's an amazing time to be in the business of selling and promoting the city," Waterman said. "We feel like it's Houston's time to raise its position on the global tourism stage. We're thrilled that all of this infrastructure improvement over the last several years has brought us to this point, and we're excited to build on the momentum."
Houston will play host to the Concacaf Gold Cup in 2019, the NCAA Division I Men's Basketball South Regional in 2020 and the College Football Playoff National Championship in 2024. Looking ahead, Houston has also expressed interest in hosting an MLB All-Star Game as well as future Super Bowl events.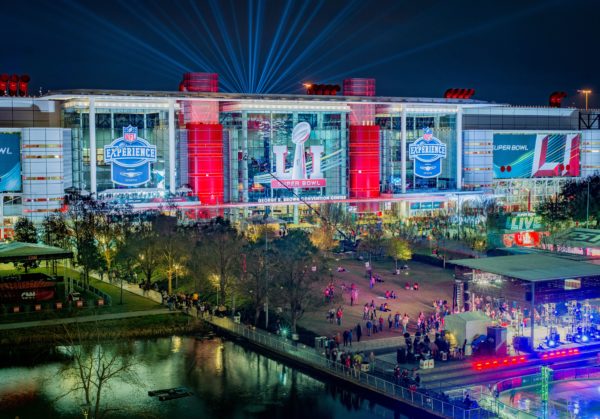 It Takes a Village
Before Super Bowl XLVI, Georgia Street in downtown Indianapolis was a typical city street connecting Bankers Life Fieldhouse with the Indiana Convention Center. But with Indianapolis set to host the Super Bowl in February 2012, plans to transform the three-block-long thoroughfare into a pedestrian-friendly promenade were set into motion. The $11.5 million Georgia Street project would eventually be turned into Super Bowl Village, a concept for free fan activities that Indianapolis was the first to adopt and that since has become a must for host cities.
The completion of Georgia Street a month before the event allowed the host committee to build out the Super Bowl Village it had envisioned. Allison Melangton, who served as president and CEO of the 2012 Indianapolis Super Bowl Host Committee, explained that the Super Bowl Village was modeled after the Olympic Medals Plaza at the 2002 Games in Salt Lake City, a centralized area where many activities were held.
"Prior to Indianapolis, a lot of the Super Bowl cities had really spread out their activities," Melangton said. "We knew that to be able to do the things we wanted to accomplish, we had to have this sort of urban nucleus. And if we hadn't built Georgia Street, it would have been a big challenge to be able to have that Super Bowl Village the way that we envisioned it."
Georgia Street may have seen a lot of action during the Super Bowl, but the area is still used today by locals as well as groups meeting in Indianapolis. Visit Indy President and CEO Leonard Hoops said that Georgia Street has become a popular outdoor venue for groups that meet at the Indiana Convention Center. He also cited the significance of the construction of the JW Marriott Indianapolis, which opened downtown before the 2012 game. "It was critical to getting the Super Bowl, and it has paid dividends with other convention groups," Hoops said.
Following the Super Bowl, Hoops said that the city saw an immediate uptick in business and lead generation. Indy will have an unprecedented run of major sports events from December 2020 through January 2022 that include Big Ten Basketball Tournaments, the 2021 NBA All-Star Game, the 2021 NCAA Final Four and the 2022 College Football Playoff National Championship—not to mention the annual Indy 500.
"I have no doubt that a successful Super Bowl in 2012, combined with the number of NCAA Men's and Women's Final Four events that we've hosted, played a huge role in the CFP folks looking at us and saying, 'If we're going to have the first city that's not in the South or the West host this game, then it's going to be Indy,'" Hoops said. "And it's because of our track record."
Community First
While the economic impact that comes from hosting a Super Bowl can be calculated, what is harder to compute is the social impact the game can have. But Melangton has no doubt that game-related projects such as Indy's Super Cure, which supported the only breast-cancer tissue bank in the world, and the revitalization of the Near Eastside neighborhood have contributed in ways beyond measure.
"We never look at a sporting event as just a heads-in-beds tourism effort," said Melangton. "We look at it holistically and say, 'What can we do for this community while hosting this event?' We are very thankful that we had the opportunity to have a Super Bowl, and we feel like we did leverage for our community every opportunity that we had to make the legacy long-lasting."
---
This story is part of a special section on why sports matter. More related stories:
Global Scene
She Shoots, She Scores
Forging Ahead