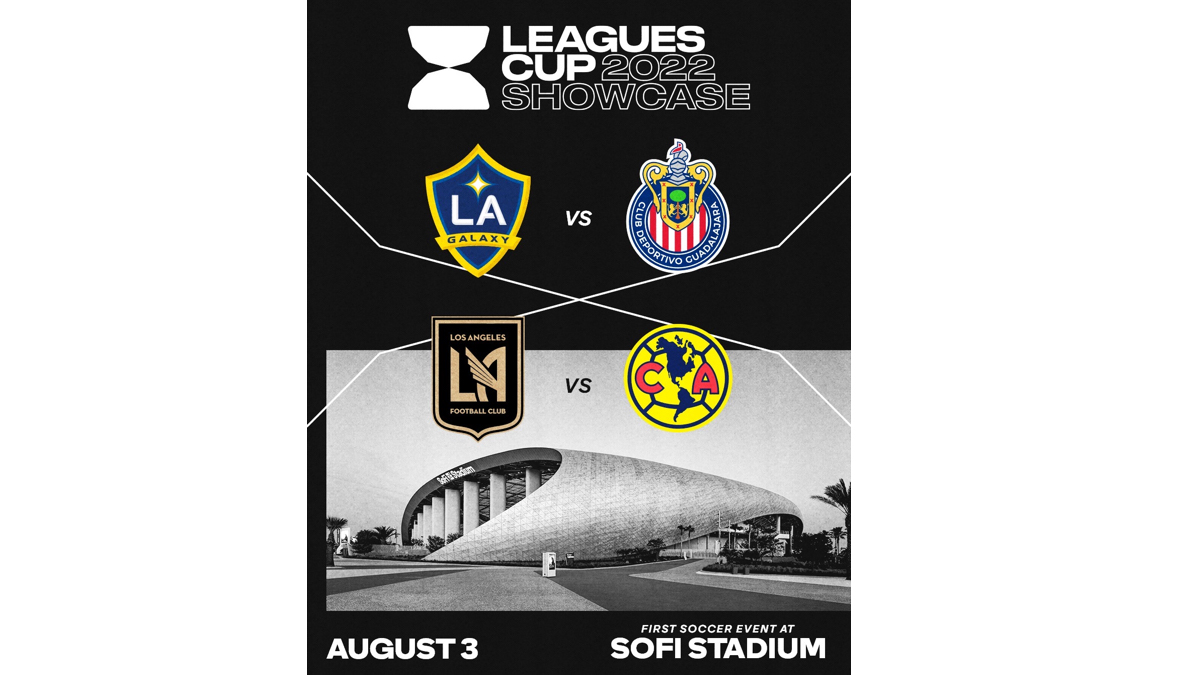 Major League Soccer and Liga MX will host a four-team doubleheader on August 3 at SoFi Stadium in Inglewood, California, with MLS's two clubs from Los Angeles facing two of the biggest names in Mexican club soccer.
The Leagues Cup showcase will match up the Los Angeles Galaxy against Club Deportivo Guadalajara, commonly known as Chivas, while Los Angeles Football Club will face Club América. The doubleheader serves as a preview to the 2023 Leagues Cup, the annual tournament between Major League Soccer and Liga MX that will expand with all 47 MLS and Liga MX clubs participating with both leagues going on pause for one month.
"The LA Galaxy are excited to be part of a historic event in Los Angeles as four of the biggest clubs in MLS and Liga MX face off against one another in the first-ever soccer event at SoFi Stadium," said LA Galaxy President Chris Klein. "There's a great history of big soccer matches being played in the United States and in Los Angeles, dating back to the 1994 World Cup, the 1999 Women's World Cup, and all of the big games that the LA Galaxy has been a part of, so having the opportunity to play against a storied franchise in Liga MX is an honor that we are looking forward to. We believe this will be a great spectacle for fans of the sport in LA, and we are thrilled to represent our city against Chivas Guadalajara in this showcase."
The LA Galaxy and Chivas will meet for the first time in 15 years with the teams splitting two previous meetings in 1999 and 2007. The matchup between LAFC and Club América will be the second time they meet after LAFC won in the 2020 Concacaf Champions League semifinals.
"This will be another historic day for soccer in Southern California," LAFC Co-President & General Manager John Thorrington said. "Facing off once again against Club America in the first soccer event at SoFi Stadium is another major moment for our club."
SoFi Stadium recently hosted the Super Bowl and is a candidate to host games in the 2026 FIFA World Cup among a series of other big events in the next several years.
"I'm very happy that Chivas will play in that wonderful stadium," said Amaury Vergara, president of Grupo Omnilife – Chivas. "In Los Angeles, we feel at home; it is a rojiblanca city, and that the team can meet its fans in the home of the NFL champions. It's a great stadium, with a great rival and the best fans … I'm sure it will be a party."
"We're very excited of having the opportunity to connect, once again, with our amazing fan base in California. This match against LAFC represents the first time, in recent years, to face a local team in Los Angeles, so we're pretty sure that it will be a vibrant game, which will be played in a magnificent stadium, and that all the americanistas are going to truly enjoy," added Santiago Baños, president of Club América.