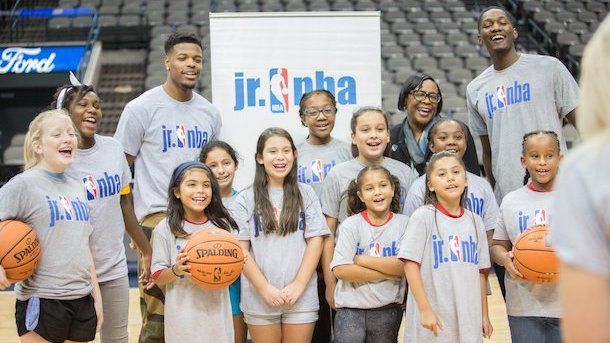 The National Basketball Association and Women's National Basketball Association have collaborated on the launch of Jr. NBA Leagues, a national network of youth basketball leagues for boys and girls ages 6-14.
Jr. NBA Leagues will focus on providing youth across socio-economic, racial and gender lines with access to top shelf recreational basketball as youth sports rebound from the pandemic.
"The youth basketball ecosystem has experienced unique challenges over the past two-plus years, and we are committed to addressing those challenges with programs like Jr. NBA Leagues, which is the most expansive grassroots basketball initiative we've ever launched in the U.S.," said NBA Senior Vice President, Head of Youth Basketball Development David Krichavsky. "We look forward to using the resources and expertise of the NBA, WNBA and our teams to support recreational and community-based youth basketball programs at a time when they need it most, while also enhancing the playing experience for hundreds of thousands of boys and girls."
RCX Sports, a Jr. NBA partner since 2018 and market leader in youth sports experiences, will serve as the program's official operating partner. All Jr. NBA Leagues members — which will include a combination of community-based organizations, schools, and independent operators — will receive training opportunities and basketball programs designed to enhance league effectiveness, gameplay and player and coach development.
"RCX Sports is committed to creating best-in-class experiences for all youth athletes, regardless of race, gender or socioeconomic background," said RCX Sports Chief Executive Officer Izell Reese. "We are proud to work with the NBA on another youth program that will provide access and resources to young basketball players across the country."
The program will tip off with leagues across 11 markets in the U.S. in November 2022: Sacramento, California; Washington, D.C.; Boise, Idaho; Louisville, Kentucky; New Orleans, Louisiana; Kansas City, Missouri; Omaha, Nebraska; Las Vegas; Philadelphia; San Antonio, Texas; and Seattle. The goal is to expand nationwide with the goal of reaching nearly a half million participants annually by 2027.
Jr. NBA Leagues participants will represent NBA and WNBA teams in their home markets and across the leagues by competing in official team-branded uniforms. Building on the Jr. NBA's commitment to providing access to the sport and eliminating barriers to participation, the Jr. NBA will partner with SHAPE America (Society of Health and Physical Educators) to provide 40 Title I schools across the country with Jr. NBA programming and resources to host after school Jr. NBA Leagues.