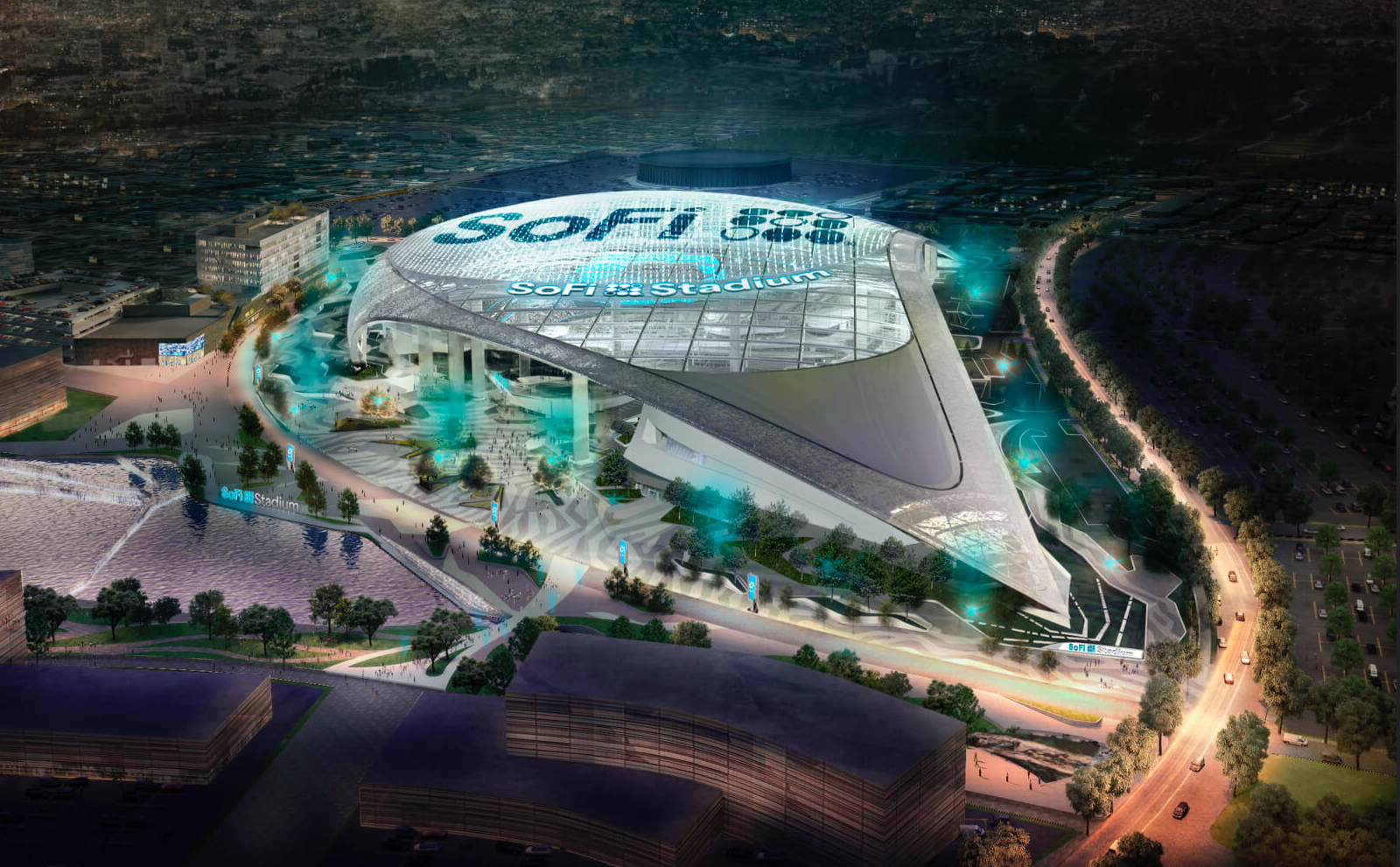 The future home of the Los Angeles Rams and Los Angeles Chargers — well, less a home and more a palatial estate — officially has a name.
SoFi has signed a 20-year agreement with the LA Stadium and Entertainment District at Hollywood Park, making the stadium complex and surrounding entertainment district known as SoFi Stadium. Terms of the agreement were not announced, but various reports placed the cost at $400 million over the life of the deal.
In addition to Rams and Chargers home games, SoFi Stadium will host the 2022 Super Bowl, the 2023 College Football Playoff championship game, and the 2028 Olympic Summer Games opening and closing ceremonies. The Hollywood Park district is billed as 298 acres of sports and entertainment events that will be used year-round.
"It would be impossible to build a stadium and entertainment district of this magnitude without incredible and innovative partners who share our ambitions for Los Angeles, our fans worldwide and the National Football League," said Rams owner Stan Kroenke. "Since breaking ground at Hollywood Park, more than 12,000 people have worked side-by-side on this project, and we are proud to now have SoFi join us on this journey as we prepare to open in the summer of 2020."
SoFi Stadium will have a 70,000-seat capacity that would be expandable up to 100,000. It will also have 13,000 premium seats and 260 luxury suites. Adjacent to the stadium will be a 6,000-seat performance venue and the 2.5-acre American Airlines Plaza. The performance venue will host a variety of events and community gatherings.
"We are thrilled to be teaming with SoFi on a partnership that will extend beyond the columns of the stadium, one that will combine our passions for inspiring people to realize their ambition and climb higher," Rams COO Kevin Demoff said.
The deal was negotiated by Legends, which is owned by Jerry Jones. SoFi was founded in 2011 and is led by CEO Anthony Noto, the former chief financial officer of the NFL who, according to The Associated Press, worked on the league's efforts a decade ago to return to the Los Angeles market.
"We're thrilled to be introducing SoFi Stadium to the world, through our partnership with Hollywood Park," Noto said. "This is a giant leap toward achieving our company's mission of helping people get their money right by reaching our members where they are."
A 27,000-square-foot SoFi-branded VIP activation space inside the stadium will be utilized for special events, including a dedicated SoFi lounge for members. Community partnerships and programs will be announced in the coming months.
"We are working to deliver a fan-first stadium consistent with Mr. Kroenke's dream to build a global sports and entertainment destination," said Jason Gannon, managing director of SoFi Stadium. "SoFi Stadium will be a gathering place for the community and we couldn't have found a better partner to help us welcome the world when the building opens next summer."