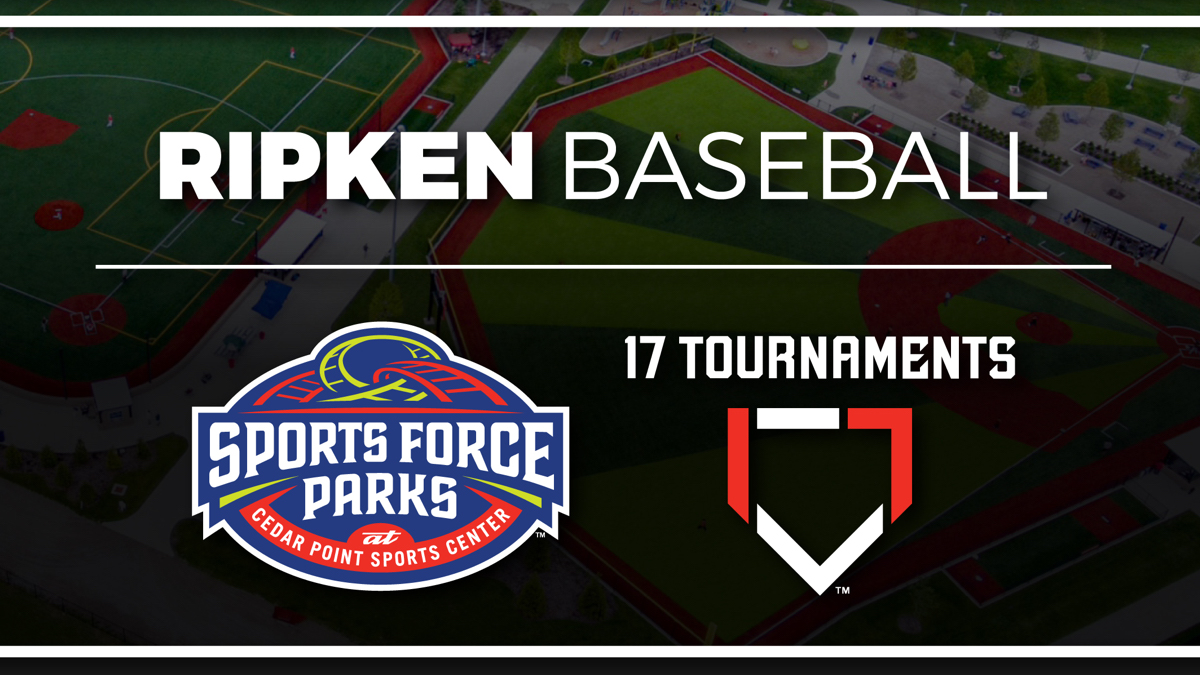 Ripken Baseball has acquired Sports Force Parks at Cedar Point Sports Center in Sandusky, Ohio, located between Cleveland and Toledo, which raises Ripken Baseball's total number of youth sports complexes to six nationwide while becoming the first complex not solely devoted to baseball or softball that the organization will operate.
Ripken Baseball will operate next to one of the world's most acclaimed amusement parks in Cedar Point. It takes over the operation of Sports Force Parks beginning with the 2023 season, which is underway with over 50 tournaments on its schedule.
"Adding Sports Force Parks to the Ripken Baseball family is significant on many levels," said Mike Kenney, chief executive officer of Ripken Baseball. "We now have an opportunity to bring a Big League experience to not only baseball and softball, but also soccer, lacrosse, and even football. The proximity of the complex is ideal for families looking for a complete entertainment experience with a world-class amusement park down the road at Cedar Point."
Sports Force Parks includes multi-purpose fields with the capacity of 11 baseball/softball synthetic turf diamonds or eight full-size soccer fields that are convertible to create up to 21 youth soccer fields, in addition to one ADA-accessible field for adaptive sports. The playing surfaces allow the complex to host baseball, softball, soccer, lacrosse, and youth football tournaments.
"When my late friend, co-founder, and the vision behind Sports Force Parks, Brian Storm, first dreamed of entering the youth sports business, he endeavored to build parks where sports, family, and fun could bring people together," said Mark Stalnaker, president of Sports Fields, Inc. "The model was built on the strong foundation that Ripken had already established for baseball but also added a variety of other sports such as soccer, softball, and lacrosse. Brian would be thrilled to see the growth opportunities that the industry leader Ripken Baseball can offer to Sports Force Parks employees as they are the backbone of the brand and have made the companies so successful."
Ripken Baseball also assumes control of youth baseball tournament operator 17 Tournaments and travel planner Oakwood Lodging Group. Named after the size of home plate, 17 Tournaments brings youth baseball tournaments to Georgia, Mississippi, Tennessee, Alabama and Ohio. Oakwood Lodging Group allows youth teams traveling outside their home market to book hotels, flights and other travel needs.
Ripken Baseball has been busy since putting its company headquarters in Aberdeen, Maryland, in Harford County last year. Josh Harris and David Blitzer, owners of the Philadelphia 76ers and New Jersey Devils, completed in January a strategic investment in Ripken Baseball and the Cooperstown All Star Village. Ripken Baseball also announced its inaugural All-Ripken Games starting later this summer and Baseball For All, a national organization that builds gender equity in baseball, will host the 2023 Baseball For All Nationals at The Ripken Experience Elizabethtown in Kentucky from July 12–16.
"We welcome Ripken Baseball to the Northeast Ohio region," said Cleveland Guardians VP of Communications and Community Impact Curtis Danburg. "We look forward to partnering with the Ripken Baseball family to create unique Major League level experiences for their athletes visiting their complex in Sandusky and Progressive Field."