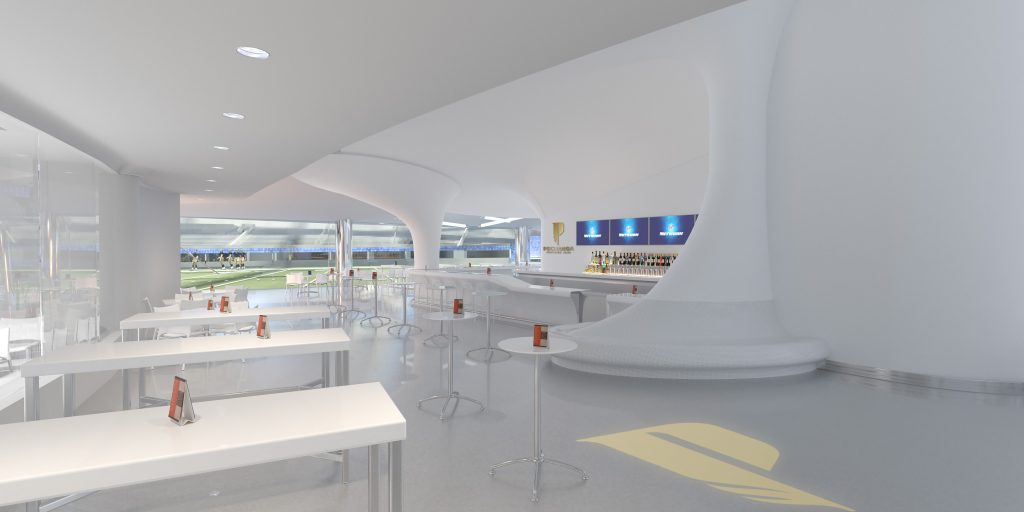 The future home of the Los Angeles Rams and Los Angeles Chargers has another big name that will be hanging outside one of its entrances.
SoFi Stadium and Hollywood Park named Pechanga Resort Casino as the newest founding partner of the new 70,000-seat stadium and 298-acre development, giving the casino the naming rights to a Founders Club space inside the stadium and outside signage for one of the stadium's VIP entrances.
"We are building a global destination that will be the pinnacle of sports and live entertainment," said Jason Gannon, managing director, SoFi Stadium and Hollywood Park. "Pechanga is a company that not only shares Stan Kroenke's vision to build a world-class facility and fan-first development with Hollywood Park, but also shares our passion for our surrounding communities."
Pechanga Resort Casino is owned and operated by the Pechanga Band of Luiseño Indians. It is the first Southern California-headquartered company to announce a sponsorship with SoFi Stadium and Hollywood Park.
"We are thrilled to partner with the Chargers and the Rams and to be a part of SoFi Stadium," said Tribal Chairman Mark Macarro. "This isn't just a Los Angeles stadium, it's a Southern California stadium, and Southern California has always been and will always be our home."
Pechanga will have branded spaces throughout the stadium, including a 14,000 square-foot premium club space located on field level. It will also have an 11,500-square-foot activation zone on level 8, and Pechanga will entitle one of the stadium's four VIP entrances with wayfinding signage and brand integration in and around its entitled VIP entrance.
"Pechanga's commitment to serving the community while striving to maintain its reputation as a best in class resort/casino is exactly what you hope for when it comes to a Founding Partner," said Chargers President of Business Operations A.G. Spanos. "To have someone who competes each and every day to be the very best within their industry yet understands their place in the community comes with a responsibility to give back—that's everything you can ask for when it comes to corporate alignment. We couldn't be happier to welcome Pechanga to the Chargers family."
SoFi secured naming rights for the stadium in September. One of the main parts of the complex will be American Airlines Plaza, a 2.5-acre, open-air plaza that will be open to the public year-round. The stadium will open in 2020 and will host the 2022 Super Bowl, the 2023 College Football Playoff championship game and the 2028 Olympic Summer Games opening and closing ceremonies.
"We are pleased to continue our relationship with Pechanga and move together into our new home at SoFi Stadium," said Rams Chief Operating Officer Kevin Demoff.  "Since kicking off our partnership last summer, it has been evident that Pechanga and the Rams share many of the same values, whether it is delivering an unparalleled guest experience or making a difference in our community. We look forward to continuing to work with Pechanga to inspire not only Angelenos but also all those across Southern California to shine bright."