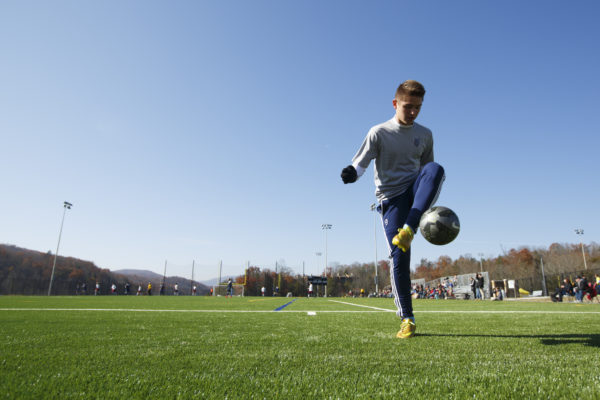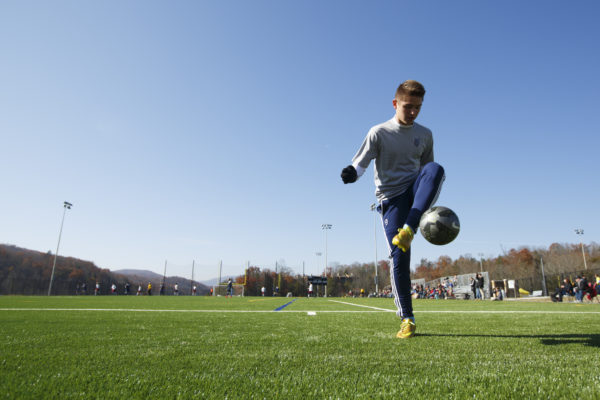 By the time hockey season starts this fall, Erie, Pennsylvania, will have two new NHL-sized ice rinks and eight full-sized locker rooms, including dedicated locker rooms for women and referees. That's in addition to a basketball and volleyball gym with four resurfaced courts, two indoor turf fields under a dome and eight upgraded outdoor grass fields.
This upgrade of the former Family First Sports Park is the first, $9 million phase of a two-phase project by Greater Regional Erie Athletic Team Training (GREATT) and Erie Bank. When work is complete, the local sports commission hopes to draw more youth and amateur sports to the complex, which has been renamed Erie Bank Sports Park.
"Family First Sports Park was a great amenity for Erie youth and adult athletes for many years, but the wear and tear that naturally accompanies years of activity left the complex in need of a face-lift," said Ron Sertz, executive director of the Erie Sports Commission. "The needs of our community have also changed over the years. Erie is a great hockey community that has been left, in recent years, with very few indoor ice pads. The group that purchased the facility, GREATT, recognized that important need and saw the sports complex as a perfect place to fill the void."
Erie's project is a familiar story to sports commissions, CVBs and communities across the United States looking to tap into the phenomenal growth in youth sports tourism. Despite some concerns about a surfeit of facilities that could end up as municipal white elephants, the trend shows no signs of abating. "There's nothing that seems to be impeding the steady progress," said Al Kidd, president and CEO of the National Association of Sports Commissions. "What's happening right now is that communities don't want to be left out." Kidd said he hears almost daily about "somebody, somewhere" either building new youth sports facilities or expressing interest in doing so.
NASC reported 20 percent growth in youth sports tourism between 2015 and 2016 for an industry now valued at around $10 billion annually. Dev Pathik, founder and CEO of Sports Facilities Advisory, said his Clearwater, Florida-based company, which develops financial forecasts for youth and amateur sports complexes, has benefited from this boom. Since 2014, SFA has experienced 27 percent growth in its business, fueled primarily by sports tourism. Pathik expects the growth to continue in 2018.
Limits Ahead
Youth sports facilities are prevalent everywhere, but especially in the Southeast, where they include spots like Disney's ESPN Wide World of Sports in Orlando, the Myrtle Beach Sports Center in South Carolina and Rocky Top Sports World in Gatlinburg, Tennessee, the latter two of which were SFA projects. While the concentration of complexes in one region has benefits, the expansion will eventually reach its limit. "There is a point at which saturation will drive pricing down, and it will be challenging for those groups that have built facilities," Pathik said. This situation may give other regions an opening to build their own sports complexes, but they should keep an eye on supply and demand, he added.
"If your objective is sports tourism and filling hotel rooms through events, it may not be that another indoor basketball/volleyball center is needed," Pathik said, noting that instead, communities should consider building facilities for specialized sports like BMX. Venues for action sports are also a good idea, because they offer the option of converting park space into a versatile outdoor arena instead of building an unnecessary and costly indoor complex, Pathik said.
Given the cost of facilities, communities will need to be more innovative in the way they think about developments, said Pathik. The typical indoor complex costs between $20 million and $40 million, he said, while a large outdoor complex with 12 or 16 artificial-turf fields might run $12 million to $20 million.
Private-sector developers sometimes add nearby hotels, mixed-use retail space and offices. "We're doing a lot more developments where, rather than hinge the entire success of the facility on the sports complex and its operating budget, we are creating destination concepts," Pathik said. The Nevele Resort—a historic property in the Catskill Mountains town of Ellenville, New York—is being converted into a sports destination featuring baseball and soccer fields as the primary driver of guest visits, he said.
Renovations Aid Growth
Erie is hoping to enjoy benefits through the renovation of its local sports complex. "The importance of this facility for Erie cannot be overstated," said Ron Sertz. "This facility has meant so much to the young athletes in our community, and beyond, for many years, and because a group had the foresight to initiate this renovation project, many more young athletes will continue to be able to enjoy the space."
As the project has moved ahead, the Erie Sports Commission has ramped up the city's efforts to attract amateur sports events. "In 2017 we did 59 events and generated close to $16 million in economic impact," Sertz said. "I think we've become a player nationally, regionally and statewide for events." The commission won three major bids in 2017, including next year's National Collegiate Acrobatics and Tumbling Association Championships. In 2016, Erie's Bayfront Convention Center hosted the 26th Annual VNEA World Junior Pool Championships for the first time, featuring players in three divisions.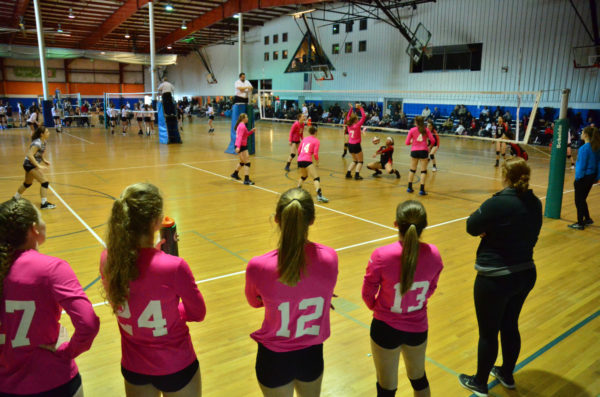 A few states over, in Wisconsin, the Fox Cities CVB announced in December 2017 that Grand Chute, a small town in the Fox Cities metropolitan area, will be the site of a $25 million indoor facility for youth and adult sports events. Measuring about 150,000 square feet, the facility will house ice rinks and hard courts for hockey, figure skating, basketball, volleyball and other sports events. Groundbreaking is scheduled for May, and the facility is scheduled to open by September 2019. It is expected to generate about $5 million in economic impact for the region in its first year.
Matt Ten Haken, director of sports marketing for the CVB, said the venue has the ability to become a destination for athletes throughout the Midwest. The youth sports travel trend played a big role in the decision, and the CVB spent about four years researching and discussing the plans with stakeholders in the area and around the country, he said. They determined that local facilities were filling up quickly, Haken added, and that eventually there wouldn't be enough venues to host events, especially in the winter.
The CVB worked with the 20 municipalities it represents to increase the hotel room tax, Ten Haken said, and a portion of the tax is dedicated to sports facilities. "The most challenging part to date has just been getting input from a variety of stakeholders for what direction exactly we should go and how to make this thing work," he said.
In the Mountain West, the Western Eagle County Metropolitan Recreation District near Vail, Colorado, spent $1.1 million in 2017 to install a new soccer/lacrosse field and baseball fields with artificial turf at its Freedom Park site. The ribbon-cutting ceremony took place October 5, one day before the Vail Valley Soccer Club's fall tournament. The tournament, which featured 148 teams and 2,700 athletes playing on 17 fields, generated 3,000 room nights in the area.
A typical tournament generates $2.5 million for the area's economy, said Mike Staten, area manager of the recreation district. Because of its location just west of Vail, the district doesn't need to market itself as a youth sports destination, Staten said. "The name 'Vail' does it for us. Typically, some of the larger tournaments come to Vail but need additional fields to reach their capacity."
Do Your Homework
Staten has some advice for communities looking to cash in on the youth sports boom. "Do your homework," he said. "Expand your knowledge of sports tourism." He also advised assessing the community's capacity for tournaments, the type of facilities available and whether the community can compete in the market.
"Here's an old question that most people don't think about," Staten added. "Does your community want more tourism?" Cities looking to attract youth travel sports need to balance access to facilities for the visiting athletes and the "local kids and their access to those same facilities," he said. In other words, how many tournaments are enough?
Sertz of the Erie Sports Commission expressed similar sentiments about venues. "So many communities now—I hesitate to use the word overbuild—see building a big sports park as a panacea. But it's not," he said. "You still have to satisfy the needs of the locals, and there's so much more to it than just having a facility. If you build it, they won't necessarily come. You still have to compete against everybody else that's out there."
However, Kidd of the NASC thinks there's plenty of pie to go around. "Most of these facilities are geographically regional. There's a concentric circle that you would draw, and that is your drive market," he said. "Within that drive market, a facility in Tennessee has no bearing on whether they're going to consider building a facility in Medford, Oregon. There are still plenty of places around that are looking to build facilities." 
---
This story is part of a special section on sports venues worth watching. More related stories:
Keys to a Good Venue
Facilities to Follow
Building a Base