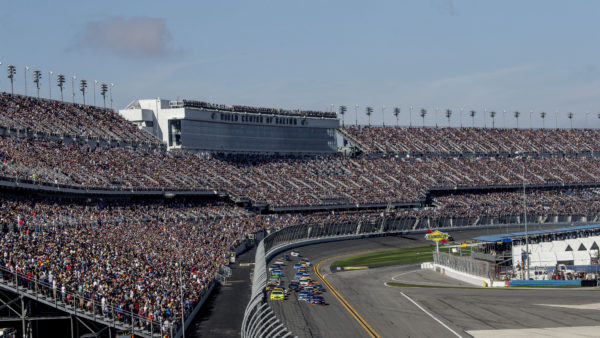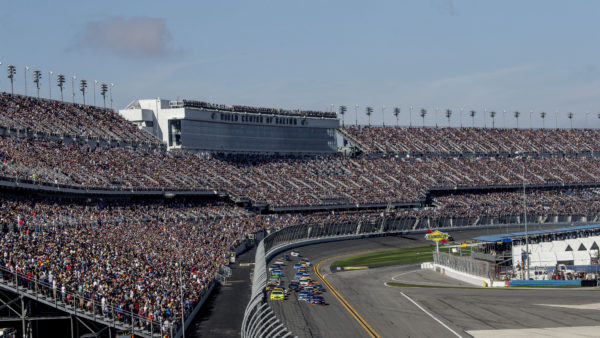 When Austin Dillon took the checkered flag to notch an exciting win at the Daytona 500 in February, it was the culmination of several busy weeks at the motorsports mecca. But even as fans cheered Dillon's victory, Daytona International Speedway executives were already looking ahead. The next big NASCAR event is the Monster Energy Series Coke Zero 400 on July 7. And before that, the speedway will produce some sounds very different from the roar of engines: the third-annual Country 500 will be staged May 25–27.
The music event, expected to draw 75,000 fans, is central to the legendary track's three-part strategy for growth: Market its recent multimillion-dollar renovation, book non-racing events and turn these outside attendees into racing fans. It's a strategy that's been adopted by several other NASCAR speedways as well. The goal is to attract new fans and reverse several years of waning motorsports attendance figures.
"We view all ancillary non-motorsports events as opportunities to introduce different demographics to the experience at Daytona," said Chip Wile, the speedway's president. Thanks to the $400 million Daytona Rising renovation completed in 2016, the speedway experience now includes upgrades to seating, fan areas and the infield; more elevators and escalators; and improved Wi-Fi. "The goal and strategic initiatives for doing this revolved around getting people introduced to the property for the first time, then engaging them in a unique way that draws them back to the core motorsports events," Wile said. "And we're seeing success with that."
Tracking Success
Racing has seen some significant attendance loss in the past decade, a trend that has been attributed to higher prices, a lack of competitive racing at certain facilities, a slow economic recovery, the retirement of some fan favorites and the always-improving presentation of the sport on television.
"The coverage on TV is incredible, and you get so much information," said Chris Powell, president and general manager of Las Vegas Motor Speedway. "We want to give people more of that information while also enjoying the at-track experience."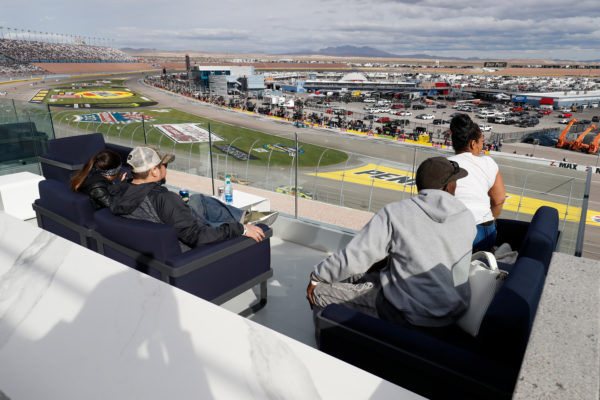 LVMS announced its own renovation last November, with a scheduled completion in time for its spring race weekend in early March. While Powell wouldn't put a dollar figure on the improvements, the Las Vegas Convention and Visitors Authority gave the track $17.5 million, or $2.5 million annually over seven years, as part of an incentive package pegged to securing a second NASCAR Cup series event in the fall. Upgrades include three fully renovated clubhouse areas, a 5,200-square-foot sports lounge, better garage-area access and an exclusive clubhouse membership experience. Premium seating regions will have free Wi-Fi.
The track, situated in one of the busiest tourist spots in America, competes with several sports arenas and many other attractions. Powell said LVMS, which has traditionally hosted smaller events, sees the renovations as a ticket to larger ones. In May the track will host, for the eighth-straight year, the Electric Daisy Festival, a three-day electronic dance music and art fest. "We will expose our [new] social areas to promoters of the EDC and give them the option to use ones they haven't before," Powell said.
Even more important to the track's future are the fall racing dates, which make Vegas the only stop on the NASCAR schedule with two full racing weekends featuring all three top-tier races—the Camping World Truck Series, Xfinity Series and the premier Monster Energy Series. "Our core business is motorsports, and our core motorsport is NASCAR," Powell said. "We just promote and promote and promote."
At the recently rechristened ISM Raceway near Phoenix, a key focus is better technology—as one might expect given the partnership with ISM, a leader in integrated screen management. Its $178 million renovation, begun last March, includes 33 lounge-style suites, an all-inclusive club called Curve, video boards and such strong Wi-Fi that it becomes the first speedway to have coverage throughout the entire venue. The renovation also brought new seats, more escalators and elevators, a fan zone that allows for up-close driver contact in the garage area, a driver's meeting room with glass walls so fans can see in, and—for many lucky fans paying for the privilege—the chance to celebrate with the winning driver in victory lane.
The track hosted a two-day Tough Mudder in late March and, last November, a benefit 5K for local nonprofit Playworks Arizona. Now the hope is that more events—and larger ones—will come, perhaps including concerts.
"We created a venue on-site called the Wheelhouse, which can accommodate over 1,000 folks enclosed in an AC climate-controlled venue, with a catering kitchen designed to be very flexible, that's good for trade shows, conferences, dinners, proms—I never thought I'd be in the prom business, but we're delighted to host them," said Bryan Sperber, track president. "The dialogue is happening right now. [The renovation] has given us an opportunity to look at a lot of other types of events. And even if the attendees don't become NASCAR fans, if they're able to use the venue and get value out of it, then that's a win."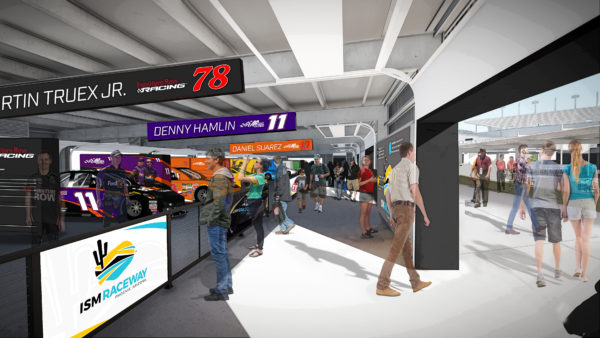 Making a Clear Connection
At Virginia's Richmond Raceway, the renovation of the track seeks to immerse fans in the NASCAR experience. The $30 million redevelopment project broke ground last September, with completion expected in time for this September's NASCAR race weekend. It includes a new pedestrian tunnel to give fans more access to the modernized infield, a stage area (for music acts and driver interviews) with a massive shade structure, and better access to the garage area. In the past, the speedway could offer only about 1,500 pit passes; now the number is more like 8,000. "That was key for the fans," said track president Dennis Bickmeier. "They said, 'I've done everything there is to do at the racetrack but I've never been in the garage.' Now we're giving them that opportunity."
Part of the goal is to integrate the raceway into the city itself. "This is a very festival-centric town. From spring through fall, there's a big festival every week, and two of the biggest festivals of the year are our NASCAR races," Bickmeier said. "But then there's this younger audience that likes that social atmosphere, so with this infield they can have connectivity, not just wireless but with friends and social experiences that are key to some of our new fans and fans we're trying to recruit."
So far the events have been on the smaller side—a half-dozen concerts in the raceway's amphitheater, a Professional Women's Bowling Association tournament, a three-day youth gymnastics event with 1,400 athletes, an RV show and a Virginia Kennel Club show. "We're in the sport and entertainment business," said Bickmeier. "We're trying to find more events in our wheelhouse."
Staying Busy
Other tracks are also taking advantage of the gaps between races. In January, South Carolina's renowned Darlington Raceway announced a $7 million renovation, including grandstand improvements, better sight lines and enhanced fan areas. And tracks in Charlotte, Texas and Atlanta are also tweaking lounge areas and creating better viewing lines.
These investments are key to the tracks' efforts to stay relevant in a world with much more competition for a younger demographic's time and money. When Daytona's Wile looks at his track's events list, he can recall the "American Ninja Warrior" filming that took place last April and look forward to the Challenge Daytona middle-distance triathlon coming in December.
"We now have the opportunity to have conversations with folks that maybe before wouldn't have taken a meeting with us," he said.
---
This story is part of a special section on sports venues worth watching. More related stories:
Venue Boom
Keys to a Good Venue
Facilities to Follow