There's no denying that coronavirus pandemic has changed how sports events will take place. Around the world, the sports-event industry has moved to transform many of its venues to support health officials in their local regions. Going forward, finding unique venues to host our events will be more important than ever. Click here to download our exclusive guide that details eight innovative ways to finding unique venues.
Following, take a look at how some of the world's most renowned sporting venues have currently transformed to support health officials and frontline workers.
[The latest on sports during the coronavirus pandemic]
New York City is need of hospital facilities and construction work has begun on a 350-bed facility at the USTA Billie Jean King National Tennis Center, where the longtime home of the U.S. Open will have 12 indoor courts on its grounds transformed into almost 100,000 square feet of supplemental hospital space.
Louis Armstrong Stadium, the second-largest stadium on the grounds, will be used to prepare and distribute up to 25,000 packages of meals every day. Each package will consist of two days' worth of breakfast, lunch and dinner for patients, workers and children.
New York is among the hardest-hit places in the United States by the coronavirus. The complex will become the second site in Queens to be used as a temporary hospital after the Aqueduct racetrack was earmarked last week.
"It's an incredibly small part, but it's the least we can do," said Danny Zausner, the chief operating officer of the grounds. "Elmhurst Hospital in Queens is a stone's throw away from the tennis center. For us to be in the local community where our hands are tied, but to support the local community and help take some pressure off of Elmhurst Hospital is a huge thing for us to help out in any way we can."
The U.S. Open is still currently scheduled to start on August 23.
[Trials Hosts Play Waiting Game in Wake of Olympic Postponement]
The USTA complex is one of many venues throughout the United States that have been repurposed to help health officials.
A spring training facility in West Palm Beach, Florida, that is shared by the Washington Nationals and Houston Astros will be used as a testing area with medical personnel in the parking lots.
"The facility closed officially when the governor said all non-essential businesses must be closed," Nationals General Manager Mike Rizzo said on a conference call March 30. "The county has the right to utilize a portion of our facility for emergency use, and they decided to do that."
That decision follows the lots of Citizens Bank Park in Philadelphia, Hard Rock Stadium in Miami, FedEx Field in Landover, Maryland, TIAA Bank Field in Jacksonville, Florida, and Raymond James Stadium in Tampa, Florida, which are also being used as testing centers.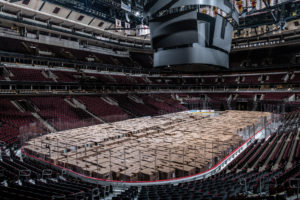 CenturyLink Field in Seattle will be converted into a military field hospital by the U.S. Army Corp of Engineers and FEMA for patients with non-COVID-19 issues with at least 150 hospital beds. The United Center in Chicago (at left) is being used to store food and collect medical supplies as well as be a staging area for first responders and Wrigley Field will be used as a food packing and distribution center along the ballpark concourses for a local food pantry with its neighboring Hotel Zachary hosting health care workers needing a break between shifts at the Advocate Illinois Masonic Medical Center. Each worker will keep the same room the entire time and be allowed to have food delivered.
[Download our exclusive guide to finding creative sports-event venues.]
The University of Kentucky football team's indoor practice facility is being transitioned into a 400-bed temporary hospital for patients. The temporary hospital will be operational in two weeks. The facility, Nutter Field House, is also used by other sports at the school including indoor track.
"As the Commonwealth's health care provider for advanced and critical care, it is essential that we are prepared for any scenario to ensure we are meeting the needs of our community and the Commonwealth," executive vice president Dr. Mark Newman said in a statement. "We need to do whatever is necessary to ensure that highest quality of care is provided to meet the challenges associated with this unprecedented public health crisis."
Work is also underway at the TCF Center in Detroit to be transformed into a temporary alternate care facility as it was recently designated by Michigan Governor Gretchen Whitmer. The site will include approximately 1,000 beds to help relieve the burden to local hospitals treating patients.
In Florida, the Daytona Beach Ocean Center's exhibition hall will be a hub for medical supplies. Three dozen pallets have already been spread out at the convention center, which has 94,000 square feet. It will be used as a staging area for hospitals, nursing homes, rehabilitation centers and other organizations.
"We want to make sure that everyone gets at least something to take care of their needs," Mark Swanson, Volusia County's deputy director of Public Protection, told the Daytona Beach News-Journal. "We're doing everything we possibly can to be as prepared as we possibly can."
Nationals Park, home of the Washington Nationals, has been repurposed as a hub to cook and distribute thousands of free meals to those in need and the home of the New England Patriots, Gillette Stadium, will host a series of blood drives starting April 13. And Mercedes-Benz Stadium, home of the Atlanta Falcons and Atlanta United FC, has announced three partnerships to donate meals to surrounding communities in Atlanta with over 5,000 meals per week total distributed.
[IOC Sets New Dates for 2021 Olympic and Paralympic Games]
The same is going on around the world.
Lord's Cricket Ground in England has discussed with the Westminster City Council how the 30,000-seat venue can be used. Lord's owners are providing parking for nearby hospitals and storage as well as food that will be redistributed to those in need.
The All England Club, which hosts Wimbledon, has offered use of a golf course adjacent to the club and medical equipment to the NHS. The club, which announced the cancellation of the 2020 tournament, will also work with food banks to distribute supplies.
The Tottenham Hotspur stadium in London will have its parking areas used to distribute food supplies while Ashton Gate Stadium, home of Championship club Bristol City and Gresty Road Stadium, home of League Two team Crewe Alexandra, have been pledged to the NHS for use.
The Maracana in Rio de Janeiro will become a temporary hospital in Brazil, where through March 31 the country has recorded over 5,700 cases and 200 deaths. The Maracana hosted the 2014 FIFA World Cup Final as well as the opening and closing ceremonies of the 2016 Olympic Summer Games. It joins Sao Paulo's Pacaembu and the Mané Garrincha stadium in Brasilia as temporary health facilities.
The 60,000-seat Jawaharlal Nehru Stadium in New Delhi, India, is to be handed over as a quarantine center as well as the Buddh International Circuit, the previous host of a Formula 1 race from 2011–2013. The stadium will serve as a quarantine facility for migrant workers who intended to leave Delhi before a 21-day lockdown was imposed last week and the racing venue will house workers until the lockdown period lifts on April 14.
German Bundesliga club Borussia Dortmund has converted Signal Iduna Park into a facility to care for people with COVID-19 and teamed with the Association of Statutory Health Insurance Physicians of Westphalia-Lippe.