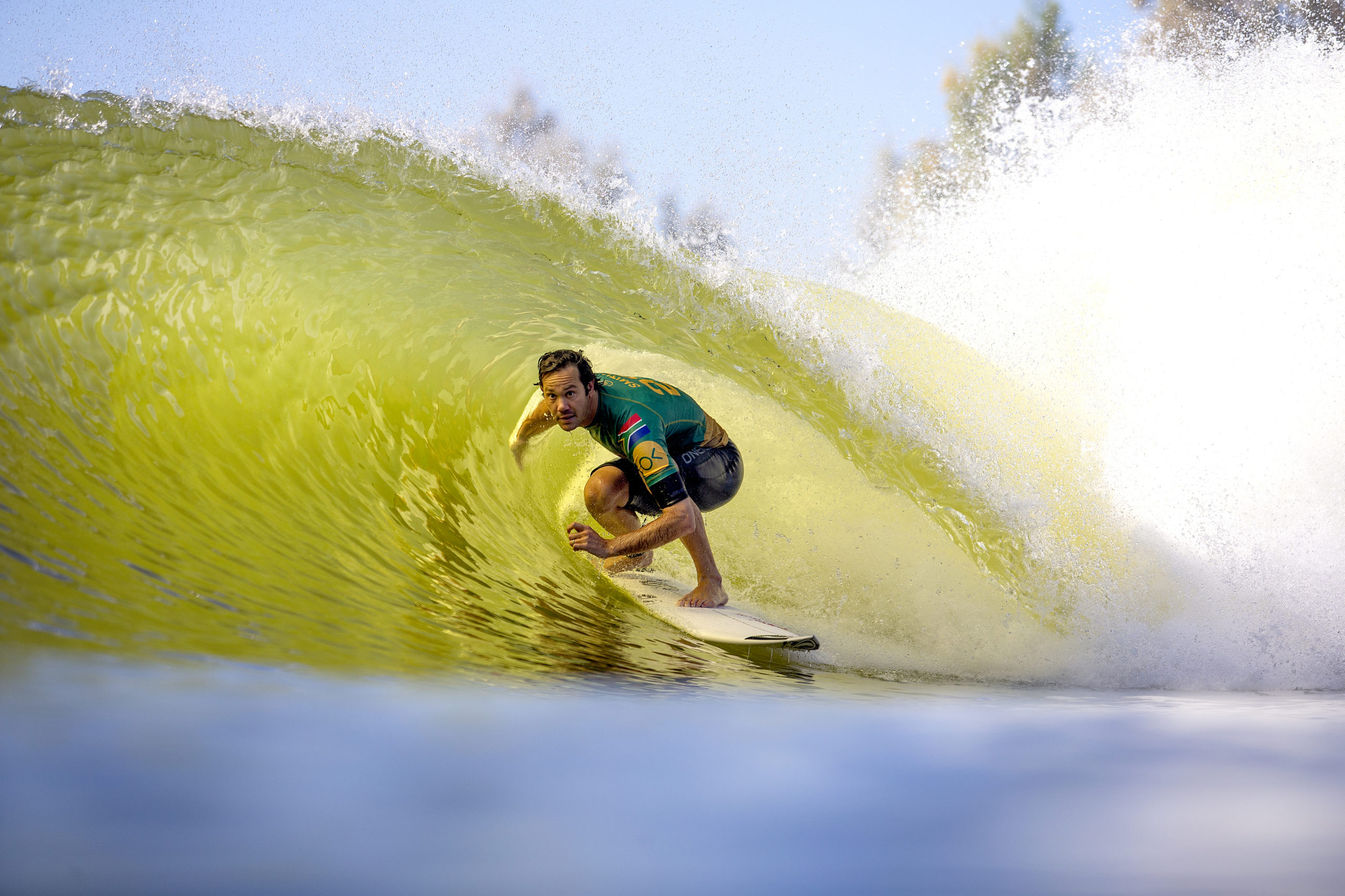 Surf's up! Way up.
The sport of Hawaiian royalty and classic Beach Boys tunes is ripping right now. Surfing is set to make its Olympics debut in Tokyo, joining baseball/softball, karate, climbing and skateboarding as the new sports in Tokyo.
[Download our exclusive guide to finding the most creative sports event venues.]
Meanwhile, applied wave science like American Wave Machine's PerfectSwell and a new system designed by legend Kelly Slater are bringing the sport to landlocked locations like Waco, Texas, and Central California. And, in line with surfing's sea-and-sand image, the sport is stoked on promoting sustainability at its events.
An Olympics Debut
When the rescheduled Olympic Games will be held in 2021, the surfing competition will feature shortboards and will be held at Tsurigasaki Beach, about 40 minutes from Tokyo. Capacity at the beach is 6,000.
Forty surfers from 10 countries will compete in teams of two men and two women. Eighteen places are reserved for 10 men and eight women from the World Surf League Championship Tour. The remaining spots are going to the winners of the 2019 and 2020 ISA World Surfing Games and the 2019 Pan American Games. As the host nation, Japan will have one man and one woman compete.
Greg Cruse, CEO of USA Surfing—the national governing body that formed after surfing's entry to the Games—said the scoring system "will be what we're accustomed to seeing" and based on surfers using the most critical part of the wave, executing with speed, power and flow with a variety of maneuvers.
Team USA is set. John John Florence defeated Slater in the semifinals of the WSL Pipe Masters event to grab the last spot. Florence is a two-time world champion who had missed more than half the season while recovering from ACL surgery. Carissa Moore, a four-time world champion from Honolulu and world-ranked No. 1, is one of the women surfers, while Caroline Mark, a former WSL Rookie of the Year and the youngest surfer to qualify for the WSL Championship Tour at 15, takes the other spot. Kolohe Andino is the first American surfer to provisionally qualify for Team USA.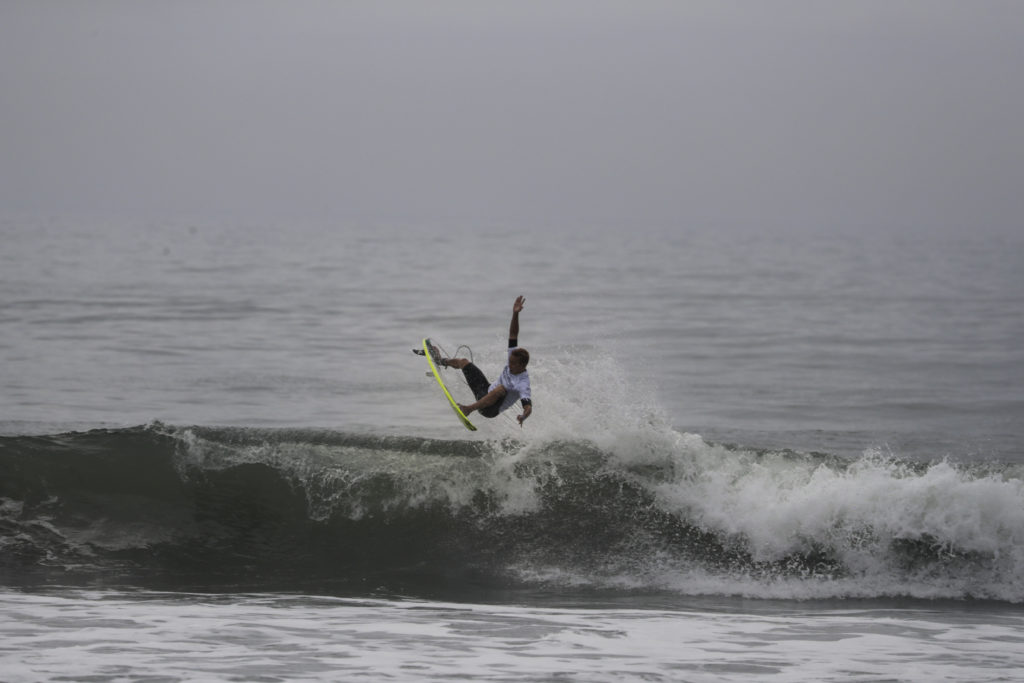 The top eligible men and women surfers from the four regions of Africa, Asia, Europe and Oceania will qualify, with athletes from Peru, Japan, Portugal, Brazil, South Africa, Australia and France taking part. These final qualifiers will be determined after the 2020 ISA World Surfing Games in May.
The surfing competition will require about 22 hours to complete, Cruse said, and ocean conditions will affect scheduling. Organizers will use the Surfline forecasting service to determine the best conditions. Ideally, the event should run four days but could be completed in just over two days, according to organizers.
Cruse has visited the site "probably a half-dozen times" and predicts there will be swells at that time of year. Cruse grew up in Huntington Beach, California, where the surf during some competitions was knee- to waist-high. Despite these conditions, surfers were able to grab "super-acrobatic huge air," he said.
As for a television audience that wouldn't know a carve from a cutback, Cruse said efforts are underway to inform viewers. USA Surfing features a "Surfing 101" tutorial on its website, and the NBC Olympics crew will host Team USA on the "Today Show." The network is preparing a primer on what to look for and how the event is run, Cruse said. Brands that support the U.S. Olympic and Paralympic Committee will also be representing the athletes, and several of them will appear in television commercials, Cruse noted.
"The athletes are amazing," said Cruse of surfing's Olympics debut. "I think it'll have good viewership." 
Wave Technology
A growing technology trend in the sport means more viewers may become familiar with the athletic challenges of surfing. Artificial wave pools have opened recently around the United States, giving people in places such as Texas and Central California the chance to hang 10.
"Wave technology has definitely started to expand the sport beyond people who live near the ocean," said Rob Kelly, a professional surfer who has partnered with American Wave Machines, a wave-pool technology company. "A great example of this are the surfers who are coming out of Waco. Since the BSR Surf Resort opened to the public in May 2018, there have been a whole lot who learned to surf on PerfectSwell technology and have progressed really quickly in that short period without ever stepping foot in the ocean."
Kelly said wave technology has been one of the biggest trends over the past two years: "With an endless supply of perfect waves at the push of a button, it's so easy to create good surfing content at a wave pool, so naturally it's taking a big percentage of what the surf media outlets are producing."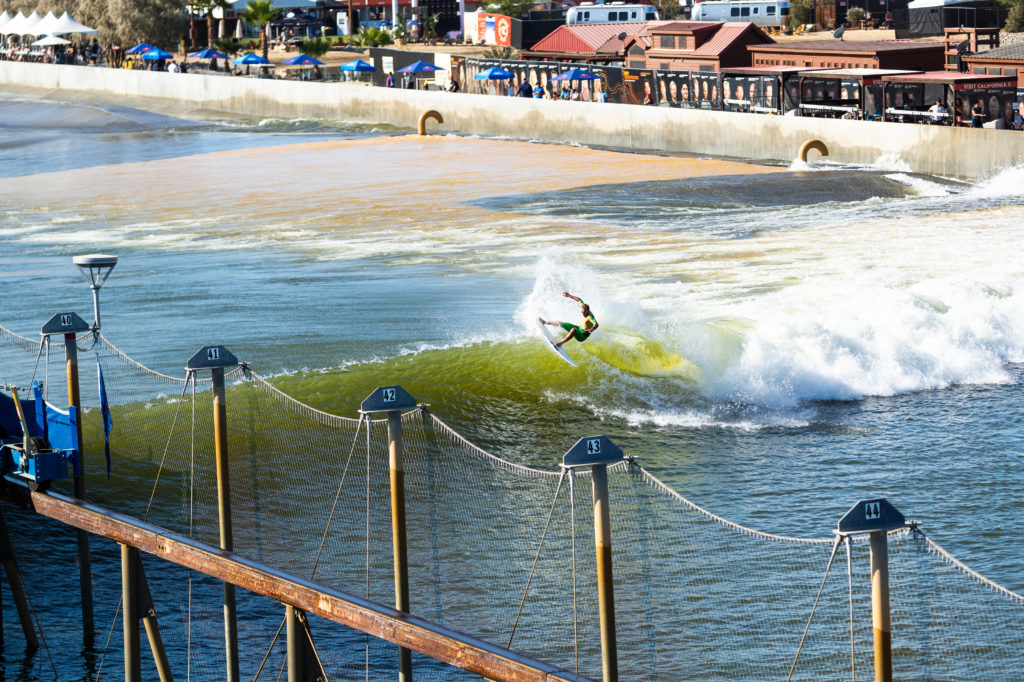 In addition to the Waco venue, a man-made wave system pioneered by Slater has hosted World Surf League competition. The Kelly Slater Surf Ranch in Lemoore, California, began hosting spots on the tour in 2018. WSL purchased Slater's company and has plans for more venues in the future. A new wave system was recently proposed as part of a larger residential and commercial development in La Quinta, California.
The attention on man-made venues will only grow, according to Kelly. Both beginning surfers and the world's best professionals are embracing wave pools as they become commercially viable, and as more are built, the opportunity arises to create a competitive surfing tour ran strictly in wave pools, he said.
Proponents of wave systems argue that they can produce a better broadcast experience, since the waves are not at the mercy of Mother Nature's whims. "In the ocean, a surf contest can take several days to complete, and the level of competition is limited to the type of waves the ocean offers on that particular day," Kelly noted. "This has limited the ability to grow the sport as far as viewership goes. Wave pools solve most of those problems, and I certainly see the technology being utilized for that."
Regarding the wave-pools experience, Kelly attests to their authenticity. "From the aesthetic of the wave to the actual feeling of your surfboard under your feet, you sometimes get lost in your session and forget you're surfing in a pool," he said.
USA Surfing uses the BSR Surf Resort pool, and Cruse praised the technology's "made-to-order waves that are perfect for training." 
On the Crest of Sustainability
The surfing world is also working to protect the environment. In June 2019, the World Surf League launched a carbon-neutral sustainability program. Among other commitments, the tour agreed to become carbon neutral globally by the end of 2019 and eliminate all single-serve plastics by the end of the year as well.
"We were already in the process of tracking and offsetting 2018, so we knew we could hit our targets in 2019 with more comprehensive tracking," said Reece Pacheco, the WSL's senior vice president of ocean responsibility. "We are currently finalizing our calculations for the 2019 calendar year and have systems in place to track throughout 2020 and beyond."
WSL was an early signatory to the United Nations Sports for Climate Action Initiative, said Pacheco, who is also executive director of WSL PURE, the league's nonprofit arm that stands for Protecting Understanding and Respecting the Environment. "For 2020, we now have more experience and better systems in place to track. Now that we have a couple of solid years of data, we can set targets for reducing emissions through decentralizing our business and reducing travel."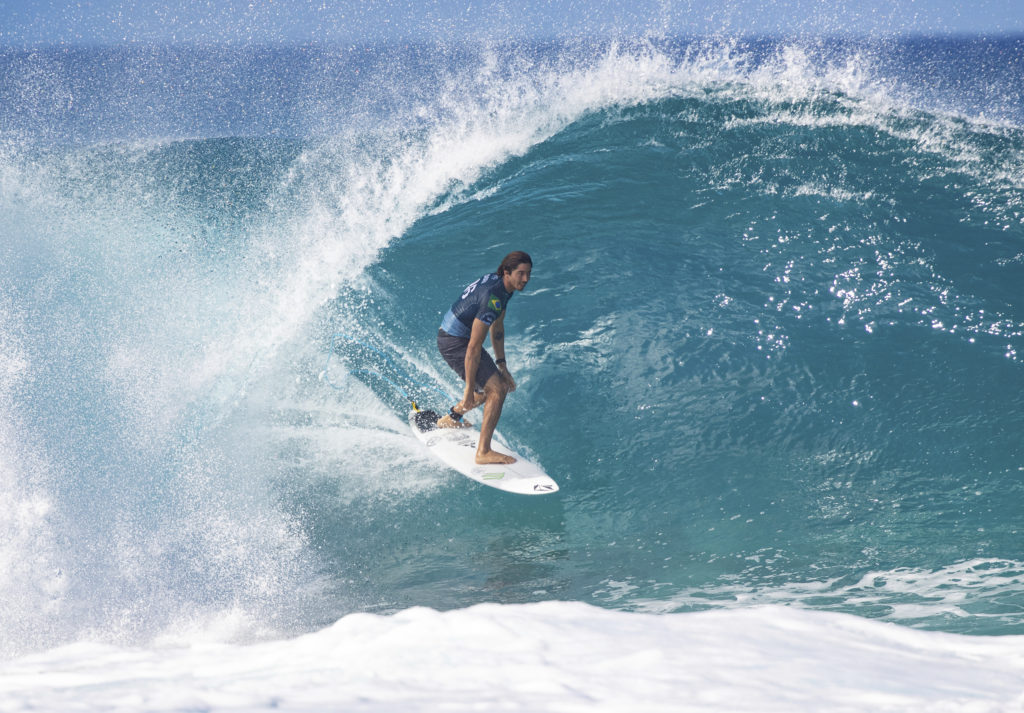 For emissions tracking and carbon offsets, the WSL works with STOKE Certified, a sustainability certification organization that specializes in surf and ski tourism destinations and events. STOK—Sustainable Tourism and Outdoors Kit for Evaluation—says it uses "more than 140 quantifiable measures and 320 indicators of sustainability specifically designed for the surf tourism sector." These methods include effective disposal of liquid and solid waste, use of renewable energy resources and harvesting of rainwater.
Separately, Pacheco said that WSL events engage local partners who know and understand local policies and best practices. As an example, at the Rip Curls Pro Bells Beach event in Australia, the league works with Surfing Victoria. At the Vans Triple Crown of Surfing, WSL partners with Sustainable Coastlines Hawaii and Vans on WSL's waste-diversion programs, "which continue to set new standards for sustainability in surfing events," Pacheco said.
And at the 2019 Vans U.S. Open of Surfing, the league partnered with Open Water to provide drinking water In cans made of aluminum, eliminating the need for about 10,000 plastic bottles.