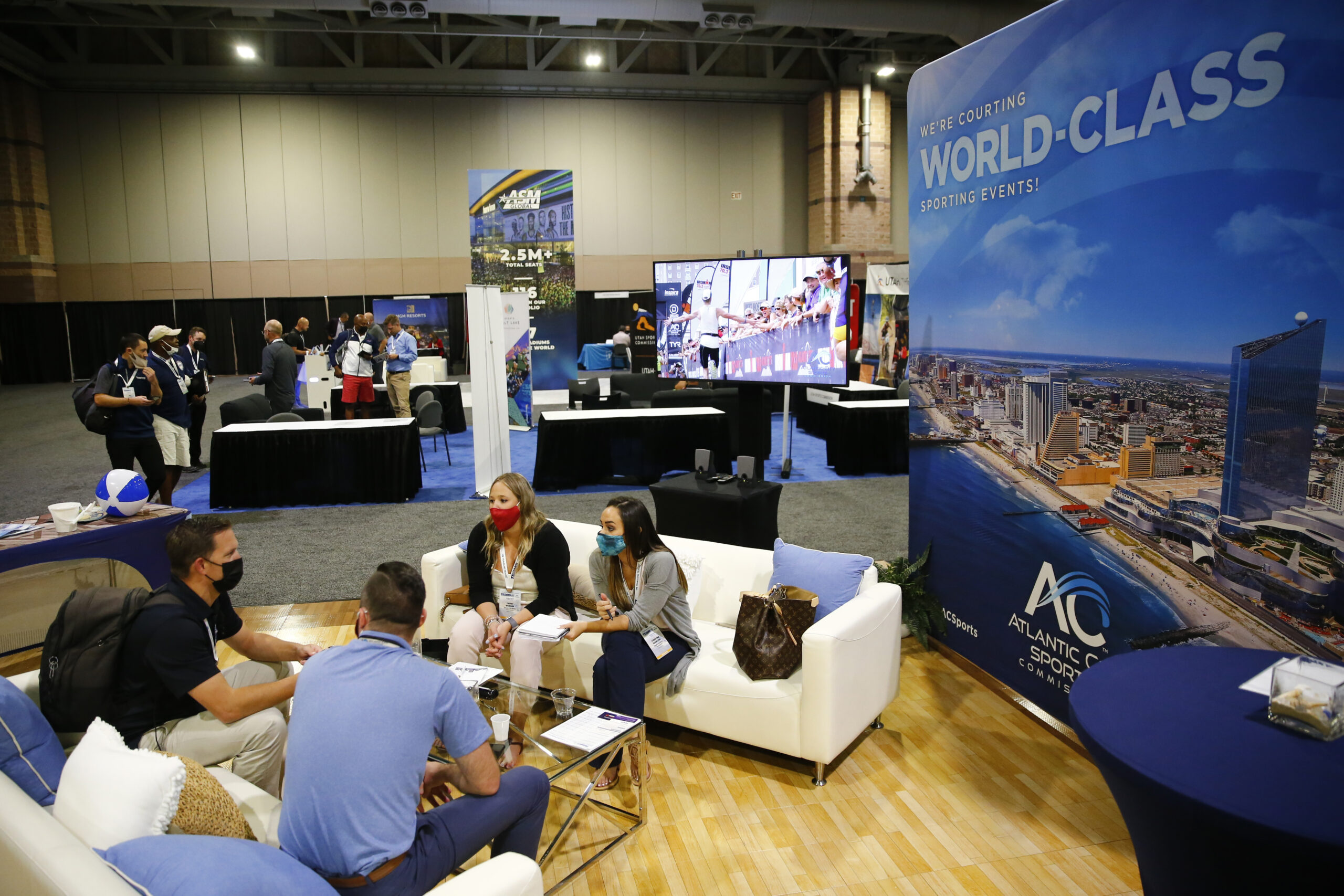 The world's largest gathering of sports-event professionals returned to in-person business this week as the TEAMS Conference & Expo, held at the Atlantic City Convention Center in New Jersey, brought together hundreds of destinations and event organizers to continue the crucial work in helping rebuild the tourism industry from the COVID-19 pandemic.
Sports has been critical to the events industry these past two years and will continue to be foundational to the group travel ecosystem. Its fundamental role in the industry's work in returning to normal lent a seemingly celebratory feel around the Expo Hall and a full series of compelling programming and education covering important topics in the industry.
The Expo Hall was filled with close to 1,000 attendees including scores of destinations, each showcasing the uniqueness of their markets. Thousands of appointments were held between destinations and event organizers looking to spread future business throughout the country.
"The TEAMS Conference & Expo served as a large-scale reunion of the sports-event industry and so many attendees expressed their gratitude to me for being part of it," said Timothy Schneider, founder of the TEAMS Conference and chairman of the Sports Division of Northstar Travel Group, which organizes the event. "I lost track of the number of attendees who thanked us for moving forward with an in-person event that was conducted as safely as possible even under the current circumstances."
Celebrating the sports-event industry is always one of the most anticipated aspects at TEAMS and the 2021 SportsTravel Awards luncheon included Olympian Sanya Richards-Ross as emcee to announce this year's winners: The National Women's Soccer League, USA Boxing, the World Transplant Games 5K Anyway and Connecticut venue operator David Rocha. In addition, the National Congress of State Games presented its Athlete of the Year Awards and the International Fair Play Committee announced a new award program for the Americas.
[Read More: 2021 SportsTravel Awards Honorees Announced in Atlantic City]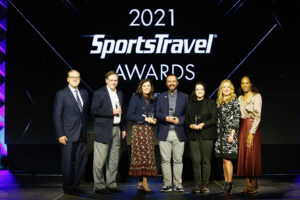 The U.S. Olympic and Paralympic Committee hosts its SportsLink program in conjunction with TEAMS on topics relevant to sports-event organizers. An opening panel on Tuesday provided an inside look at what it took for Team USA's delegation of more than 600 Olympians and 200 Paralympians to attend the Games in Tokyo. On Wednesday, attendees heard an address from David Boudia, the most successful U.S. diver of the 21st century, winning four medals from three Olympic Games. Those in attendance also heard from USOPC's Chief Medical Officer Dr. Jonathan Finnoff, Director of Mental Health Dr. Jessica Bartley, USA Track and Field's Dr. Monique Burton, Olympian Allison Schmitt and Paralympian David Blair on what athletes need now at events, from their physical health to the increased focus on their mental health as well.
Sharing best practices on holding events in a healthy and safe fashion over the past year were Scott Cole of USA Gymnastics, Jason Sands of the Fort Worth Sports Commission, Marissa Werner of Sports Milwaukee.
Cole noted that the current climate calls for overcommunication between host cities and sports organizations at events. "I think it's important to realize speaking as an event organizer is that this may be the 100th event in your city but it's the first event an event organizer has had in your city," he said. "We build off the playbooks already created in those cities and learn from the success and failure. We've made bad decisions and we made good decisions."
Werner said some COVID protocols will likely continue for a while, including a focus on cleanliness and the notion of staying home if you're sick. "I think we don't push that enough that if you're not feeling good, it's OK. You don't have to be the tough person on the court or sidelines because it's really harming everybody more than it's helping."
Thursday's SportsLink programming included compelling panels on the new marketing landscape within the Olympic world as athletes exercise more control over the name, image and likeness through the Team USA Athlete Marketing Platform, as well as emerging sports in the Olympic landscape including climbing and skateboarding, which celebrated their debuts in Tokyo.
The conference's final day was also marked by the announcement of three future host cities, ensuring TEAMS has locations set through 2028. With an eye toward the EsportsTravel Summit, OverActive Media Chief Executive Officer Chris Overholt described the latest trends in the gaming space while Olympic and TV broadcasting pioneer Donna DeVarona discussed the rise of women's sports and what the future holds for equality in the sports-event industry.
TEAMS '21 was also held under strict health and safety protocols to ensure the highest levels of security for attendees. Regardless of vaccination status, all attendees had to register a negative COVID-19 test within 72 hours of arriving in Atlantic City with masks worn throughout the conference except when eating or drinking.