Not even the National Football League drives as much revenue throughout the country as youth sports — but challenges remain. Whether it be keeping children safe at events or getting them engaged in the first place, panelists detailed how policies are being put in place in the TEAMS Educational Session "The Evolving Landscape of Youth Sports."
Youth sports are a bigger industry than any professional sports league in the country and are valuable for destinations of all sizes. With multisport venues continuing to be built around the country, the industry shows no signs of slowing.
The National Council of Youth Sports held its annual board meeting with the TEAMS '22 Conference & Expo. National Youth Sports Week, led by NCYS Executive Director Wayne Moss, was also recognized during TEAMS to highlight the importance of youth sports. NCYS's membership serves 60 million youth registered in organized sports programs.
The Panelists
Ju'Riese Colón, U.S. Center for SafeSport: As Chief Executive Officer, Colón leads the strategic vision and direction of the organization to ensure every athlete is safe, supported, and strengthened through support. Colón previously served as the national vice president of child and club safety for the Boys & Girls Clubs of America. Colón also formerly served as the executive director of prevention and outreach for the National Center for Missing & Exploited Children.
Megan Ditchman, Elite Tournaments: Ditchman has been with Elite Tournaments since 2011 and has served as lead on many national and global relationships including Southampton FC, Under Armour, adidas, Tottenham Hotspur, Celtic FC, United Soccer Coaches, Relevent Sports and Women and Girls in Soccer. She has also been a part of executing over 400 youth and professional events during her time at Elite Tournaments.
Sarah Dyer, EventConnect: As the senior director of operations with EventConnect, Dyer leads a team of account managers, hotel specialists, coordinators and the customer success team that oversees the needs of 400+ partners, nine major hotel chains and a network of over 20,000 hotels.
Wayne Moss, National Council of Youth Sports: Moss previously served as senior director of sports, fitness and recreation for Boys & Girls Clubs of America for 15 years. Prior to joining BGCA, Moss served as the director for the Cleveland (Ohio) and DeKalb County Georgia Recreation Divisions. His experience also includes front office capacities with the Detroit Lions and the Baltimore Orioles.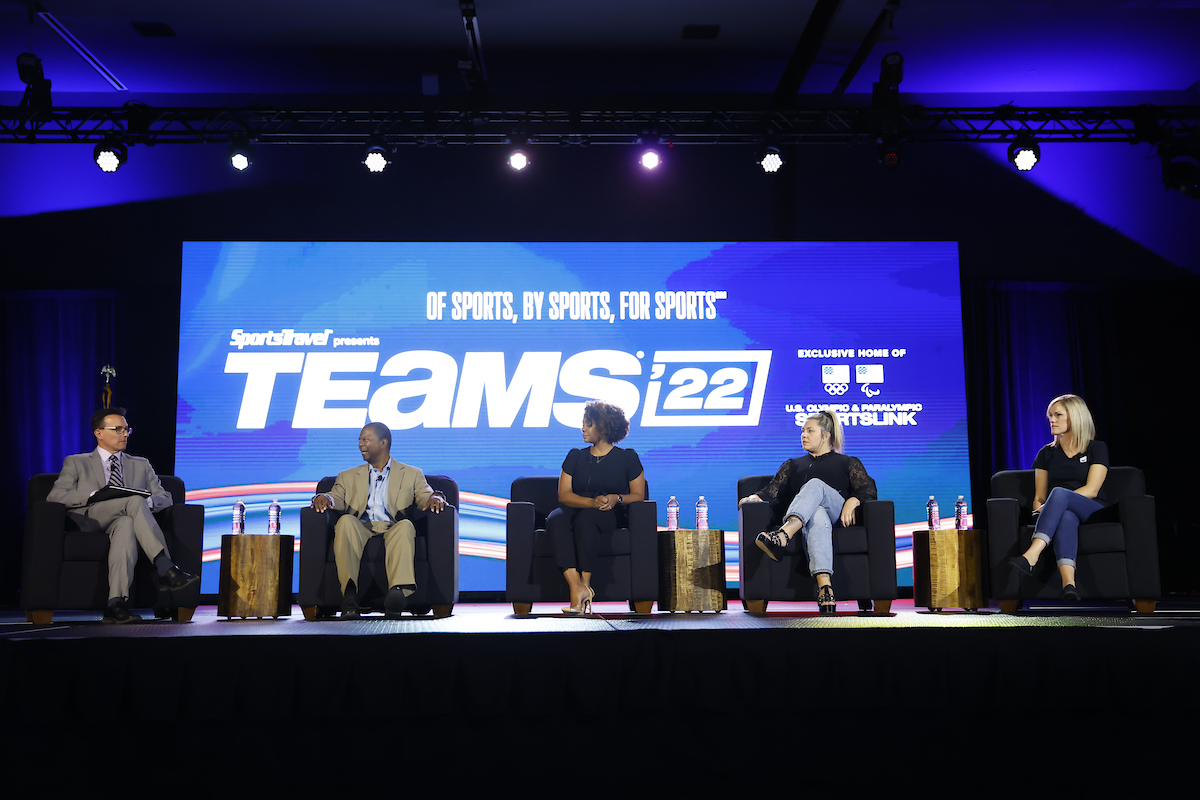 What They Said
Colón: "Registrations and memberships are up and everybody is coming back. But the kids who took two years off are lacking the team building skills and the social and emotional skills, and we're starting to see a buildup of misconduct. We're trying to help people understand what that looks like and we want to make sure teams have the mechanisms to handle that at a local level and address it right away so that it doesn't rise to the level of a SafeSport complaint. It's the venues, the event organizers, the parents — we all have a connection to this and we all have a role. The more we can push that education and understanding, the kids will be safer for it."
Ditchman: "The main reason for the success of Elite Tournaments is our relationships — coming to events like TEAMS, meeting with destinations and listening our partners to find out what they want to see. Sometimes you're watching trends and sometimes it's time to be a part of the trend. We saw where we were with soccer and that the landscape was getting saturated. So we looked at our logistics plan and asked how can we move that into another sport that makes sense for us. We had some key members of our company that had experience in lacrosse and had some key relationships in the sport. We took our time and found the right situation for expansion."
Dyer: "The point of bringing technology into the operations of an event is to optimize operations and save costs. Technology generates the data that we use to make smart business decisions,and it belongs in the boardroom. We use bots and A.I. and we do so because people want answers right away, especially after COVID. The point of having A.I. technology is not to replace people — it's to create better experiences for competitors. Your staff is then not handling the same repetitive questions all the time and can put energy toward scaling and growth and strategic conversations."
Moss: "Sports present developmental opportunities. Young people who participate in sports typically do better across a number of different measures. We're talking about health measures such as social and emotional leadership. We try to shine a light on the developmental opportunities because we know that 70 percent of young people stop playing sports by the age of 13. So it's in our collective interest to make sure it's fun and kids want to come back over and over."