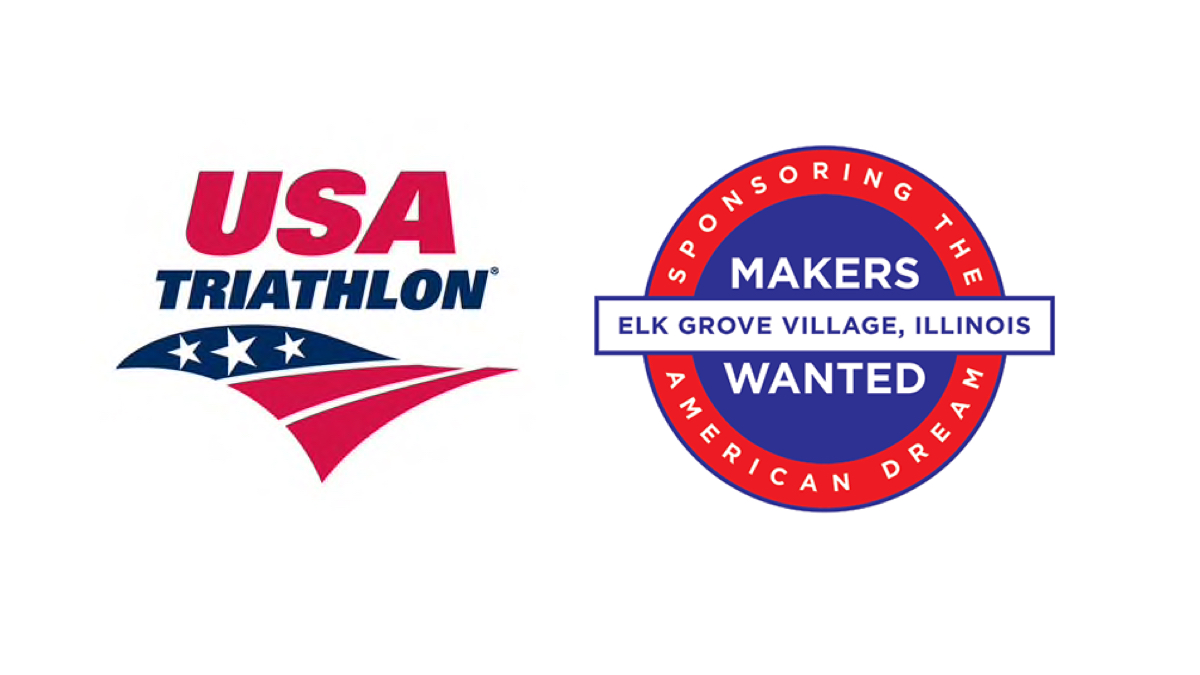 USA Triathlon has announced a partnership with Elk Grove Village in Illinois to serve as the national governing body's exclusive entrepreneur community and exclusive "Making Dreams Come True" partner through September 2021. The sponsorship program, one of the few between a municipality and an NGB, is the product of a recent and innovative RFP process that Elk Grove Village commissioned where it asked NGBs to make the case for receiving some of the commercial village's potential sponsorship money.
Twelve NGBs submitted bid with USA Triathlon ($25,000), USA Track & Field ($100,000) and USA Wrestling ($50,000) earning the top prizes. Elk Grove Village is home to the nation's largest contiguous industrial park and the village has been promoting its "Makers Wanted" brand in recent years through sponsorship that at one point included naming rights to a college bowl game in the Bahamas.
The partnership with USA Triathlon will showcase the village's brand, enabling the municipality to leverage the popularity of triathlon to increase its visibility and help attract new manufacturers and businesses.
"Competing in a triathlon takes incredible focus, discipline and determination. These are the same qualities that allow entrepreneurs and business owners to succeed in Elk Grove Village, home to the largest industrial park in the U.S.," said Craig Johnson, mayor of Elk Grove Village. "We're so proud to welcome USA Triathlon into the Elk Grove Village community to help push our 'Makers Wanted' initiative to new heights."
Under terms of the deal, USA Triathlon will work with Elk Grove Village to create and host a corporate wellness program, where village businesses and their employees can take part in a virtual triathlon training plan and race while engaging with area triathlon clubs. In addition, a Virtual Triathlon CEO Challenge presented by Elk Grove Village will allow CEOs and other C-level executives in the area to compete in a virtual format.
"Triathlon is a complex sport, and its athletes by definition are innovative, entrepreneurial and ambitious — making this partnership with Elk Grove Village a perfect match for the USA Triathlon family," said Rocky Harris, USA Triathlon CEO. "We look forward to working with our new partner to create unique business opportunities for the multisport community, while showcasing Elk Grove Village and its 'Makers Wanted' campaign on the world stage in the lead-up to the Tokyo Olympic and Paralympic Games."
USA Triathlon and Elk Grove Village also intend to partner on a new annual award for business leaders in the multisport community: the USA Triathlon Entrepreneur/Business Plan of the Year. Finalists will be asked to pitch their ideas live at the 2021 Virtual Endurance Exchange conference, January 21-23. After the presentations, a winner will have the opportunity to meet with executives at Elk Grove Village-based ENCLAVE for Entrepreneurs to network and discuss their business plan.