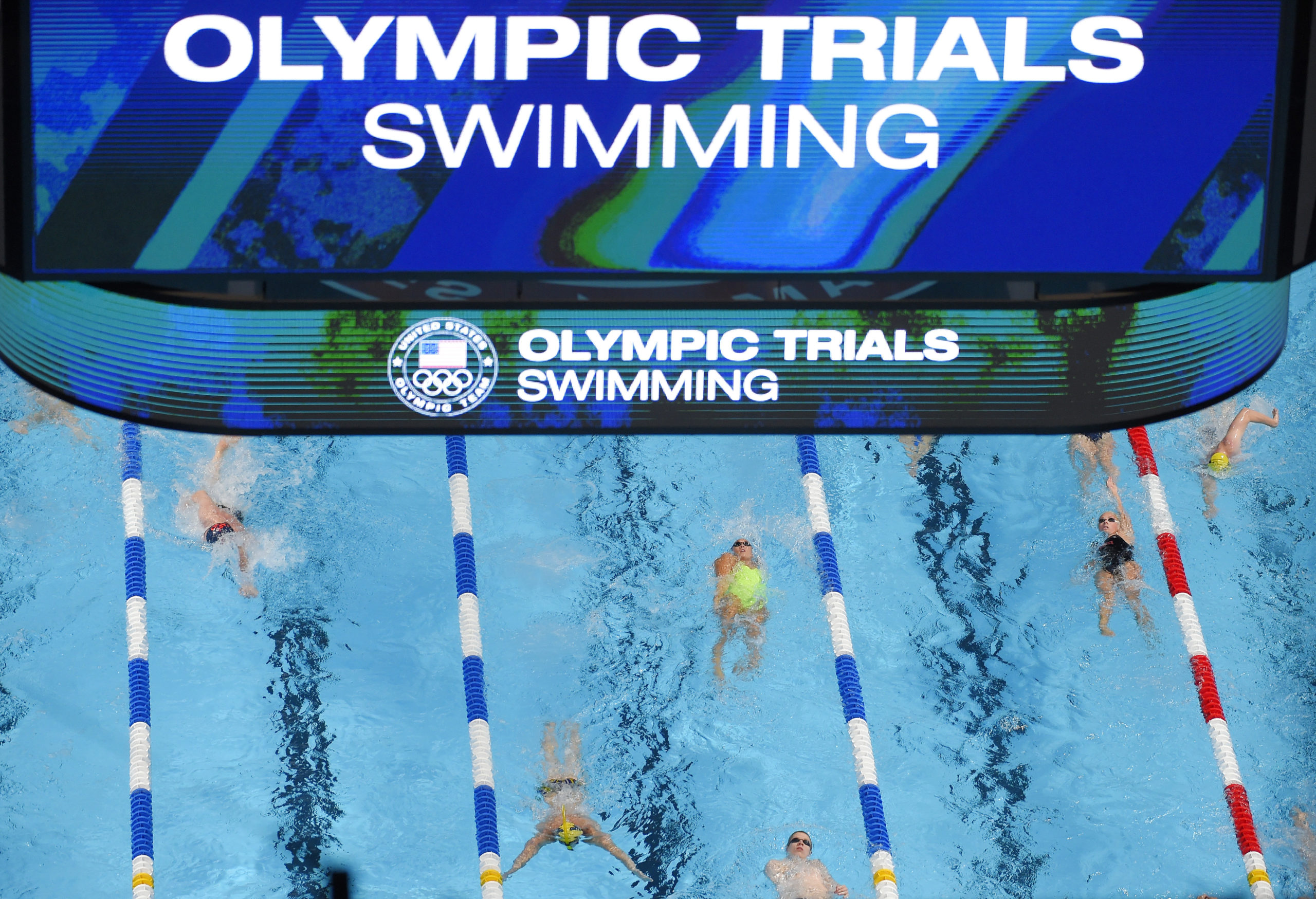 As the rescheduled Olympic and Paralympic Summer Games in Tokyo approach in just a few months and with less than a year to go before the Olympic and Paralympic Winter Games in Beijing, national governing bodies are finalizing new partnerships — or extending existing ones — ahead of what for many NGBs is the biggest spotlight they have in their sport. As sponsorships are announced regularly, we'll continue to update this space with the latest deals.
USA Swimming Partners with Fanatics
USA Swimming and Fanatics have announced a long-term retail partnership which sees Fanatics become the Official Fan Shop of the organization both online at the new Fanshop.USASwimming.org and at USA Swimming events. The online store will provide fans with access to the widest assortment of USA Swimming merchandise ever offered. In addition to its e-commerce operations, Fanatics will serve as USA Swimming's on-site retail partner at the 2021, 2024 and 2028 U.S. Olympic Team Trials.
"USA Swimming has the best fans in the world, and those fans deserve the world's best gear," said Shana Ferguson, chief commercial officer for USA Swimming. "We are proud to launch the USA Swimming Fan Shop powered by Fanatics to offer all the products that swimmers need to show their love for this sport. By partnering with global giant Fanatics and dozens of world-class licensees, USA Swimming is pleased to offer a state-of-the-art e-commerce platform.  We are extremely excited to be building this business together."
USA Bobsled/Skeleton and REIGN Total Body Fuel announce partnership through 2022
USA Bobsled/Skeleton and REIGN Total Body Fuel have agreed to a partnership through March 2022 that will see REIGN Total Body Fuel fitness beverages made available to athletes during their training and recovery. REIGN Total Body Fuel will also work with the team on promotional opportunities leading into next season.
"We are excited to welcome REIGN Total Body Fuel to the USA Bobsled/Skeleton family," said Aron McGuire, USABS chief executive officer. "Their partnership will provide support to athletes as they train for this upcoming season. We also look forward to collaborating with Reign on projects to raise awareness of the sports and our athletes."
Built Bar Joins U.S. Track & Field as Partner

USA Track & Field has agreed a partnership with Built Bar as the new Official Protein Bar of USATF.  Elite athletes will have access to products during the U.S. Olympic Team Trials in Eugene, Oregon. As part of USATF's dedication to encouraging proper nutrition and providing resources for all athletes, USATF Members and VIP Members are now eligible for exclusive discounts on products.
GK Elite and Simone Biles Extend Partnership with First-Ever Legacy Collection
GK Elite, a gymnastics competitive and training apparel company, has extended its partnership with Simone Biles, the most decorated gymnast in World Championships history and five-time Olympic medalist. GK Elite and Biles will collaborate on the first athlete-designed competitive leotards to be available through the Simone Biles Legacy Collection, which will feature the ability for gymnasts to customize designs to match team colors and embellishments.
"I am thrilled to continue my partnership with GK Elite as we work together to inspire the next generation of gymnasts and encourage them to pursue their own goals and dreams," said Biles. "I have really enjoyed collaborating with GK's design team and am excited to invite the gymnastics community into the process by offering the custom platform as part of my Legacy Collection. I encourage fellow gymnasts to tap into their creative minds and add their own design elements as we celebrate gymnasts of all ages and backgrounds as they build their own legacy in the sport."
Biles will have her designs featured across three collections: Replica competitive leotards, Signature training leotards and Legacy customizable competitive leotards. GK Elite will also be supporting Biles' post-Olympic Gold Over America Tour.
"Simone Biles is a once-in-a-generation athlete, but even more impressive is her dedication to growing gymnastics with young audiences," said Girisha Chandraraj, president and chief executive officer of Elite Sportswear. "We are ecstatic to extend our partnership with Simone and give young gymnasts across the U.S. the opportunity to replicate her unmatched style. We proudly support Simone and her teammates as they go for gold once again this summer and inspire future gymnastics champions."
The announcement of Biles' partnership comes as GK Elite will have its logo on the competition apparel for USA Gymnastics competitors at the Games this summer, according to Morning Consult. The website said GK Elite has been the exclusive manufacturer for USA Gymnastics since 2000 but at previous Games ceded branding on the leotards to brands such as Adidas and Under Armour. In an emailed statement to Morning Consult, USA Gymnastics said it was "pleased that GK will receive increased recognition this cycle, as they have been behind some of the most iconic leotards in U.S. Olympic gymnastics history."
USA Triathlon Pairs Well With Winery
The Vice Wine, in partnership with the USA Triathlon Foundation, have announced the release of a limited-edition, triathlon-inspired "The Tri" 2019, with a portion of proceeds donated to the USA Triathlon Foundation.
The Vice Wine Co-Founder Malek Amrani, who created the brand with his wife Torie Greenberg Amrani, is a multi-time member of USA Triathlon's amateur Team USA and a USA Triathlon Foundation Ambassador. The Vice Wine and the USA Triathlon Foundation first launched a partnership in 2020, and the inaugural Tri Blend was based on 2016 U.S. Olympian Katie Zaferes' finishing time at the 2019 ITU World Triathlon Grand Final in Lausanne, Switzerland.
"We are proud to continue our partnership with The Vice Wine," said David Deschenes, Executive Director of the USA Triathlon Foundation. "Our inaugural Katie Zaferes-inspired Tri Blend sold out within a few months and now we have a great opportunity to enjoy the 2019 blend that memorializes Joe Maloy's finishing time at the Olympic Games Rio 2016. Both Maloy and The Vice Wine are huge supporters of the USA Triathlon Foundation, and the proceeds from our newest batch will help the Foundation introduce even more individuals and groups of all backgrounds across America to the benefits of the multisport lifestyle."
USA Skateboarding gets Tech Deck Sponsor
USA Skateboarding, the national governing body for skateboarding in the United States, has named Spin Master Corp.'s Tech Deck brand as an official sponsor.
A global leader in the world of fingerboarding, the Tech Deck brand creates working replicas of skateboards that skateboarding enthusiasts 'ride' by mastering tricks and maneuvers with their fingers. The sponsorship kicks off with the 2021 USA Skateboarding National Championships for both skateboarding and fingerboarding, presented by Toyota. Spin Master will also be launching official USA Skateboarding Tech Deck fingerboards. With only 10,000 being made across three designs, the boards will be given to the USA Skateboarding Team to take to Tokyo in addition to limited quantities that will be available on the USA Skateboarding website and given away on Tech Deck social channels.
"The heart of skateboarding is fun, and no company embodies that better than Tech Deck," said Josh Friedberg, USA Skateboarding's chief executive officer. "From the day we started our initial discussions, Tech Deck's commitment to skateboarding culture and their natural fit into our existing initiatives made it clear that we had a great opportunity – we're incredibly excited to have them as a partner in this historic year for skateboarding."
Toyota Re-Joins U.S. Ski & Snowboard
U.S. Ski & Snowboard has announced that Toyota will again become its Official Mobility Partner beginning August 1 in a multi-year partnership through the 2026 Olympic Winter Games that also names Toyota as the title sponsor of the Toyota U.S. Grand Prix series, the Toyota U.S. Alpine Championships, the Toyota U.S. Freestyle Championships and presenting sponsor of the "Visa Big Air Presented by Toyota" events.
Toyota returns as a sponsor after U.S. Ski & Snowboard's two-year partnership with Land Rover. The partnership with Toyota will include event, broadcast, social and digital marketing rights as well as custom content creation. Toyota branding will also be seen on athlete uniforms, team gear, and throughout the U.S. Ski & Snowboard website and Social Media channels.
"We are so excited to welcome Toyota back to our partner family," said U.S. Ski & Snowboard Chief Revenue Officer Michael O'Conor. "Their support of U.S. Ski & Snowboard athletes over the years have been fantastic for our sports and we look forward to extending that support to the entire U.S. Ski & Snowboard roster ahead of the upcoming Olympic season. We also want to thank Land Rover for supporting our athletes the past two seasons and their commitment to winter sports."
"We look forward to partnering again with U.S. Ski & Snowboard to continue elevating winter sports in the United States," said Lisa Materazzo, group vice president, Toyota Marketing, Toyota Motor North America. "As a mobility company, we're proud to support the elite ski and snowboard athletes in achieving their goals and excited to connect with the passionate U.S. Ski & Snowboard fanbase, which includes the next generation of top talent."
USANA Dives Into Partnership With USA Swimming
USANA, the nutritional products company based in Utah, is expanding its presence as the Official Multivitamin of USA Swimming. As part of a multi-year partnership, USANA will provide USA Swimming athletes with product and the opportunity to learn about multivitamins to support their nutritional needs. It will connect with the USA Swimming community through member communications and a social series.
"Ensuring the health and safety of our athlete members is a primary focus of everything we do at USA Swimming," said USA Swimming Chief Commercial Officer Shana Ferguson. "We are thrilled to have proven multivitamin provider USANA supporting the nutritional needs of the world's greatest swimmers."
USA Racquetball Picks Its Bar
USA Racquetball has a partnership with Talty Bar as the "Official Bar of USA Racquetball." The Talty Bar brand aims heavily on athletes and sports-centric people and follow a "1% for the planet" initiative by limiting all bars to three ingredients: dried fruits, nuts, and clean protein. USA Racquetball members will have access to exclusive discounts on Talty Bar products for the duration of this partnership.
"I am excited to have a quality health-conscious company like Talty as part of USA Racquetball," said USA Racquetball Executive Director Mike Wedel. "We look forward to a great partnership!"
USA Artistic Swimming Finds Right Fit
USA Artistic Swimming has announced a new partnership venture with Turbo/KAP7 as the official swimwear partner of USA Artistic Swimming. USA Artistic Swimming's national team will wear Turbo as their competition suit during their 2021 technical team, technical duet and highlight routines. Turbo Swimwear will also offer special promotions to all USA Artistic Swimming clubs and athletes. In addition to online offers, all attendees will have the opportunity to shop TURBO products at future USAAS events.
"We are very excited to partner with TURBO and KAP7," said Adam Andrasko, USA Artistic Swimming's chief executive officer. "They have stepped up for our team and organization in a big way. They want to support all of our athletes, from highest-level to novice. They share the We Move As One ideology and I look forward to showcasing their brand to the world as our national team fights to qualify for the Olympic Games and our age group and master's athletes return to the competition pool."
USA Surfing Focuses on Eyesight
USA Surfing and Olympic qualifier Caroline Marks, on the eve of the sport's Olympic debut, is partnering with the American Optometric Association to launch Eye Deserve More, a national campaign to bring awareness to the critical role doctors of optometry play in the eye care and overall health of Americans. According to AOA's 2020 Eye-Q Survey, 95 percent of Americans say having good vision is important to their job, but 58 percent of Americans have not gotten a comprehensive eye exam in the past two years.
"At USA Surfing, our health and wellbeing are of utmost importance for our athletes to compete at their greatest potential – and part of this is maintaining eye health," said USA Surfing Chief Executive Officer Greg Cruse. "Anyone who spends a lot of time in the sun is at a higher risk for a condition called pterygium, or surfer's eye, which results in an extra layer of tissue growing on your eyeball. While we all love being in out in the sun as much as possible, there are implications for our eye health so we want to ensure our athletes are getting seen by an optometrist."
USA Nordic Finds Health Partner
USA Nordic, the home of ski jumping and nordic combined, is entering into a collaborative partnership with NYU Langone Health to provide a wide range of health and wellness services. NYU Langone's sports health experts will provide preventive and injury care, nutrition education, field testing of athletes, counsel on strength and conditioning as well as integration of new technologies to help athletes achieve their goals. As a part of the partnership, NYU Langone will provide all national team and junior national team athletes with annual physicals and in-depth screenings at its facilities in New York City or USA Nordic's training base in Lake Placid, New York. NYU Langone and USA Nordic are also implementing a new national advisory council to advance health and wellness initiatives for nordic athletes.
"The partnership with NYU Langone will provide our athletes with leadership and counsel from a remarkable team of medical professionals to ensure they are prepared to compete at the highest level possible," said USA Nordic Sport Director Jed Hinkley,  "In particular, it's an opportunity for us to partner with NYU Langone's sports medicine team on innovative approaches to training with its cutting edge research in elite sport."
U.S. Ski & Snowboard Smiles Brightly
U.S. Ski & Snowboard has announced a partnership with Align Technology, makers of the Invisalign clear aligner system, making it the official smile of U.S. Ski & Snowboard. The multi-year, worldwide sponsorship includes development of original Invisalign branded content across social media channels and for the U.S. Ski & Snowboard website. U.S. Ski & Snowboard will launch a program for athletes to join the Invisalign Smile Squad which will start with Jamie Anderson, Maddie Mastro, Red Gerard and David Wise.
"We're all smiles in announcing Align's Technology's Invisalign brand as our first-ever Official Smile Partner," said Michael O'Conor, chief revenue officer for U.S. Ski & Snowboard. "Smiling confidently is a feeling our athletes know well, whether on the slopes or the top of the podium. We are excited to partner with a brand committed to using technology to change lives for the better, just as we are committed to supporting our athletes in their pursuit of excellence. We look forward to sharing our Invisalign Smile Squad stories and introducing the Invisalign brand to our fans around the world."
USA Diving Names Tape Sponsor
USA Diving has partnered with KT Tape as its official kinesiology tape sponsor. The company has also signed three U.S. Olympic divers to its roster of athletes: Steele Johnson, Kassidy Cook and Katrina Young. KT Tape products designed for muscle, ligament and tendon pain relief and support will be made available to USA Diving athletes at their competitions and stocked in their team medical kits.
"We are thrilled to have KT Tape as our partner to support our High Performance Squad and the entire USA Diving community," said LeeMichaud, president of USA Diving. "Our athletes train extremely hard and having the ability to work hand-in-hand with KT Tape to maximize their recovery, support their journey and help them to perform at their highest level is invaluable."
Weightlifting Gets Therapy Partner
USA Weightlifting has welcomed Therabody as its official percussive therapy sponsor. Therabody is the creator of the Theragun, which is used to accelerate recovery, help to prevent injuries and improve athletic performance. Therabody's research-backed devices will be integrated into USA Weightlifting members' training and recovery, optimizing performance as they aim to represent the United States on weightlifting stages around the world.
"USA Weightlifting is proud to have Therabody's innovative solutions available to athletes at every level of our sport," said USA Weightlifting Chief Executive Officer Phil Andrews. "Recovery is key to any weightlifting program and success on the platform is contingent on it. We look forward to implementing our co-branded weightlifting protocol that will easily integrate Therabody's technology and solutions into our athlete's routines, optimize performance and improve overall wellness."
USA Bobsled and Skeleton Gets Taped Up
USA Bobsled/Skeleton announced a formal partnership with tesa tape, a manufacturer of pressure sensitive adhesives. Skeleton athletes use tesa tape to secure padding to the top of the sled pod and to make sled boxes to ship sleds around the world in. It's used by athletes to fix rips in speedsuits, repair start spikes and for aerodynamic purposes.
"tesa products, and especially the tesa 4651 tape, have been a vital part of our success over the years," said USA Skeleton Head Coach Tuffy Latour. "To say that tesa holds our team together would be an understatement. It's the ultimate all-purpose tape that has been in bobsled and skeleton toolboxes forever."
USA Rugby Gets Insights With Medallia
USA Rugby has welcomed Medallia as a premium partner for all four senior national teams with the company featuring on the back of jerseys through the 2021 season. Medallia will deploy its suite of digital intelligence to capture insight from fans and members that enhances the rugby experience.
"Medallia has a reputation for enabling some of the world's most iconic brands to capture, analyze and take action on those consumer insights," USA Rugby Chief Executive Officer Ross Young said. "We're incredibly excited that this partnership will allow us to connect with our fans, members and stakeholders through innovative means; truly driving the rugby experience. As the digital world continues to be a pillar of sports and entertainment, embracing this relationship with Medallia will be a key in increasing our connectivity and footprint."