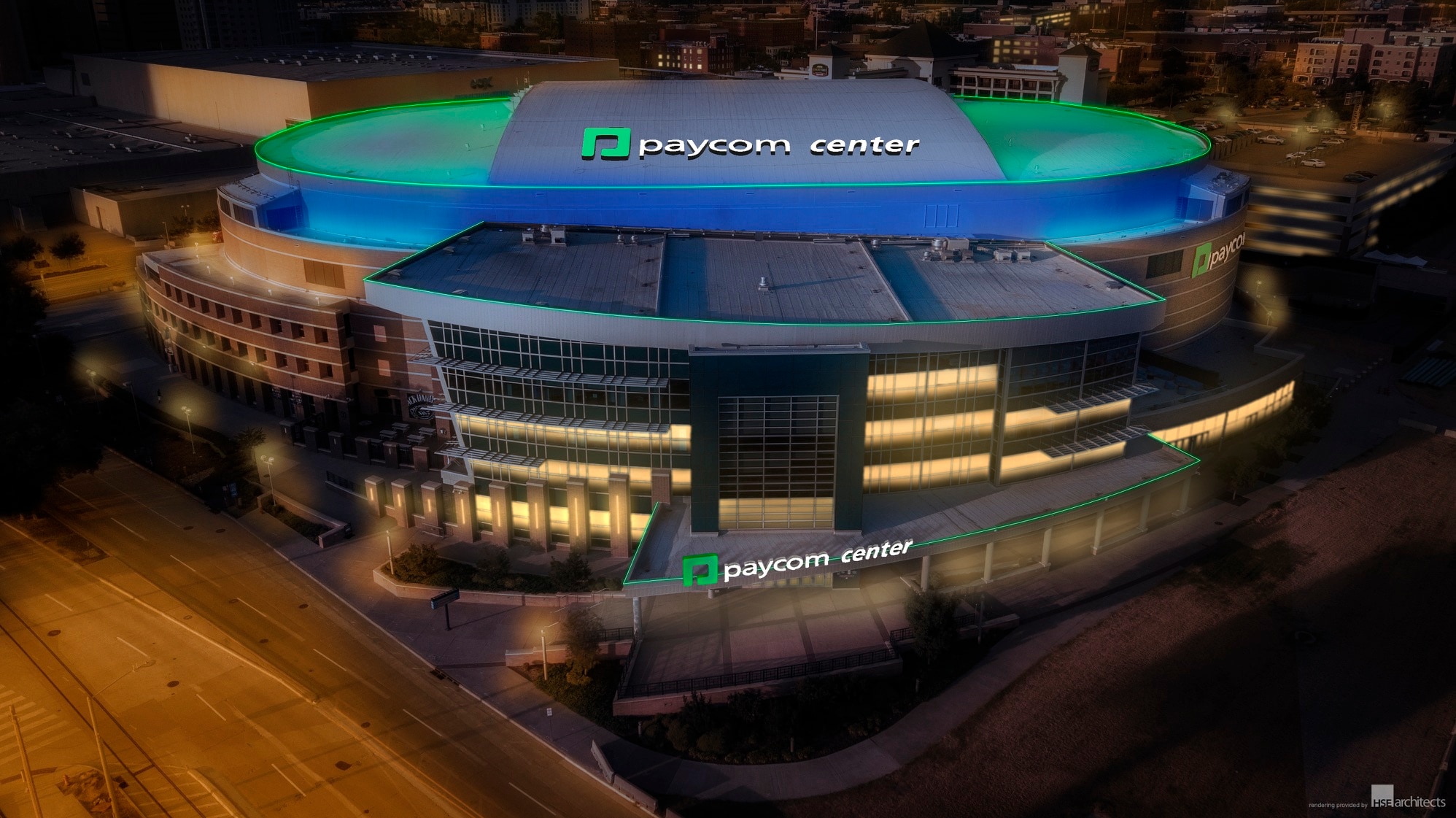 The Oklahoma City Thunder's downtown arena has a new name after a 15-year naming rights partnership was agreed to with Paycom, one of the largest companies in the state of Oklahoma.
The name change takes effect immediately, with exterior signage to be completed in time for the start of the 2021-22 season. For the new season, the Thunder plans to reopen the building and bring fans back after being the only team in the NBA that did not have fans in attendance for at least one game during the 2020–2021 season. Financial terms of the agreement were not disclosed.
"We are honored and excited to expand our partnership with Paycom to include a centerpiece, 15-year naming rights commitment for our arena," said Clayton I. Bennett, chairman of the Oklahoma City Thunder. "We are especially proud to enhance our alignment with this innovative and visionary Oklahoma company that is not only a top job creator, but a nationally recognized technology leader. … On behalf of our ownership group and the entire Thunder organization, we look forward to presenting our new arena partner, Paycom, to the NBA global audience. We are especially proud to be able to welcome back our fans to again enjoy the Thunder game experience inside the fresh and exciting Paycom Center."
The naming rights agreement consists of several marquee Paycom Center signage locations, including the building's exterior and roof, game floor, scoreboard and more. Paycom will retain on-court signage in front of the player benches. The Thunder is working with the City of Oklahoma City to develop and complete the full exterior signage and lighting plan.
"Oklahoma City is home to thousands of our employees, and I am happy that Paycom Center will be the home of the Thunder," said Chad Richison, the founder and chief executive officer of Paycom. "We are committed to our community and remain focused on the future as we support the home team."
In addition to Thunder games, Paycom Center will host numerous concerts, sporting events and other attractions. Opened in 2002, the building is managed by ASM Global and owned by the city of Oklahoma City.
"At ASM Global, we are thrilled with the potential this partnership between the Thunder and Paycom offers for future success of the arena," said Chris Semrau, general manager of Paycom Center . "We work diligently to offer first-class amenities and services for fans, entertainers, guests and crew as we schedule events and shows throughout the year, all within a very competitive environment. Adding a technology and community leader like Paycom to the name of the arena only enhances our ability to help position the facility as modern, vital and built for the future."