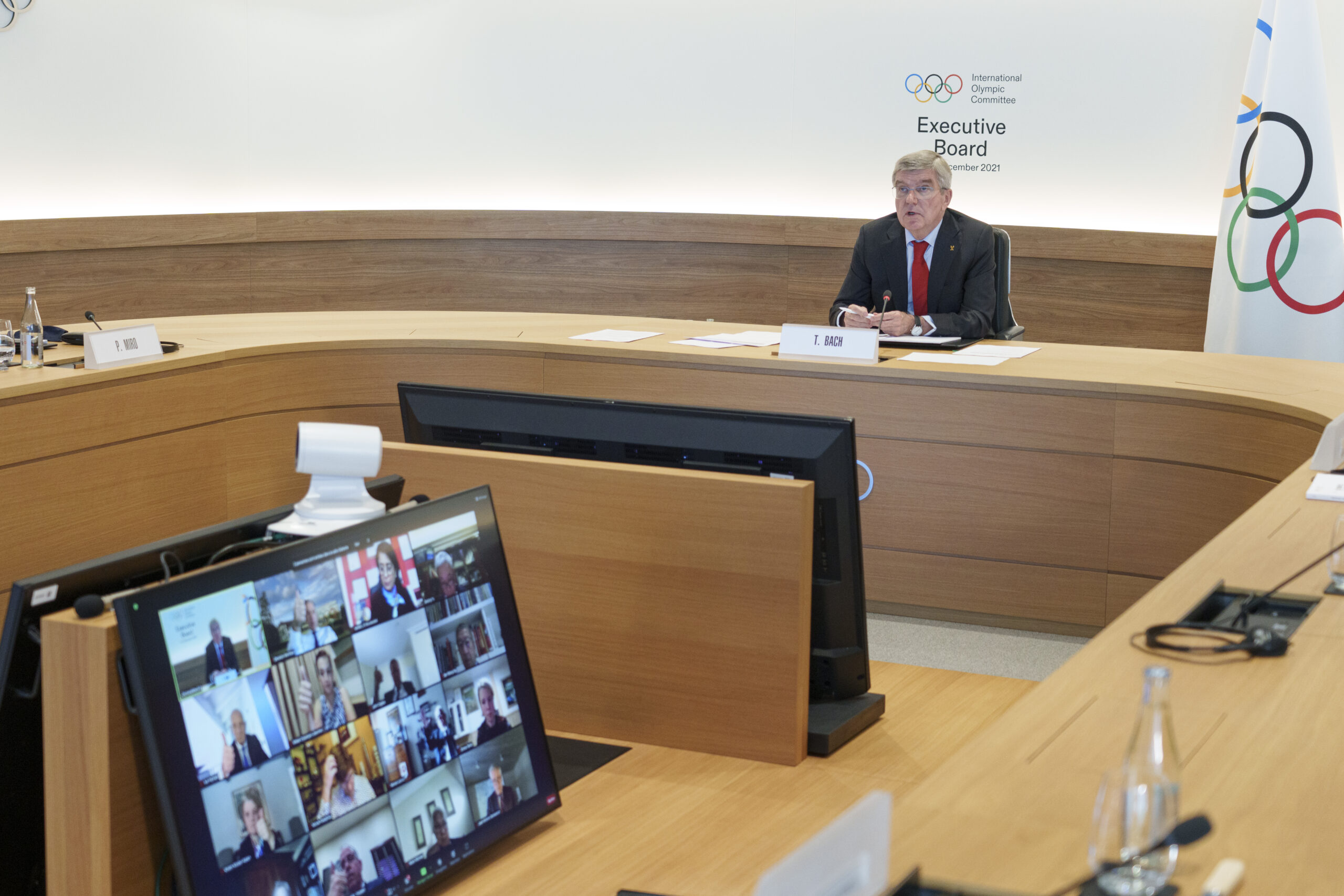 International Olympic Committee President Thomas Bach said diplomatic boycotts by the United States, Australia, Canada and the United Kingdom ahead of the 2022 Olympic and Paralympic Winter Games in Beijing "is a purely political decision for each government" and the IOC will continue to be apolitical.
The United Kingdom and Australia have joined the U.S. in announcing diplomatic boycotts in the past 24 hours. Rights groups have called for a full boycott of the Games, citing Chinese human rights abuses against its Uyghur minority, which some have called genocide. They also point to Beijing's suppression of democratic protests and a crackdown on dissent in Hong Kong.
"The integrity of the Games are about the integrity of the sports competitions," Bach said Wednesday. "We have our focus on the athletes, the Games are about and for the athletes and you will hear the same comment from us for every political decision from any government."
Bach later rejected a question asking why the IOC will not comment on world political issues, saying "by not commenting on political issues, you are not taking a side …  This is the mission of the IOC, otherwise we could not manage to accomplish the mission of the Games to bring together and unite the world."
He added taking a stand on political issues "could be the end of the Olympic Games," before launching into a dissertation on how politics between the Roman and Greek empires led to the end of the ancient Olympic Games.
The U.S. diplomatic boycott angered China — "it is out of ideological prejudice and based on lies and rumors," China Foreign Ministry spokesperson Zhao Lijian said Wednesday — but is supported by most Americans. A Morning Consult survey conducted Monday said 31 percent of U.S. adults support a diplomatic boycott with 24 percent saying a total boycott would be appropriate. Only 12 percent of Americans said there should be no boycott.
Furthermore, 58 percent of U.S. adults said they would support companies pulling their support of the 2022 Games given the uncertainty about Chinese tennis star Peng Shuai's safety — numbers that will be of note to U.S.-based companies that are IOC sponsors including Coca-Cola, Airbnb, Intel, Procter & Gamble Co. and Visa. The poll also said only 26 percent are aware the Games will start in February 2022.
While the IOC has been criticized for its role in the Peng saga, one member of the U.S. Olympic and Paralympic Committee's board of directors supports the IOC's conduct. International Tennis Federation president David Haggerty, who received a spot on the USOPC board when he became a member of the IOC in 2020, told BBC this week the ITF does not "want to punish a billion people" to resolve the case of Peng, who has dropped from sight after publicly accusing a former top Communist Party official of sexual assault.
The statement comes less than two weeks before Haggerty takes part in a USOPC board meeting in Salt Lake City, Utah, as the board finalizes its preparations for the Beijing Olympics. Bach talked around multiple questions about the IOC's contact with Peng, saying "we have achieved things so far with these talks what could be reasonably expected to achieve."
But Bach also reacted defensively when asked why he would not, in any future contact with Peng, invite a prominent women's tennis figure such as Martina Navratilova to join him, snapping "Why don't you respect Peng Shuai and let her decide what her priorities are?"
Bach's comments come as a prominent women's Olympian may not go to China because of dissatisfaction with the way athletes were treated in China when training there earlier this season. Natalie Geisenberger, the two-time defending women's Olympic luge champion, told German regional broadcaster BR that because of rules put in place by Chinese officials mandated as a close contact of someone who tested positive for COVID, she was not be allowed out of her room for several days other than for training sessions. She added food dropped outside her door wasn't to the standard elite athletes need or want.
"With these experiences, definitely not for a World Cup or world championships," she said. "And, I simply have to say, I'm thinking it over about the Olympics whether I would do that to myself again. … The conditions that we experienced there speak in favor of not necessarily going back there again."
Through all of the political questions was one potential hint as to what the IOC may do with potential Winter Games hosts. The two main candidate to host the 2030 Games are Salt Lake City, Utah — with bid group executives planning to head to Bejing — and Sapporo, Japan, where the IOC could potentially place the Games as an unspoken "make-good" after Tokyo's pandemic-marred hosting of the no-spectator 2021 Summer Games with billions in budget overruns.
"We can be pretty confident in 2030 we will not need the COVID countermeasures as seen in Tokyo and will not have the restrictions for top partners, spectators, participants, for everybody," Bach said. "The Sapporo project is also very different from the Tokyo project with regard to the use of existing facilities. Sapporo practically has it all. It's a very different starting point for Sapporo than it was for Tokyo eight years ago."