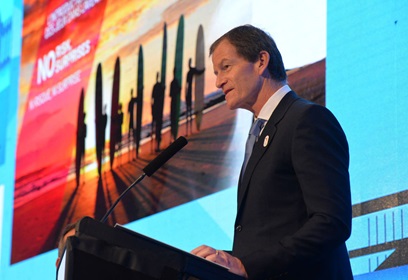 Gene Sykes, who helped bring the 2028 Olympic and Paralympic Summer Games to Los Angeles, will be the next chair of the board of directors for the United States Olympic and Paralympic Committee effective December 31, 2022, the organization announced on Friday evening.
The vote took place during a special session of the USOPC's 17-person board of directors. At Friday's session, nominated candidates each received time to promote their candidacy. Board members then voted by secret ballot distributed, retrieved, and tallied by an independent election proctor.
Details of the vote were not immediately released. Sykes was vying for the chair position against Dexter Paine, who was appointed to the USOPC board of directors and began serving as an NGB Council representative in January 2021. Paine previously served as chairman of U.S. Ski & Snowboard for 13 years.
The runoff against Sykes and Paine was widely painted by Olympic observers as a vote between one person who would bring even closer ties between LA28 organizers and the USOPC against another person who had a deeper background with the National Governing Body movement. The Associated Press reported Friday that athletes and NGBs preferred Paine in a handful of informal polls taken last month.
"I offer my congratulations and a warm welcome to Gene on being selected as our next board chair," said USOPC Chief Executive Officer Sarah Hirshland. "This role requires the ability for us to not only work together as partners but to also bring together the viewpoints of our diverse board and sports ecosystem, and to help set a course for the organization to serve against its mission of holistically supporting athletes, and growing participation in, and prominence of, Olympic and Paralympic sport in the United States."
Sykes was chief executive officer of the LA 2024 and LA 2028 Olympic and Paralympic Candidature Committee, leading the charge to have the Summer Games return to Los Angeles. He currently serves as the co-chairman of Global Mergers and Acquisitions and co-chairman of the Global Technology, Media and Telecom Group at Goldman Sachs & Co.
Sykes took a leave from the firm in 2015 to join the Los Angeles bid committee as chief executive officer and oversee the successful bid campaign that ended in 2017 with the International Olympic Committee awarding the 2028 Games to Los Angeles. He stepped down from the CEO role in December 2018.
"I am pleased to accept this role and thankful for the confidence placed in me by the board and the U.S. Olympic and Paralympic community," said Sykes. "I look forward to working with Sarah, the USOPC staff, our great NGB partners and all who support the Olympic and Paralympic movements. I am inspired by the opportunity in front of me and am grateful to Susanne for leaving the organization so well positioned to achieve holistic success – on and off the field of play – as Team USA marches toward Paris 2024, Milan-Cortina 2026 and Los Angeles 2028."
Lyons joined the board in 2010. She was named acting chief executive officer in 2018 and then chair in 2019.
Lyons leaves after both her and USOPC Chief Executive Officer Sarah Hirshland said in their keynote addresses at the annual assembly of U.S. athletes and administrators that the organization's priorities for the upcoming year would be based around athletic achievement, sport advancement and growing the Olympic movement.
Sykes will inherit an organization as board chair that is preparing to host the 2028 Olympic and Paralympic Summer Games in Los Angeles, the first U.S. Summer Games since 1996. It also has a Winter Games candidate in Salt Lake City, although it may more likely be bidding for 2034 than 2030. But viewership for the past two Games in 2021 in Tokyo and 2022 in Beijing, respectively, were down from normal expectations, leading observers to believe there is a decline in the Olympic movement's popularity throughout the U.S.
Olympic sports in the U.S. are run by more than four dozen NGBs that are, in turn, overseen by the USOPC. Since 2019, the amount of money given by the USOPC to national governing bodies has hovered at around $50 million a year, according to The Associated Press. The importance of collegiate sports to the Olympic movement was highlighted in March when USOPC and NCAA announced a strengthened cooperation agreement to keep the Olympic sports programs thriving across all divisions.
"We know we have asked a lot of you in the past few years and we understand the pressures you are under," Hirshland said during her address, adding LA28 could galvanize the Olympic movement "only if we work together with a greater sense of partnership among us, only if we completely understand our inter-dependence on each other and only if we completely embrace the reality that the external threats to our U.S. Olympic and Paralympic community are far more dangerous to all of us than any internal frictions we may have among us."
As for resources, Hirshland said in part "the costs of developing competitive athletes grows larger, while the resources don't seem to keep up, forcing us to become increasingly creative in how we allocate those resources and disciplined in how we generate new resources. We have to grow the pie, which is something we at the national committee feel a strong sense of responsibility to lead."
The financial aspect was continually referenced by Hirshland in her address, including near the end when she said "as we move toward LA28, we will launch the most significant fundraising campaign ever specifically designed to provide Team USA and National Governing Bodies with new resources" without giving additional details.
Max Cobb, the chief executive officer of U.S. Biathlon, told The Associated Press that 2022 is the right time to realign priorities in the relationship between the USOPC and its affiliated national governing bodies.
"Now is the time for us to dig in and have the really tough conversations and be really honest with each other about what we're doing," he said. "And be really transparent about how the funds are being used and what resources are available to us."