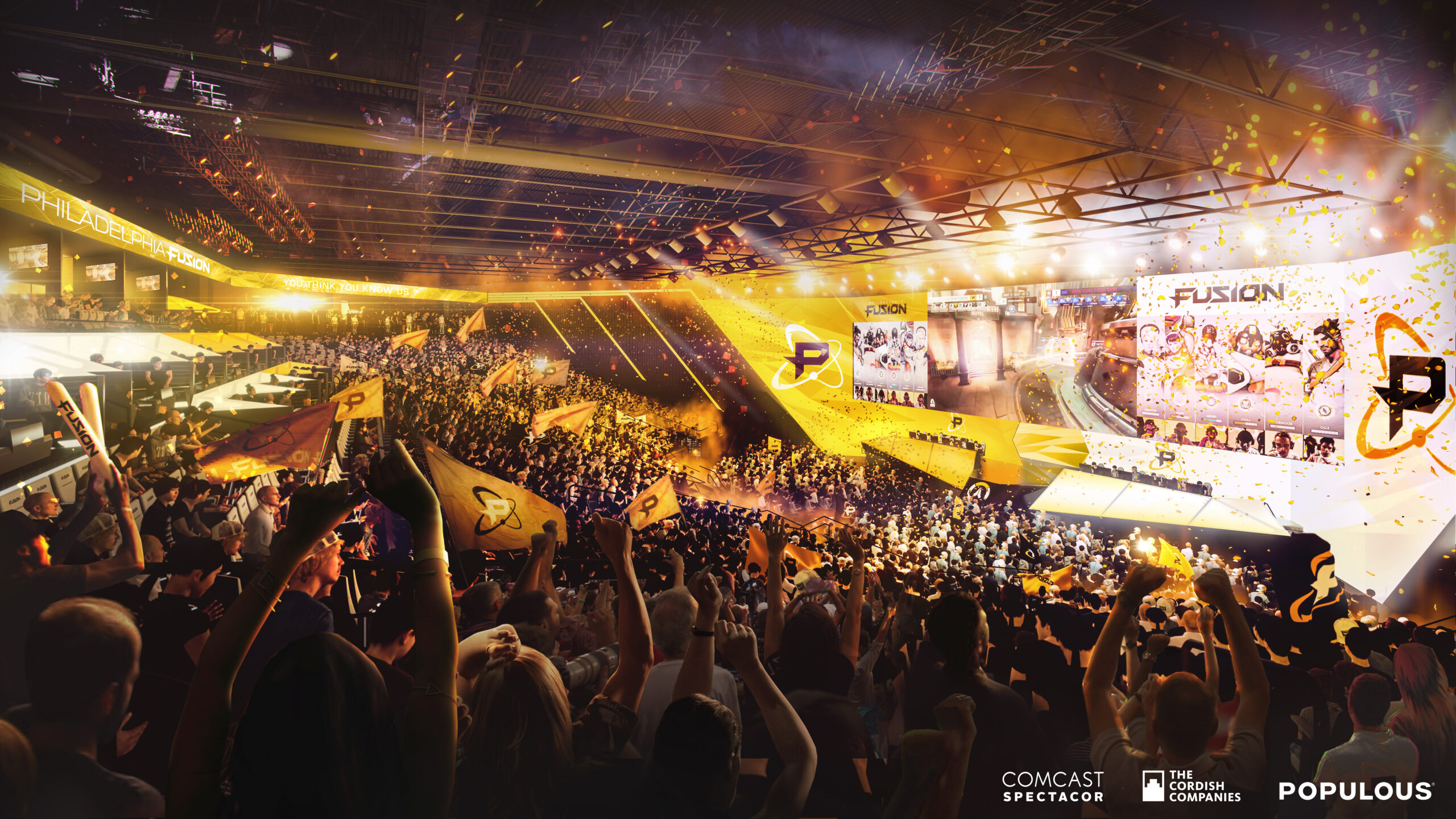 When Esports Stadium Arlington opened in 2018 in Texas, it marked the dawn of a new era for esports and live events. The first esports-specific venue at a municipally owned building—a renovation of the city's convention center—it marked a landmark in the evolution of esports and the facilities that could support live esports events.
Before the COVID-19 pandemic hit earlier this year—and as professional esports leagues with city-based franchises were looking for new venues in their home markets—progress was being made on the next generation of esports-specific venues of all kinds. Whether they were purpose-built stadiums for teams, convention centers rethinking their space for a new generation of fans, or shopping malls reconfiguring their massive square footage for a new concept in experiential retail, esports-specific venues were gaining momentum.
To be sure, the pandemic has taken a toll. Some of the projects that were full-steam ahead at the start of 2020 have seen either a hold or a pause. But in that interim, destinations have found creative ways to take advantage of the changing landscape. Raleigh, North Carolina, for example, found a way to market itself as esports-friendly by launching a "medical concierge service" for professional teams willing to compete from the city. The program included access to medical professionals and best practices for staying healthy. The move attracted at least one team to compete at an undisclosed location in the city.
But while venue projects saw a temporary pause, there was also an irony of the pandemic that has developers bullish about what comes next. While live esports events have largely been shut down for months after so much momentum before the crisis, the interest in esports itself has only grown. Younger fans, in particular, report that they are even more engaged in esports and will be even more likely to attend events when they return. And in another unexpected benefit of esports-specific venues, the technology required to make them function for tournaments may position them even better in a post-pandemic world by their ability to easily host virtual or hybrid events of all kinds.
"In general, this has been interesting to watch in terms of esports the last six months since March," said Brian Mirakian, a principal at the architecture firm Populous, which designed Esports Stadium Arlington and has several other significant projects in the works. "What we've seen is a dramatic uptick in gaming activity, people going online, people engaged in virtual entertainment. There's been a real pivot to virtual online activity. When traditional sports came to a screeching halt, esports really accelerated."
While the venue in Arlington may have been the standard bearer for municipal esports venues, there is evidence other destinations are quickly catching up. In South Bend, Indiana, San Antonio, Texas, suburban Atlanta and Philadelphia, among others, projects are in the works from office buildings to shopping malls that may well change the landscape for venues in the years to come.
A Boom in Philadelphia
For Mirakian and Populous, what began in Arlington has continued elsewhere, notably in Philadelphia, where the firm is involved in projects large and small. At the highest level, construction began before the pandemic on a new esports stadium for the Philadelphia Fusion, the city's Overwatch League team. Once complete, the $50 million venue will feature 60,000 square feet of new construction, a 3,500-seat theater, two balcony bars, club seats with USB ports, loge boxes and exclusive suites. It will become the largest purpose-built esports arena in the Western Hemisphere.
While the project was originally scheduled for completion in 2021, construction has recently come to a halt because of the pandemic, although plans still call for the venue's completion.
"It will be packed full of technology, a lot of firsts," Mirakian said. "Fans will be excited when they come in. It will be one of a kind and it will put a new dimension to the fan experience."
While the project will produce another milestone by being the first arena built specifically as a permanent professional team's home venue, Populous' other major esports project may have an even greater impact nationwide. The firm has partnered with Nerd Street Gaming on a plan to expand the localhost concept, which would put smaller gaming venues into urban settings across the country. Localhosts are described as public esports arenas that use the same high-powered computers that professional games use in tournaments. The venues are managed by Philadelphia-based Nerd Street, a network of esports venues and events dedicated to providing competitive opportunities for gamers.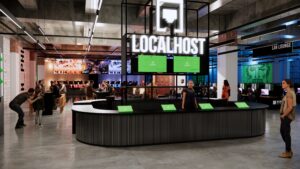 The localhosts will allow visitors to compete casually or in more structured competitions and plans call for more than 100 of the venues over the next five years, with two immediately on the books. The company is also partnering with Five Below stores as part of the venture. "It's representative of bringing esports and gaming to the masses," Mirakian said. "These are community-focused projects."
The localhosts will also offer an opportunity to expand the notion of an esports venue into other areas such as retail space, a trend that would appear to have an immediate future.
"The nature of retail-specific developments is changing from a consumer goods model to an experiential model with food and beverage to entertainment," he said. "So when we're talking to developers and property owners that have traditional retail development, oftentimes they do have an asset like a big box they want to reposition. We have fielded so much interest in that capacity as gaming or esports become the driver to reactivate some underperforming assets. The reality is there's a ton of potential around that."
Rethinking the Mall
One company that knows that potential well is Allied Esports. While Esports Stadium Arlington marked a shift in publicly owned venues, Allied has been operating privately held arenas for years. Its flagship venue is the HyperX Esports Arena at the Luxor Hotel in Las Vegas, which opened in 2018.
The latest project, however, has been partnership with Simon Property Group and Brookfield Properties, the largest developers of shopping malls in the country. Under a deal first announced in 2019, Allied is in the process of developing venues that will be placed in the malls, with the first one expected to come online in Buford, Georgia, at the Mall of Georgia near Atlanta. The Georgia site calls for a 13,000-square-foot space on two levels in The Village outdoor portion of the property.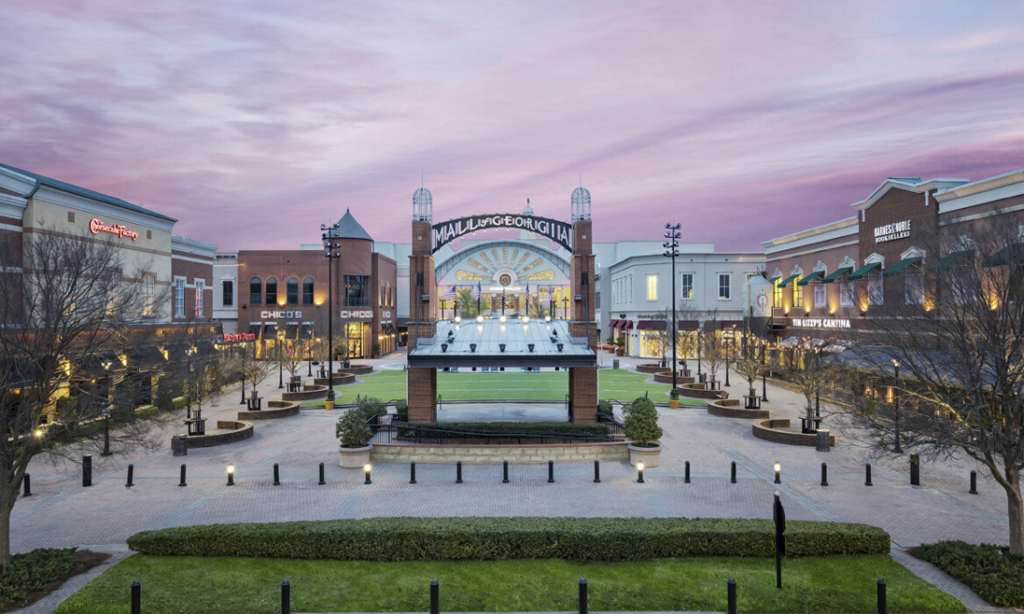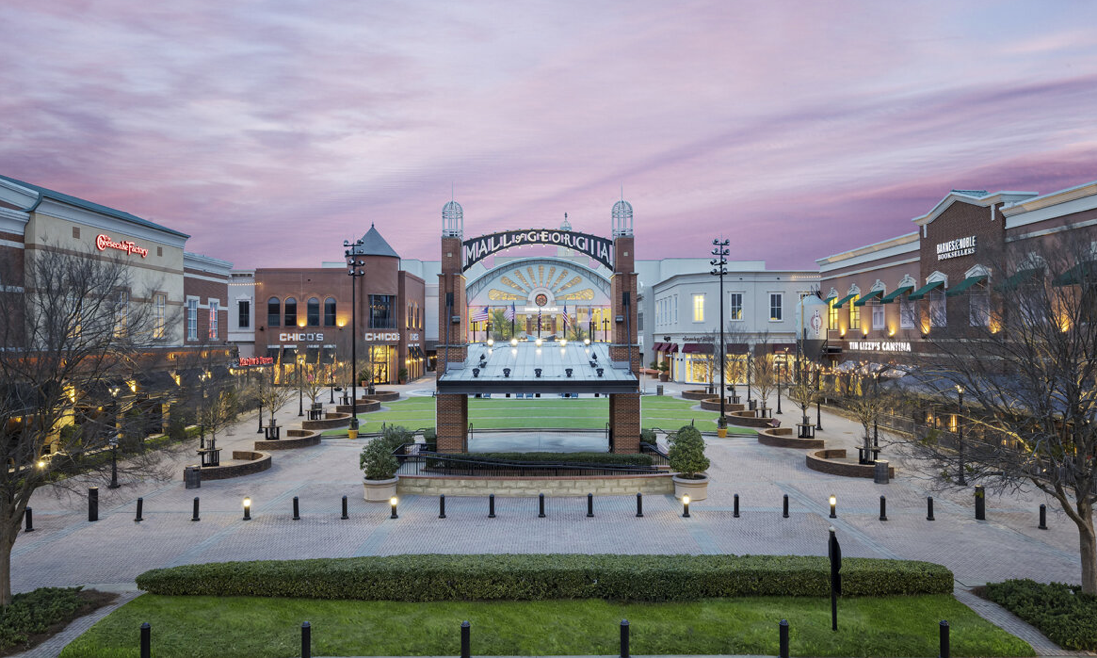 Allied is working with HOK on the architecture, engineering, design and planning on the venues, whose openings have been delayed because of the pandemic. The first venue, however, is expected to open in 2021, said Allied Esports CEO Jud Hannigan.
"We want these to be opening when life is normal, when people are congregating again without restrictions," he said. "Right now in the U.S. it's a mixed bag depending on the market you're in. The good thing is we've got great partners and we're in this for the long haul. And we're more excited about the prospect of operating physical venues with what I believe will be a resurgence of live experiences when this is all over."
Under the mall concept, the venues will offer a range of esports and gaming experiences, including nightly tournaments for gamers of all levels, PCs and consoles for walk-up play and daily use, broadcast and streaming production capabilities, full food and beverages and experiential retail.
The move to mall venues also has come with an event series at other Simon locations. The first season of the so-called Simon Cup was staged at malls in Long Island, New York, Ontario, California, and at the HyperX Esports Arena.
Hannigan said that based on the return of patrons to the Las Vegas arena when it reopened in June, the company believes there will be a market at malls when fans are ready to return there as well. "We're seeing that people want to participate in our events and events are being sold out," he said, noting that weekend traffic has been the strongest. "We're still seeing that. The pandemic and restrictions are just creating more demand for it."
South Bend Enters the Scene
While retail may be the hot spot for future esports venue development, others are starting to take the Arlington model and adapt it to their own communities. And one of the next frontiers in that space is South Bend, Indiana, where a portion of the city's convention center is under redevelopment to become an esports hub.
Behind the project is someone with considerable history organizing traditional sports. Before he became executive director of venues for the city of South Bend, Jeff Jarnecke spent years at the NCAA as the association's point person on awarding championship host locations. Now he's shifted gears toward esports by repurposing portions of the Century Center Convention Center into a competition theater and a LAN center for community use.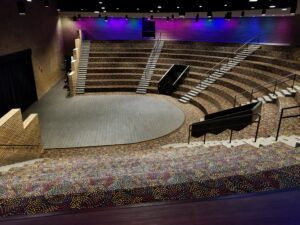 "We thought that that this was going to be a differentiating factor for us," Jarnecke said. "I don't always think people thought of South Bend as being an early adopter of things, but that was our strategy."
Plans call for using revenues from hotel-motel tax collections and putting up to $2 million toward the renovation, whose highlight is the 630-seat Bendix Theater. That project has turned an older amphitheater setting at the convention center that now has new seats, flooring, carpet and technology in its renovation to an esports venue. In addition, several breakout meetings rooms will be turned into a LAN center with 32 gaming consoles that will serve as a community venue.
Just the beginning of the project has already resulted in one new partnership as the local NAIA Bethel University has named the new venue home to an esports program launched in part because of the space. "That was from the president of the university reaching out when the story first broke," Jarnecke said. "It was literally the president and I working together to come up with this operating model."
"As we looked at the opportunity presented by the Bendix Theatre renovation, and as we began to research collegiate esports, it became clear that there is a lot of momentum for esports and having a pilot team would be an asset to the athletic department and to the university," said Christopher Hess, Bethel's associate athletic director, in announcing the partnership. "Our athletic department wants to provide the best college experience we can for our students and there are a lot of student gamers (women and men) here on campus that can enhance that experience by enjoying the benefits of all that comes with being a part of a team."
While the timing of the project has been pushed back several months this year because of its hotel tax funding, plans still call for opening the full scope of the project this year. And when it's done, the hope is that the visibility of events from the venue will give South Bend some visibility as well.
"We think we'll get to the point where when you see Benidx on Twitch and online, you'll know which arena you're talking about because it will be so much different," Jarnecke said.
The Education Model
Other cities are taking yet another approach with esports venues, including incorporating them into tech campuses. That's the case in San Antonio, where leaders at the Port San Antonio technology campus in August announced plans for a 2,500-seat arena.
The project is part of a $60 million addition to the tech campus that will include a 130,000-square-foot building that will feature the esports arena and other projects. The arena itself will be designed by RVK Architects and will be capable of configuration for esports competitions, concerts, product launches and large training programs. Retractable seating will also allow the space to host conventions and conferences. The project will also feature a 24-hour electronic gaming area and a full-scale food hall, including catering support for events hosted at the center. ASM Global will manage the complex when it complete, which is expected in early 2022.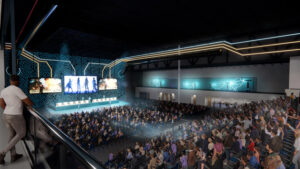 The Port San Antonio tech campus is home to aerospace, cybersecurity, defense, robotics and other advanced operations in the Texas city. By mixing esports into the project, the site's operators are hoping to connect the community in different ways than a mall development or localhost site. In this case, the goal is to incorporate the genre into the campus' goal of connecting people through employment, education and entrepreneurial opportunities, including those that are STEM-based.
"Our board has been hard at work to ensure that the Port serves as a strategic asset for all people in our region," said Port San Antonio Board Chair Chris Alderete in announcing plans for the arena. "We have taken another major step forward in delivering on that promise to create a place that is welcoming to all people in our community."
Different Opportunities
To Mirakian, Hannigan and others, the future of esports-specific arenas would appear bright, despite the current challenges with the slow return of live events.
"We're all trying to cope in this climate but because of the space we operate in, our positivity in the future isn't wavering," Hannigan said.
And part of what's driving that optimism is the different ways that communities are finding to incorporate these new esports venues into their inventory, whether it's a specific arena, a community gaming center, the rethinking of retail space or convention center, or as part of a larger educational mission.
"When you look at the landscape, the purpose-built large-scale arenas—those are happening already," he said. "And there's a lot of activity related to the experiential gaming center model. But I don't think there's a one-size-fits-all solution. There are so many opportunities for cities and investment groups for people who are interested in looking at the future of retail and consumerism on different levels where esports really dovetails nicely."