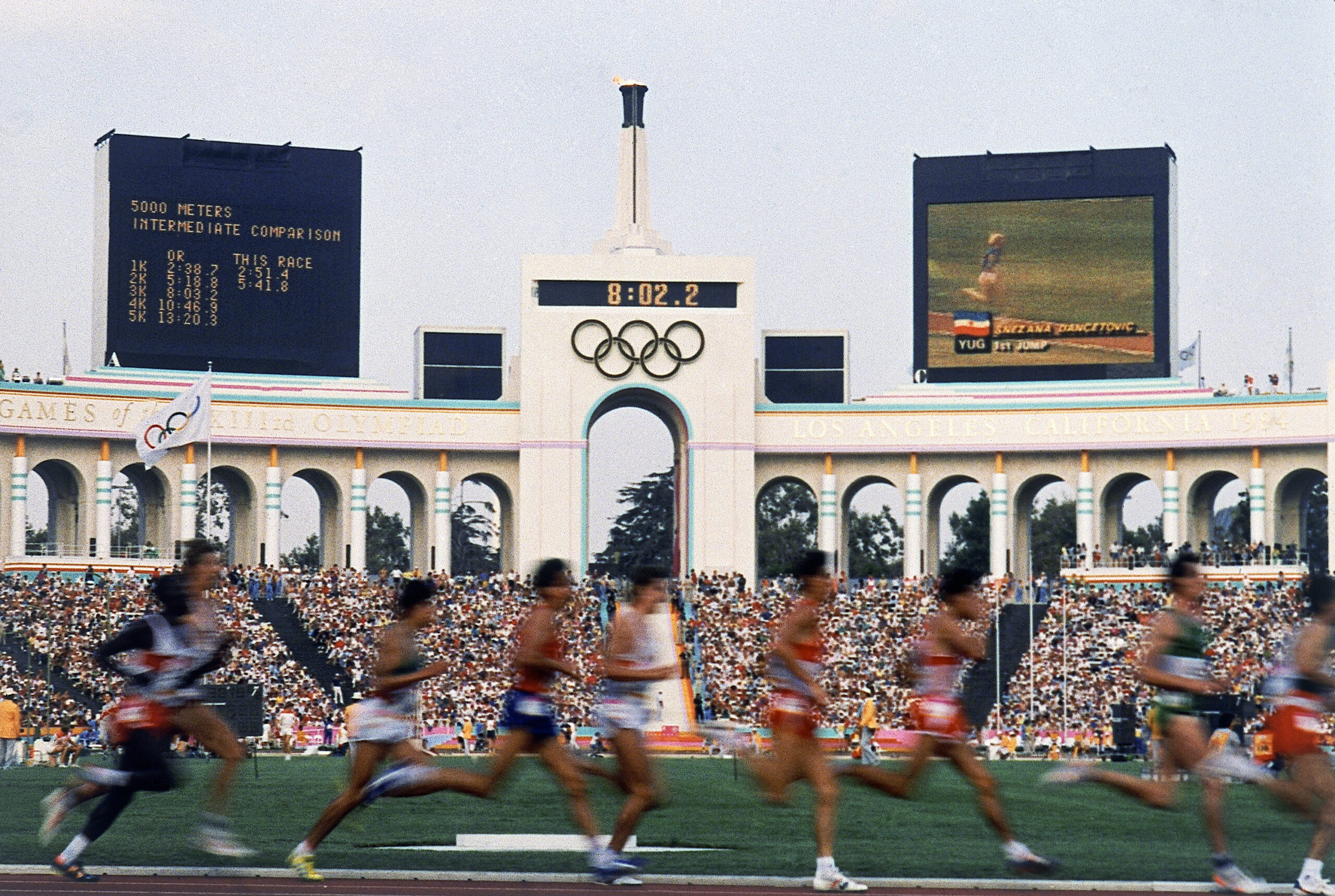 The 2028 Olympic Summer Games in Los Angeles will start on July 14 with a dual Opening Ceremony at the Los Angeles Memorial Coliseum and SoFi Stadium, with competition going through July 30 and the Paralympic Summer Games starting August 15.
Monday's announcement starts the six year countdown to the first U.S.-based Olympics since Salt Lake City, Utah, hosted the 2002 Winter Games. Atlanta in 1996 was the last U.S. Summer Games host; Los Angeles will be joining the exclusive group of three-time Summer Games hosts, having been the site in 1932 and 1984.
"Today marks the official countdown to the LA28 Olympic and Paralympic Games," LA28 Chief Athlete Officer Janet Evans said in a statement. "The LA28 Games will be unlike any other, showcasing the best of Southern California's exceptional stadiums and world-class culture to athletes and fans alike. This milestone makes the Games real for every athlete actively training for their LA28 dream and the fans who follow the journey."
Los Angeles Mayor Eric Garcetti and International Olympic Committee leaders including Thomas Bach, who recently attended The World Games in Birmingham, Alabama, were on hand for the announcement.
"I have been really impressed by the progress and creativity of the LA28 team," Bach said. "… It will help to bring new fans to Olympic sport and leave a sporting legacy for generations to come. When the LA28 Games begin on 14 July 2028, I know that those children like all the citizens of Los Angeles will be inspired by having the world's best athletes competing in an Olympic Games at home in their own city."
Even while the date had not been announced until Monday, preparations had been well underway. The IOC approved the initial sports program including the official inclusion of surfing, skateboarding and sport climbing. LA28 last summer announced an Athletes' Commission and released an animated emblem that can be evolved over time.
LA28 and the United States Olympic and Paralympic Committee has also announced sponsorships with Hershey's, SalesForce, Deloitte, Comcast and Delta Airlines.
Los Angeles was awarded a third Games in September 2017 as part of a dual-announcement with Paris given the 2024 Games. As part of the bid arrangement, LA 2028 will receive at least $2 billion from the IOC and the IOC's 20 percent share of the projected 2028 Games surplus.
The 2028 Paralympic Summer Games will begin August 15 and run through August 27. It will be the first time that L.A. hosts the Paralympics.
"Los Angeles is home to the most incredible competition venues and state-of-the-art training facilities," said Paralympic swimmer and LA28 Athletes Commission member Ileana Rodriguez. "The LA28 Games will be amazing for every athlete who comes to Los Angeles to pursue a lifelong dream. This will be our first Paralympic Games in Los Angeles and we have a major opportunity to show the world what's possible for people with disabilities. Southern California is one of the most inclusive and diverse places anywhere and I couldn't be more proud to help host the world's best athletes here in 2028."