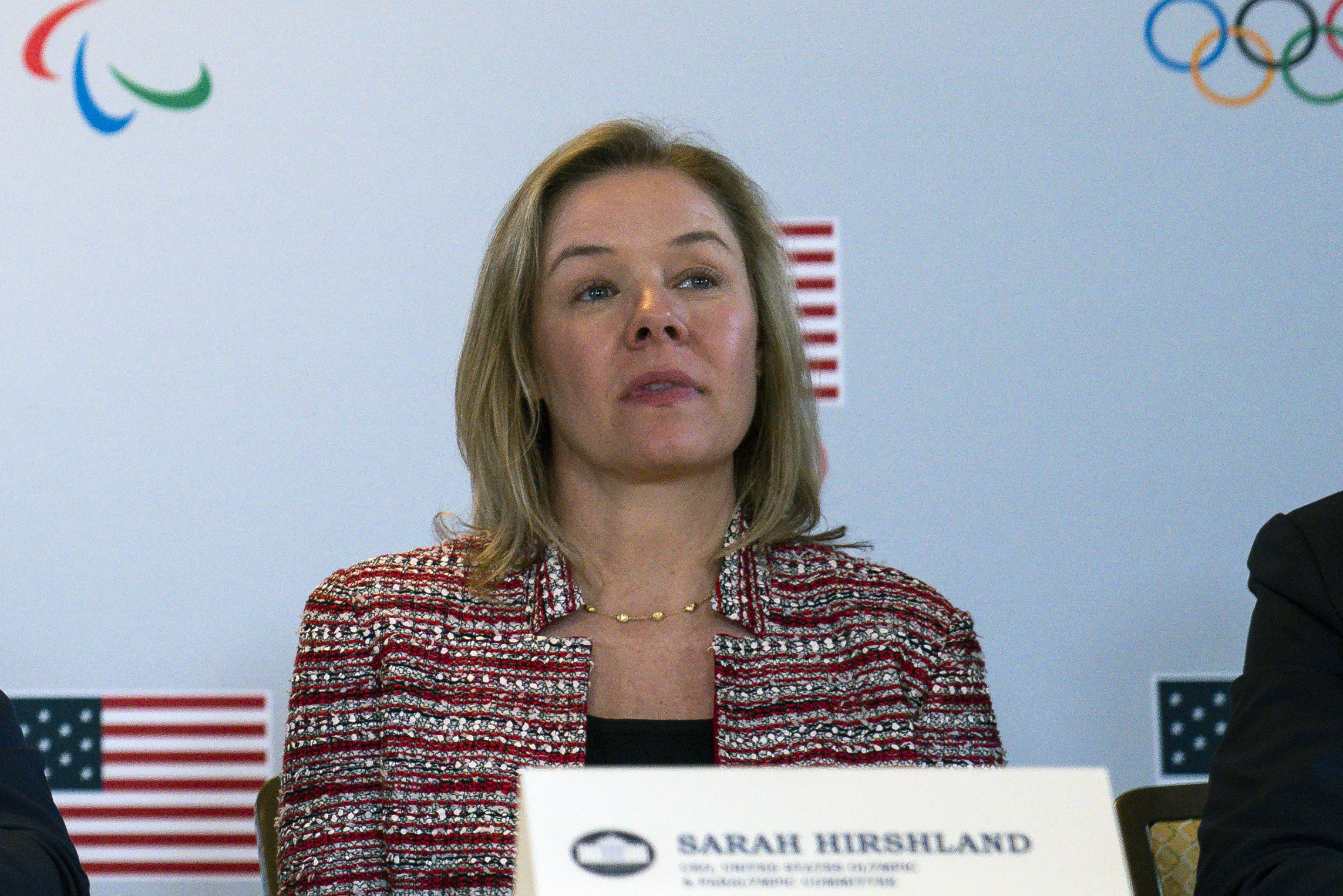 The Olympic Summer Games' postponement to 2021 in Tokyo set a series of ripples throughout the United States Olympic and Paralympic Committee that the organization is adapting to on a daily basis.
"The timing implications of the postponement are significant," USOPC CEO Sarah Hirshland said during the latest Sports Business Journal/CAA World Congress virtual event. "We operate on quadrennial cycles and now we will have significant overlap for those quadrennial cycles in a very short window of time" between Tokyo 2021 and then the Olympic Winter Games in Beijing less than a year later, she said.
Hirshland's comments came a day after reports that the USOPC may have budget cuts of up to 20 percent with a final decision made by the end of May. The Associated Press reported that a survey of NGBs estimated they would have lost $121 million in revenue between February and June due to the coronavirus.
"We don't know and won't know what things will look like over the next few years," Hirshland said during a live Q&A. "We will take a strategic look and make some surgical reductions now but I suspect we will have to remain nimble going forward."
When it comes to revenue, the USOPC made a request to Congress for $200 million in relief funds for the NGBs, according to the Wall Street Journal, but it was turned down. "Our focus has been to make requests of Congress to recognize the NGBs and the income lost to them and also to the athlete community through the loss of events," Hirshland said. "Sometimes people think of us as the Olympic and Paralympic Games but the reality is Team USA athletes are competing internationally throughout the year and they rely heavily on sponsors and speaking engagements but also prize money from competitions."
One of those sponsors, Visa, "had big ambition and big hopes for the Games," said Chris Curtin, Visa's chief brand and innovation marketing officer. "It was one of the reasons we were an early advocate for the postponement of the Games when it could be put into a better window of time for the original dream and expectations of what the Games could be."
When the Games are held in Tokyo — though organizers have made pains not to guarantee it — the broadcast plans by NBC will be 100 percent different, said NBC Sports Group's Jenny Storms, the network's CMO and executive vice president of content strategy. "The Olympics should be the first global, unifying event," Storms said. "As a marketing organization, we have to look at the Olympics through an entirely new lens."
News and notes
• The NCAA's chief medical officer, Dr. Brian Hainline, recalled the first memo to member schools about coronavirus was sent on January 28 because "we were concerned that this would potentially be a problem that would affect the United States." After another memo was sent in February, Hainline watched as in early March "it was clear this would be something that would have a major impact."
Soon after, the NCAA canceled its winter and spring championships, with collegiate sports in a state of suspension since. When colleges do try to start bringing events back, "the best advice is that we should be planning for every possible scenario," Hainline said. "The one scenario is you have just the essential personnel present and work out the logistics. The other is you expand it to a small fan base, then you have a spectator base with social distancing in place. … I think there are going to be a lot of different possibilities that we can work with in August. We're cautiously optimistic that there's going to be a go for fall sports."
Hainline did caution for fall sports to be held, opening up society as a whole should be done methodically. "The analogy is if somebody had major surgery and they want to get back next season, they take every step of rehab properly," he said. "That's how this resocializing program is. My optimism is the (federal) guidelines are well thought out and if we follow them, it's an action plan to move into phase three in the fall. If we don't follow them, we could find ourselves with a major setback."
• Roger Federer's suggestion on Twitter that the ATP and WTA Tours should merge into one organization "were phenomenal words in my opinion," said WTA Tour President Micky Lawler. "The crisis has forced every governing body to work much closer together. … I think that (Roger) paid ultimate respect to women and showed how far we've come as an organization."
Even before Federer's comments, the amount of joint ATP/WTA events on the calendar has grown in recent years. With the number of canceled events this year, should both tours be able to restart, Lawler said fans could see a reshuffled schedule where they put some clay-court events in the fall leading to the rescheduled French Open and "if there is a way to make it happen, then we would not have an offseason in 2020" and go straight from the clay season into its Asian swing heading into the Australian Open in January 2021.
Lawler also said the tour is working on creating a prize money relief fund for players that rely on the income to get by and "there's a lot of details to get right. … We are very much committed to making this as painless as possible even though of course there is a great amount of pain right now."
• The results of NASCAR's virtual events in partnership with iRacing have been "staggeringly positive," said NASCAR President Steve Phelps. "It's been an opportunity to put something in front of our fans. It's live sports and people are yearning for live sports." Phelps said when it comes to getting back to racing not virtually but in real life and "almost certainly initially without fans," one of the big issues will be how much staff will be needed. Where a typical race may have needed 2,000 people in support roles, the series will need to figure out if it can be held with fewer people on hand. Phelps also said NASCAR will run a full series even if that means doubleheaders or weeknight races and it has already been in discussions with its broadcast partners to clear prospective broadcast windows for a reshuffled schedule.