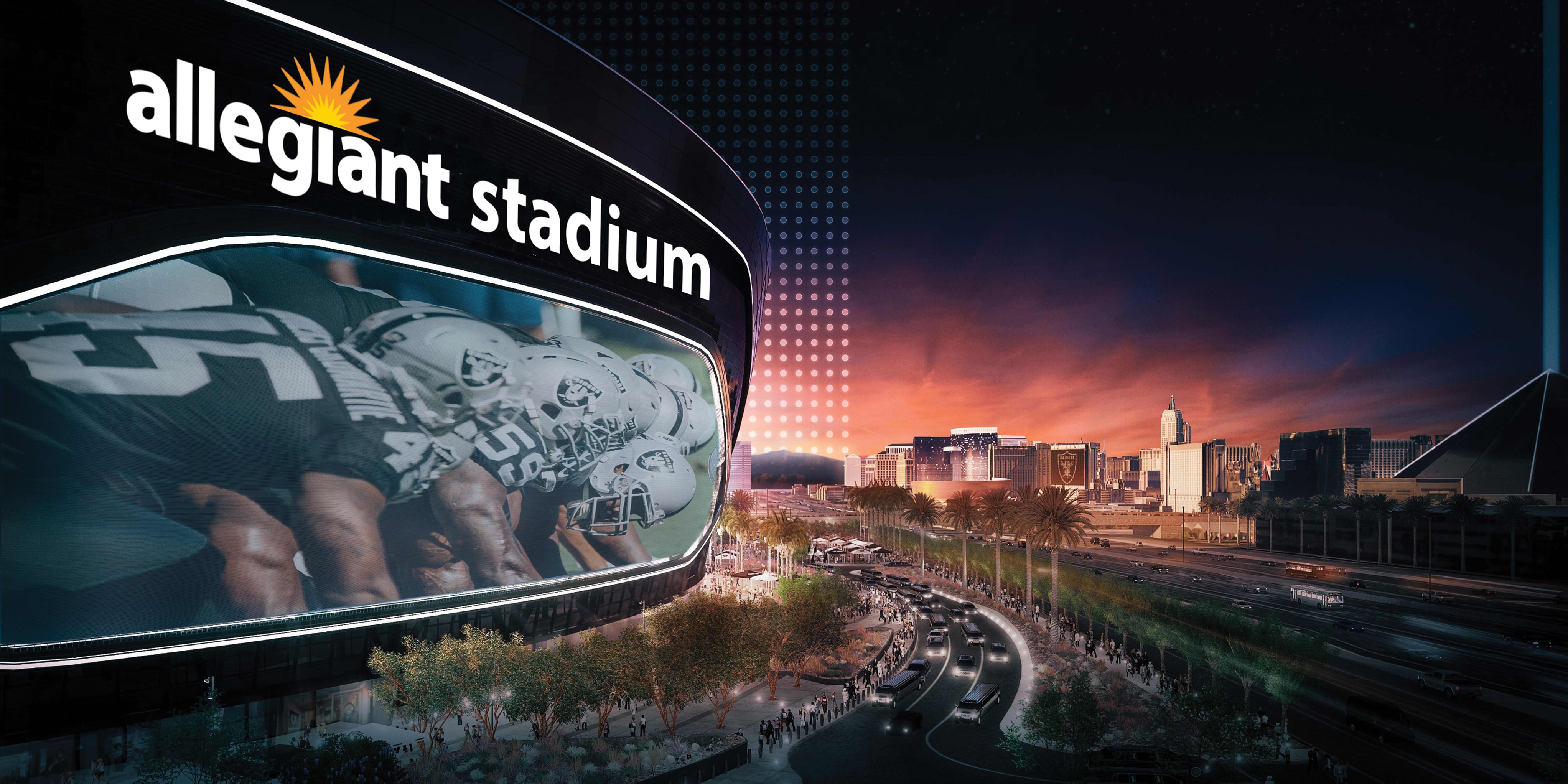 As the Raiders storm the Las Vegas Strip in a stadium costing nearly $2 billion, the relocated franchise will bring with it an even bigger influx of NFL fans to the gambling capital of the United States from Oakland, Los Angeles and the rest of the country.
As soon as the move to Las Vegas was announced, it was evident that whichever company bought the stadium's naming rights would get worldwide recognition given the NFL's popularity. But the rights did not go to any corporation that already does business with the league; the rights were secured by Allegiant Airlines, a low-cost leisure airline.
It was the latest example of an airline sponsoring a sports venue in an attempt to increase activations. Allegiant, with Allegiant Stadium, is the fifth major airline with naming rights to a field or sports venue in the United States.
"Travel is a strong component of sports," said Gemini Sports Group President Rob Yowell, who has worked on naming rights deals for other stadiums but wasn't involved in the Las Vegas deal. "Fans travel everywhere to watch their team play. These are all opportunities to build an affinity and brand loyalty for these fan bases, and (airlines) put themselves right at the front of the line."
And it was the latest in a series of sports sponsorship deals for Allegiant, which is the official airline of Minor League Baseball and has deals with the NHL's Vegas Golden Knights and MLS' FC Cincinnati as their official airline partners.
"We have no plans for future naming rights, (but) it certainly doesn't preclude being a partner with teams across different leagues and putting together travel packages," said Allegiant Chief Marketing Officer Scott DeAngelo. "Americans are increasingly traveling for experiential things. I, personally, have gotten to the point in my life where live sporting events are as, or more, exciting than any other entertainment you can go to."
Allegiant Stadium also will host the Las Vegas Bowl, beginning in 2020, and the Pac-12 Championship Game in 2020 and 2021. Raiders officials have made it public that they hope to bring the Super Bowl to Allegiant Stadium in 2025 as well. And the stadium will be one of the main anchors on a Strip known for entertainment in unique venues.
"It's a good piece of business for (Allegiant), and their hope is they can put together travel packages for all those fans that will be traveling to Vegas for home games or away games, too," Yowell said. "For those Raider fans that want to follow the team on the road, (Allegiant can) create a travel package that gives them opportunity to compete with a Southwest or an American ticket."

Having a hometown connection
American is the most active airline when it comes to sports venue naming rights. The American Airlines Center in Dallas is home to the NBA's Mavericks and NHL's Stars. American has held the naming rights to the NBA arena in Miami since it opened in 1999 with the deal set to expire at the end of 2019. And the airline recently signed a reported 10-year, $90 million deal to put its name on a 2.5-acre plaza entrance to the $5 billion SoFi Stadium in Inglewood, California, that will be the home of the NFL's Rams and Chargers.
"American's agreement with the LA Stadium and Entertainment District, the Chargers and Rams are multiyear partnerships that demonstrate the carrier's continued commitment to the Los Angeles community and excitement for the LA Stadium and Entertainment District," said Nichelle Tait, an American Airlines spokeswoman. "It is our mission to give our customers the world-class experience they deserve, and we are committed to doing so both at the airport and within the community. The stadium, and the events that will be held there, will bring people throughout the region and from around the world together."
The United Center in Chicago has hosted the NBA's Bulls since 1994, but the airline's most recent naming rights deal did not come without criticism. After a 16-year agreement with the University of Southern California for naming rights to the Los Angeles Memorial Coliseum received backlash from veterans groups that said the name would dilute the stadium's legacy, the deal was modified into a 10-year agreement for naming rights to the field instead. As a result, the home of Trojans football is now called United Airlines Field at the Los Angeles Memorial Coliseum.
For any airline to get into a sports sponsorship, location matters. American Airlines is headquartered in Dallas, United Airlines is based in Chicago and Allegiant calls Las Vegas home. And Los Angeles is one of the most visited areas in the world. Both Allegiant Stadium and American Airlines Plaza are also aligned with the NFL, the biggest professional sports league in the country.
U.S.-based airlines are not the only ones who have seen stadiums or major sports events as a marketing opportunity. AirAsia recently signed a two-year title sponsor agreement with tennis' Davis Cup. In the English Premier League, Manchester City's stadium is named for Etihad Airlines and Arsenal's stadium is named for Emirates Airlines.
"In all of the cases where these airlines have been done (deals), they're destination markets," Yowell said. "These markets are important, high-level travel opportunities, so there's the opportunity for them to attract more customers or increase the preferential use of their airlines compared to others when making their personal or business travel plans."
Allegiant's deal with Minor League Baseball extends that philosophy on a different scale. Of the 120 markets the airline serves, 114 have an MiLB team. DeAngelo said Minor League Baseball was the only league the airline would consider striking a partnership with, as opposed to an individual team.
"Because we serve so many small and mid-size markets, the footprint was almost perfect," he said. "Unlike other leagues where the league doesn't necessarily give you access to the teams, this gave us access to 50 or more of the teams in markets that were the most important to us given how heavily we serve them."
Commercial exposure is key
Don't forget the potential return that naming rights can bring, as well. Yowell says having naming rights on a venue used for both sports and entertainment is a bonus for any sponsor.
"The scheduling of a building is imperative," he said. "The exposure of a building that holds 80 to 90 events compared to one that holds 18 to 20 is tremendous. The Staples Center (in Los Angeles) has five anchor tenants, over 300 events a year. That's a massive amount of exposure and mentions through broadcast media with radio, TV, internet streaming, media coverage of every game and event covered there. Those are all factors that come into play."
Allegiant got a hint of that when its deal with the Raiders was announced. DeAngelo said the airline got 1.5 billion impressions from the resulting coverage, and it expects to do 4 billion impressions per year with the Allegiant Stadium name.
DeAngelo said discussions with Allegiant and the Raiders began around March, with talks centered around a potential travel partnership. The discussion soon evolved into a talk about stadium naming rights. The opportunity to partner with an NFL franchise in its home city and build flight packages around games during the fall, when leisure travel tends to drop with school in session, ended up being too good to pass up for the airline.
Alignment with the team also comes with a business strategy that Allegiant will put together in preparation of the Raiders kicking off in Las Vegas next season. DeAngelo said the carrier will do heavy promotional work setting up flights from Oakland and Los Angeles to Las Vegas to cater to Raiders fans, but also fans of visiting opponents in cities Allegiant already serves.
"We are going to take and certainly offer scheduled service packages, flight and tickets, flight and hotel and tickets, car and flight and hotel — every combination therein," DeAngelo said.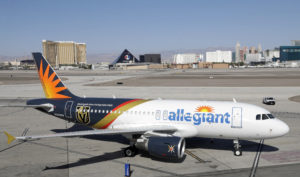 Shortly after the Allegiant Stadium announcement with the Raiders came another endorsement moment for the airline and the Golden Knights, with Allegiant unveiling a Knights-branded jet over the summer. Allegiant already has its logo at center ice for Golden Knights home games.
"I wouldn't call it an imperative" to have a sports partnership with either team, DeAngelo said. "We recognize what Maury Gallagher, our founder and CEO, calls a moment in time, and we recognize that this was a truly one-of-a-kind moment," he said, noting that Las Vegas relies on travel and tourism while the airline sees itself as a major leisure travel provider. "The stars were aligned."
"There's a lot of components that go into a naming rights deal from both a marketing commitment but also a financial commitment," Yowell said. "It certainly reinforces the commitment to the community they call home, (that) there are strong employee-based incentives to leverage with employee nights and tickets distributed internally for good performance for salespeople. Having a hometown office, be it a corporate headquarters or a regional presence, it certainly makes some sense."
Name Game
The list of stadiums or plazas in each sport that are sponsored by an airline, plus naming rights that are no longer active.
NFL: Allegiant Stadium, Las Vegas; American Airlines Plaza at SoFi Stadium, Los Angeles
NHL: American Airlines Center, Dallas
NBA: American Airlines Arena, Miami (expires at end of 2019); American Airlines Center, Dallas; United Center, Chicago
MLB: JetBlue Park at Fenway South, Fort Myers, Florida (home of Boston Red Sox spring training)
College Athletics: United Airlines Field at the Los Angeles Memorial Coliseum, Los Angeles; Alaska Airlines Arena, Seattle
Former Names: Air Canada Centre, Toronto; America West Arena, Phoenix; U.S. Airways Center, Phoenix; Canadian Airlines Saddledome, Calgary; Continental Airlines Arena, Meadowlands, New Jersey.; Delta Center, Salt Lake City; U.S. Airways Arena, Washington.